Audiobooks That Touch the Heart
Disclosure: This post contains affiliate links which won't change your price.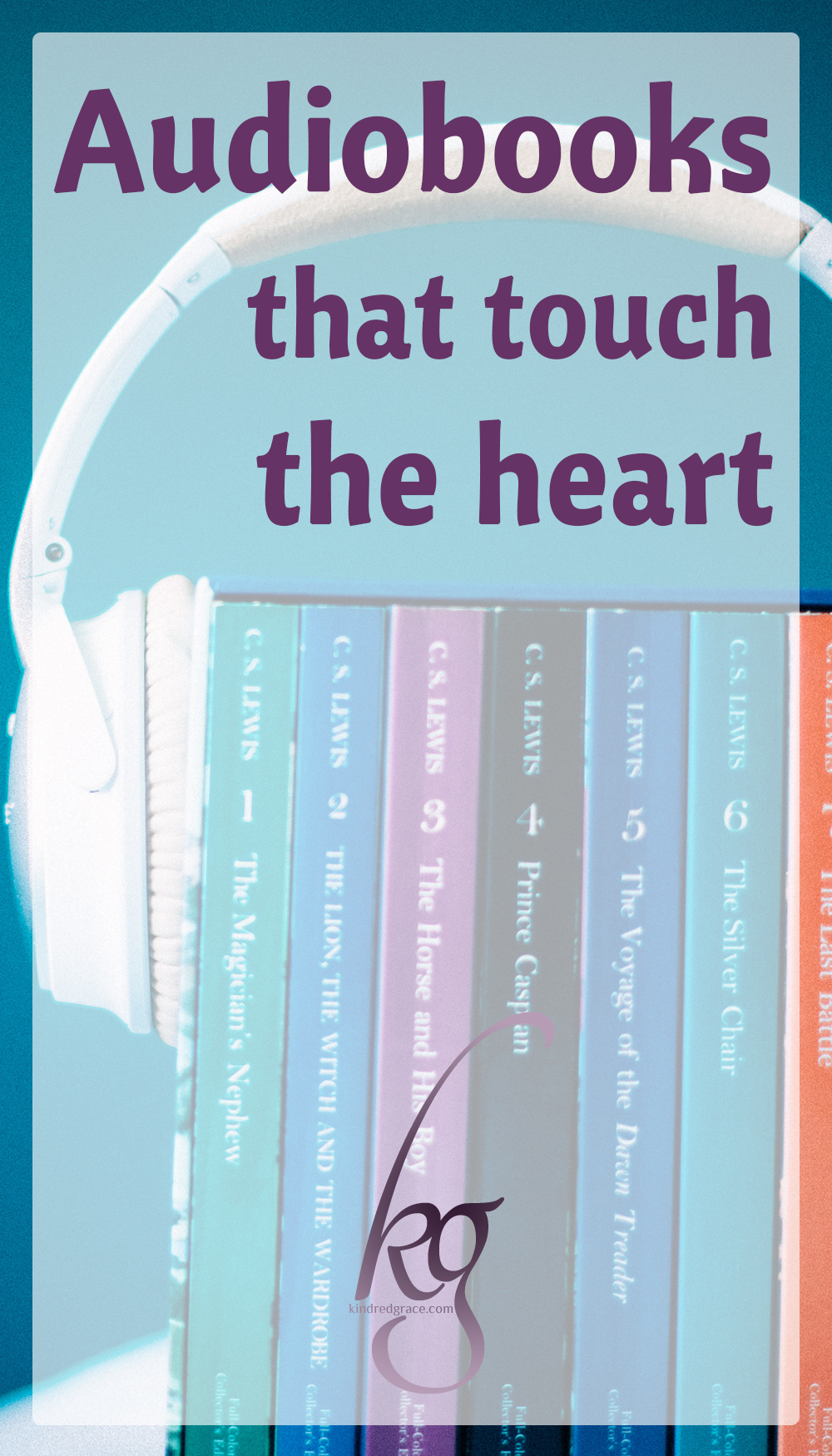 When I was a little girl and my dog was hit by a car and had to go to the veterinarian, I turned on my favorite Your Story Hour tape about Clara Barton. My mom questioned my choice, but it was somehow comforting to me about listening to the story of a Civil War nurse while my dog was undergoing surgery.
There's something about audio books and dramatization that can't be found in a book or matched by a movie. Maybe it's because audiobooks can be enjoyed while your head is buried in the pillow or while your eyes are too filled with tears to read. Maybe it's because you can enjoy audio dramas whether you're doing the dishes, driving, or just sitting still.
But though I spent my childhood falling asleep to biblical and historical audio dramas from Your Story Hour and Ethel Barrett, and woke up every Saturday morning to adventures with Ranger Bill, I didn't fall in love with audiobooks as an adult until I became a parent.
Now, my husband and I often fall asleep to an audiobook because we're too tired to read aloud and we can't even keep our eyes open to read a book to ourselves. Audio dramas are a must for long road trips. And the way audiobooks keep my children entertained for hours while yet inspiring their imagination makes them an absolute favorite in our home.
Below I've shared a few of the audiobooks that have touched my heart through the years. I've also asked the Kindred Grace team to chime in and share some of their favorite audio dramas with us. We'd love to hear about yours in the comments, too!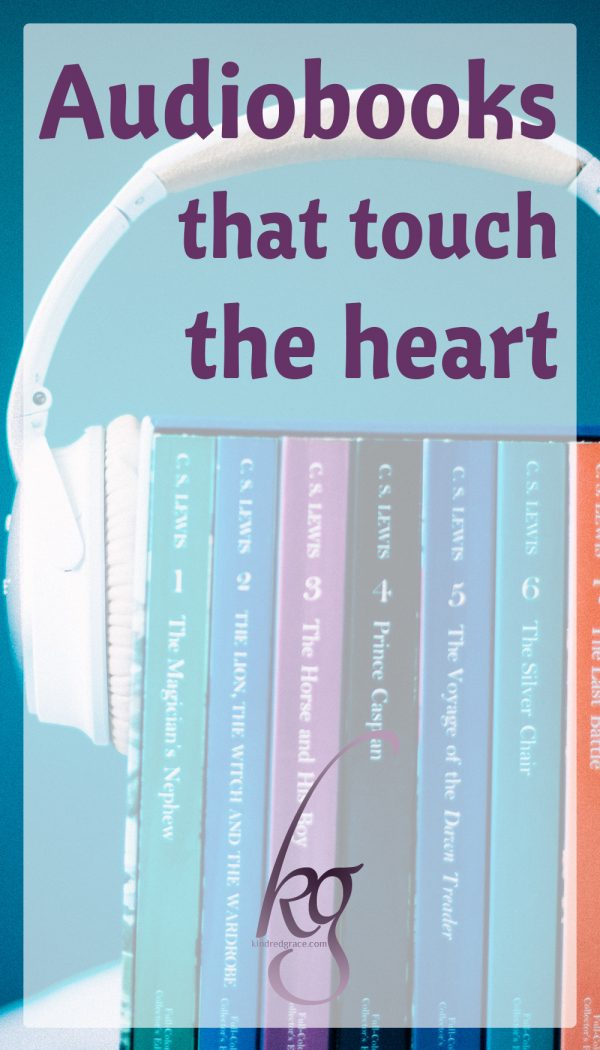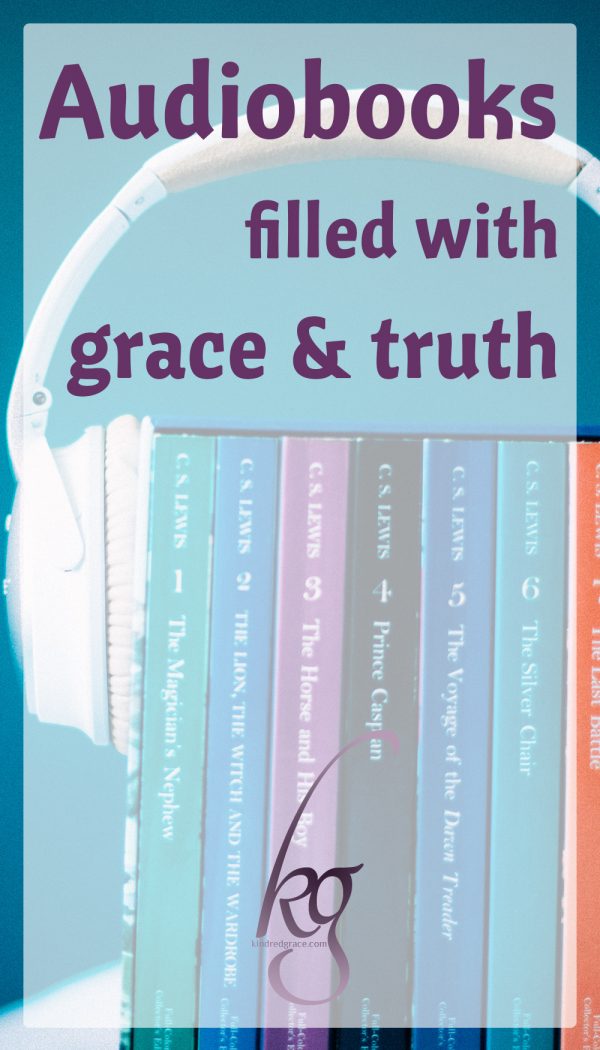 Audible Fiction
Reviewed by Emily Gardner
If you're a fan of Anne with an E, you've most likely read the books, seen the movie and watched the various mini-series' that chronicle the adventures of the red-haired protagonist in L.M. Montgomery's iconic series. After multiple readings and watchings, I had a definite voices in my head attached to all the characters in Anne of Green Gables so it took me a chapter or so to re-orient myself to Rachel McAdams's interpretation. I ended up loving the fresh, contemporary style Rachel brought to one of my favorite classics. She effortlessly captured the spirit and sincerity I love about Anne.
Reviewed by Gretchen Louise
My children's penchant for listening to the same audiobooks over and over again means that often, I'm provided with the same gems of wisdom over and over again just when the Father knows I need them. The words of Marmee in Little Women provide gentle chastisement and real wisdom for me, while also instilling character lessons into my children. Just as often as I use an example from Little Women when talking with my children about their attitudes, I'm reminded of them in my own heart. While the word for word audiobook is excellent, my children usually prefer the dramatized Focus on the Family Radio Theatre version.
Reviewed by Emily Gardner
One summer during grade school, my mom and I read through a couple of classics, including The Little Princess and Little Women. I still remember sitting underneath a large oak tree at the local middle school being engrossed by those four diverse sisters as my mom read the story aloud. Andrea Emmes does a lovely job capturing the personality of each sister and her cadence was such that I could listen at 1.25X and still catch everything. Listening to Little Women as an adult made me realize how much life-wisdom Louisa May Alcott packed into her novel. I found myself referring to my physical copy to read passages over again.
Audio Dramas for the Whole Family
Reviewed by Gretchen Louise
I have a strong sense of justice. In my mind, things are black and white, right and wrong. This tale pits justice against truth, righteousness against humility…and leaves me pondering the beauty of a gracious spirit, the power of a kind word.
Reviewed by Gretchen Louise
The lessons in this childhood favorite remind me of Phillip Keller's writings on Psalm 23. Combined with Ethel Barrett's inimitable voice, this simple story of an obstinate little lamb touches my heart even as an adult. "I am the door." So powerful! (You can also enjoy this story on YouTube. Other stories from Ethel Barrett are available on CD from Homeschool How-To's.)
Reviewed by Natasha Metzler
If you love missionary stories, this radio adventure series will quickly become one of your favorites! Based on true stories both old and new, The Brinkman Adventures follow the fictional Brinkman family as they discover mission work (of real-life missionaries) around the world.
Reviewed by Gretchen Louise
I love the variety of The Brinkman Adventures–and the way they remind both me and my children about what really matters in life. While some of the adventures are simply fun and lighthearted, others delve into deeper topics with true stories of spiritual persecution, slavery, and imprisonment. (Episodes with potentially disturbing topics include a warning at the beginning.)
Reviewed by Elisabeth
There's no question that the Narnia books have given me tools to understand and talk about spiritual things. Just today I referenced them twice in conversation with a friend. And I can't think of anyone more qualified to produce the audio dramatization than the Focus on the Family Radio Theatre. As a teenager, and now as an adult, they are still favorites for their high quality and for their evident engagement with the stories and their meaning.
Reviewed by Jenni Marie
Traveling into the Focus on the Family Radio Theatre adaptation of The Chronicles of Narnia is a magical journey. With the push of a button, the listener is whisked into a land of kings and queens, of wardrobes and spare 'ooms, of jolly little woodland creatures who loom larger than life in the waiting imagination. C.S. Lewis (via the Radio Theatre crew) infuses wisdom into this whimsical world and builds life lessons as he tells the age-old tale of good versus evil.
(Note from Gretchen: The word for word Chronicles of Narnia audiobooks are also excellent.)
Reviewed by Gretchen Louise
While I listened to every Patch the Pirate adventure over and over as a child, this stands out as one of my favorites. I loved that it showed a real family, with real struggles, but also demonstrated the power of commitment, love, and forgiveness against a very real Homewrecker. (It also features three of my all-time favorite songs by Ron Hamilton: Cherish the Moment, Yours Forever, and Lord, Bless Our Home.)
Reviewed by Gretchen Louise
It's meant to be a children's story, but Mrs. Pigglewiggle kept me laughing out loud during a car trip last summer. It thoroughly delighted my children, but it also encouraged me as a mom–even in its silliness and humor. And as I dealt with the inevitable exhaustion and resulting poor attitudes that come after a trip, Mrs. Pigglewiggle's unique child-rearing tactics gave me fresh perspective on how to help my children change their behavior.
Reviewed by Gretchen Louise
Heather and Picket's story kept our entire family entertained. We were on the edge of our seats as they encountered danger. Our hearts warmed as they fought to protect each other, against all odds. "Till the Green Ember rises, or the end of the world!"
Reviewed by Gretchen Louise
These classic tales of a country veterinarian are generational favorites in our family. This special collection features some of his best stories for children, exquisitely read.
Reviewed by Gretchen Louise
These adventures are far more than just entertaining–they are educational. Yes, some of the stories are a bit far-fetched, but they keep my son's attention while they are at the same time wholesome and character-building. I love that my children can listen to Jonathan Park and learn solid facts about Creation vs. evolution, Fibonacci numbers, and so much more.
Mrs. McGuffy (read by the author, Allegra McBirney)
Reviewed by Gretchen Louise
I've never forgotten listening to this tale as a young girl. Allegra paints a vivid picture of the way a mother hen cares for her chicks and then compares it to how our Heavenly Father cares for us. (I wish this story was still available for purchase!)
Reviewed by Chantel Brankshire
My grandparents gave my brother and I the amplified audio version of Pilgrim's Progress when we were young. We listened to it over and over until we could recite the entire thing by heart. Even now, no matter how often I hear the familiar words, there is always something perfect for where I am right now. I find encouragement to help me fight my personal giants. And even though I've heard it over and over again, tears still come to my eyes as I think of the cross on the skull shaped hill and the One who hung there. (This dramatized version may also be downloaded in MP3 format from Orion's Gate, part 1 and part 2.)
Reviewed by Caroline Kraft
Beginning with an eight-year-old princess in a fine palace, diving into the underground world of nasty goblins, the other-worldly presence of a certain great-great-grandmother and the adventure that comes along with Curdie, the brave miner's son, this story does not disappoint.
Reviewed by Gretchen Louise
This was the first Edith Nesbit book we ever heard, and it's remained our favorite (though we've been quite delighted by others like The Story of the Treasure Seekers and Five Children and It, as well!). Edith Nesbit consistently combines endearing children with delightful humor. In this story, there's a train, an Old Gentleman, and a beloved father. Not to be missed!
Reviewed by Jeannie Pederson
The Secret Garden is a children's classic for a reason: engaging characters, hints of mystery and intrigue, and a beautiful, satisfying conclusion. Ten year old Mary Lennox, sent to England after the death of her parents, is sickly and spoiled, but the discovery of the outdoors and a secret garden prove to be the cure… and not only for Mary. Our favorite audio version is from Focus on the Family Radio Theatre, which nicely edits a theologically troubling chapter. Not too suspenseful for young ears, our whole family enjoys it.
Reviewed by Gretchen Louise
This series is a brand new favorite in our family. We'd somehow missed hearing about Swallows and Amazons until this summer, even though it was published in the 1930's. We love the gentle humor, pleasant sibling relationships, and wholesome storytelling. Not to mention their delightful seafaring adventures and shipwreck predicaments reminiscent of Treasure Island.
Reviewed by Natasha Metzler
I love it when an author can combine adventure, imagination, fantasy, and real-world truth. Alan Harris has done just that with the Tales of Larkin. This audiobook adventure series keeps my children asking for more! The Larkin are miniature people who we find fighting lizards and Renegades, and discovering a Maker so good and kind who reminds the reader of the true God and King of all. With brilliant story weaving, these audiobooks will delight both children and adults at the same time.
Reviewed by Gretchen Louise
Tales of Larkin is, hands-down, one of my children's all-time favorites. With characters reminiscent of Hobbits, sporting ready and witty tongues to match any Narnian Dwarf, the Larkin are valiant warriors, conscientious citizens, and faithful men. Author Alan W. Harris originally used the stories to teach his family about God. The unique voices and personality of every character were practiced in family storytime long before they were ever recorded as the audiobooks that so entertain my children.
Reviewed by Jeannie Pederson
If you haven't read the original Winnie the Pooh books by A.A. Milne, you are in for a treat. If you have, you already love the Bear of Very Little Brain and his fellow stuffed animal friends. Either way, this rendition is delightful. It's slightly edited for audio but extremely true to the original, with great acting by a full cast, sound effects, and music. We have practically memorized the stories, and everyone–from toddlers to adults–enjoys them.
Audiobooks for Older Listeners
Reviewed by Jeannie Pederson
A police detective turned Anglican priest, Father Gilbert still finds himself conducting investigations. But it's not only humans who are the suspects: these dramas portray the reality that there is more to evil than we can see. With gripping stories and great acting, these suspenseful audio dramas are the perfect antidote to sleepy driving! Best for older teens and adults, these are not intended for children. I personally find them both entertaining and faith-building.
Reviewed by Gretchen Louise
As much as I enjoyed the history lesson of this story about two men who shaped Scotland's history, the parts of this drama that tugged at my heart were the women. The one who loved her husband enough to put his safety ahead of her own life. The one who loved enough to put aside family prejudice. (Violent scenes make this more appropriate for preteen listeners and up.)
Reviewed by Gretchen Louise
Greed. Jealously. False accusations. This is a tale of the ugliness of sin, the inevitability of its consequences, the beauty of redemption, and the power of forgiveness. I've listened to the radio theatre version of George Elliot's book over and over again. (Some topics and brief scenes of violence make this tale appropriate for a slightly older audience.)
Reviewed by Rachelle Rea Cobb
Whether you're a newlywed or have been married for years, Chapman's The Mingling of Souls pulls out principles that can be applied to any modern marriage—despite it being a deep look into a book written long ago, the Song of Solomon! This is the first audiobook I ever listened to (I used the Christian Audio app). It kept me company on many an evening when my husband was working late and I wanted something to focus on as I folded laundry. I appreciated Chapman's attention to the biblical book; he highlights foundational relationship truths that make this a great read (or listen!).
Reviewed by Gretchen Louise
My husband and I so enjoyed listening to this classic series together. Thrilling adventure, mysterious intrigue, and tender romance. It's a tale of bravery, sacrificial love, and cunning not to be forgotten. (The Librivox version by Karen Savage is excellent, too!)
Audiobook Libraries and Services
Reviewed by Gretchen Louise
Audible is my favorite way to get audiobooks, because I don't have to worry about scratched or missing CDs, and the books are always accessible on any of our devices. But the best part is that I can download them with one click and then just as easily remove them from the device when we're done listening. But what many people don't know is that you don't need an Audible membership to purchase books from Audible–all you need is an Amazon account! While a monthly Audible membership is a great way to get some more expensive audiobooks at a discounted price (you get one audiobook a month for the $14.95/month subscription price), many Audible books are just $3.99 or $4.99 to purchase alone (and the ones that aren't often go on sale). You can also upgrade to the Audible version at a steep discount with the purchase of many Kindle books. (If you've never tried Audible before, use this link to get two books for free!)
Reviewed by Emily Gardner
As a working mom, I don't always have all the time I'd like to sit down with a book, which is why audiobooks are such a gift. My ever growing TBR list makes re-reading reserved for a select few of my favorites and the works of Jane Austen always make my re-read list. Last year I chose to listen to her six novels and turned to Librivox, a source for free audio of books in the public domain to listen, to make that proposition a little easier on my wallet. Librivox audiobooks are read by volunteers so the quality is hit and miss and there's often multiple versions of each work. Elizabeth Klett and Karen Savage are both excellent readers. Between the two of them, I was able to listen to all of Austen's novels with delight and fresh ears. If Austen isn't your thing, both women have narrated other classics within Librivox that would be worth exploring. (Check out the Librivox or LoyalBooks apps for easy access to Librivox on your device.)
Reviewed by Gretchen Louise
While many of our favorite classics are available on Librivox, newer books and those still under copyright can't be found there. That's why I'm grateful our library has OverDrive (Hoopla is another service that some libraries have instead). Through OverDrive, we can "check out" professional audiobooks for free using our library card. Winnie-the-Pooh, Mrs. Piggle-Wiggle, The Boxcar Children, The Mysterious Benedict Society, The Secret Keepers, Stuart Little, Charlotte's Web, and The Trumpet of the Swan are just a few examples of audiobooks we've enjoyed for free thanks to OverDrive. Availability depends on your library, and you often have to wait your turn as only a certain number of the audiobooks are available for checkout at any given time. (The OverDrive app is extremely complicated to use, but their new Libby app makes use of OverDrive on your device as easy as Audible.)
More audiobook reviews:
Photography: JenniMarie Photography