Disclosure:
This post may contain affiliate links which won't change your price but will share a commission.
In a day and age of internet marketing and one-click purchases, I'm surprised at how long it took me to get my hands on a copy of The Blue Castle by L. M. Montgomery. As it turns out, the recommendation of a friend is still the best type of advertisement, and when multiple friends looked at me with shock and disdain at learning the tragic news that I'd never read this book, I finally launched on a journey to attain my own copy.
After months of perusing the shelves of used bookstores and the pages of PaperBackSwap, my mother was brilliant enough to buy a new copy for me for my birthday. I dove into the little blue paperback after I got my job as a front desk receptionist, and it's a miracle I ever heard the phone ring. I could hardly put this book down.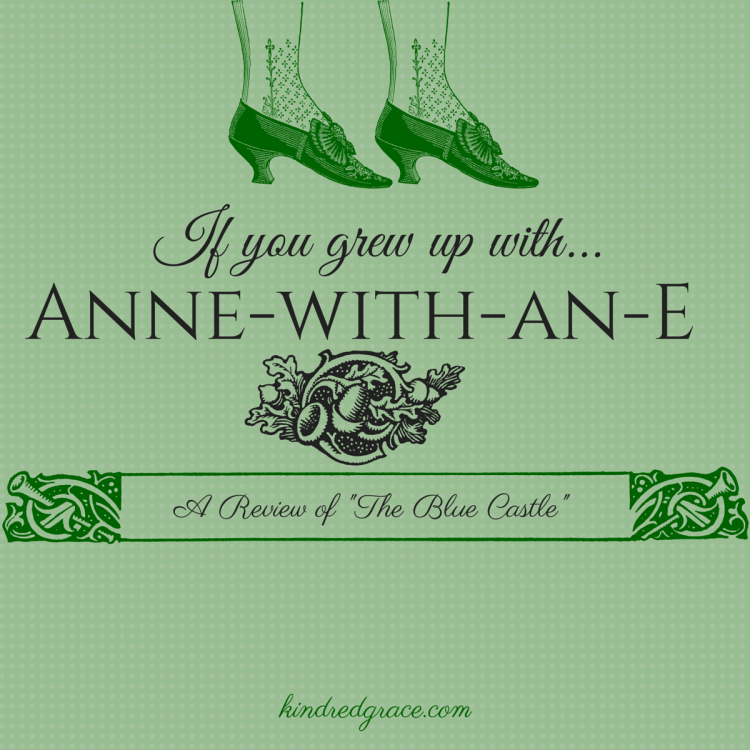 If you grew up with our beloved Anne-with-an-E, you might be a bit hesitant about reading Montgomery's works for adults. I was concerned that it would be Anne all over again, but with dark hair. Change the love interest's name from Gilbert to Hilbert, make it strawberry cordial and blue hair dye and republish. This wasn't the case at all.
You will certainly recognize Montgomery's witty, wordy writing style. I personally adore her style, but it's rarely replicated well. To have more from Montgomery herself after enjoying the Anne books so much was a delight. The story opens with our heroine, Valancy Stirling, on the eve of her dreaded twenty-ninth birthday. To her, twenty-nine represents one thing: the official arrival of Old Maidenhood and the passage of her own youth. And Valancy has plenty of other reasons to be mopey. Her small, stuffy family includes her insensitive, overbearing mother and gossipy aunt. Valancy's life is entirely void of happiness, love and — what's worse — purpose.
Disregarding her mother's wishes (for what has she to lose?), Valancy schedules an appointment with a doctor to investigate the chest pain she's recently developed. When her diagnosis is terminal, Valancy is shocked into action. For the first time in her life, she has a choice to make: tell her family about her illness and be locked away for the remainder of her short time on earth, or keep the diagnosis to herself and live the way she chooses, while she still has life to live.
The series of events that follow her decision, the uproar she causes in the community and the unexpected life she builds for herself make for an engaging, hilarious, wise and suspenseful story. This book was intended for adult audiences and is full of romance and humor, but is appropriate for teenagers as well. It rings with a bit of an anthem for single women and made me wish my sisters were reading over my shoulder to chuckle along. It also made me realize one thing for certain: Montgomery was a talented writer, Anne-with-an-E aside.
I got my hands on The Blue Castle at just the right moment and it had me with the opening lines:
If it had not rained on a certain May morning Valancy Stirling's whole life would have been entirely different. She would have gone, with the rest of her clan, to Aunt Wellington's engagement picnic and Dr. Trent would have gone to Montreal. But it did rain, and you shall hear what happened to her because of it.