Courtship: Dispelling the Myths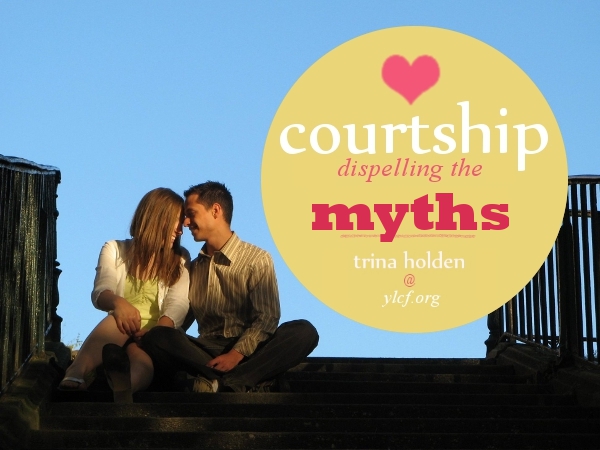 Myth #1
There is a misconception within conservative circles (and among anyone who is familiar with the term 'courtship') that, if the couple who is courting do not end up at the marriage altar together, the courtship was a failure.
I'd like to state right here, for the record, that there is no such thing as a "failed courtship". A courtship that doesn't end in marriage is not a failure. It is a myth that "courtship should always end with a couple becoming engaged". Because courtship isn't a commitment, it's an acknowledgement. Or, at least, that's the way it should be.
"There is therefore now no condemnation for those who are in Christ Jesus." Romans 8:1
The truth is that courtship should be viewed as a season of exploration. A courting couple acknowledges their relationship for the sake of accountability and counsel as they seek God's will for their futures. They are not committed to each other, but rather toward the shared goal of discerning whether they want to spend the rest of their life together.
If, after getting to know each other on a deeper level, praying, seeking counsel, and observing how the other does life, a couple decides together to marry, then their courtship has been a success.
If, after the same focus and effort either of the individuals in the relationship realizes they don't want to get married, their courtship has also been a success.
The latter situation is typically given the label of a "Failed Courtship", though it is not. It is just as successful, though obviously not as fun. A courtship that doesn't end in a wedding is a painful experience, but it's not as tragic as a couple entering into a marriage heedless of factors that should have kept them apart. Because such experiences are painful and very personal, we don't talk or write about them much, leading to…
Myth #2
This is the myth that "Courtship is a guaranteed, pain-free path to marriage". And here is where so many tears have been shed, so many broken hearts crumpled even more — from the expectation that a certain formula or style of dating will guard us from pain. This is based on the faulty idea that the goal in life is to avoid pain.
The truth is that we are on this earth to know God and to give Him glory. Sometimes pain is the most effective way that God has to draw us closer to Him and reveal His heart toward His children. Living our life with the goal of avoiding pain will bear little fruit. We may be safe, but we will never learn the joy of trusting in the Father when everything else we have leaned upon has washed away.
"Bring everyone who is called by my name, whom I created for my glory, whom I formed and made." Isaiah 43:7
How can I make such bold statements and speak so passionately about this subject? Because I've been there. I've experienced two successful courtships on my journey to becoming someone's wife. The first ended abruptly right before the ring. My heart was broken, and the pain was mixed with shock that a courtship — pursuing a relationship with much prayer, counsel, accountability, and seeking to honor God — had not protected me from a broken heart. My pain was compounded because I had put so much trust in a system.
Myth #3
On top of the broken heart and shattered expectations, I also experienced a feeling of guilt — I thought I had done wrong because I gave my love to the wrong man. I felt like 'used goods' because I thought, "Who wants to marry a girl who's already loved someone else?" This guilt came from the myth that "first love is something sacred that we should only give to the one we marry."
The truth is, we as Christians are called to love each other deeply with a pure heart. The idea of only giving that love to one who who 'qualifies' is not loving the way Christ did. Yes, a young woman should have self-control and not commit herself emotionally to every guy who comes across her path. But telling her not to love someone until she's got a ring on her finger would be like telling a woman visiting an orphanage, "Don't love on any of these children until you decide which one you're taking home."
"Having purified your souls by your obedience to the truth for a sincere brotherly love, love one another earnestly from a pure heart," 1 Peter 1:22
Perhaps I can illustrate this truth with a glimpse into my first courtship. I was not initially attracted to the first man who came to court me. Yet, after truly seeking God's heart for the situation, I felt He was calling me to love this man. So I said 'yes' to a 'season of exploration' — to a courtship. As the months passed, my choice to love selflessly bore fruit and I began to find great joy in our relationship. Then, suddenly, the Lord made it just as clear that He was calling me out of the relationship, to relinquish my desire for marital love, and to only love this man as a brother in Christ. For months I blamed myself for my broken heart, believing I'd been at fault to become emotionally attached to him before I was actually engaged. Until the day that I finally understood that my love for him had not been sin — my fault was in setting a standard higher than God's.
God calls us to stay sexually pure before marriage. But this whole 'guarding your heart' thing, and only becoming emotionally attached to one man? We made that up. God has called His children to love each other. A pure, selfless, love. A love that does not shy away from the pain that may come down the road. A love that sometimes ends in a broken heart because a child dies, a spouse betrays, or a first love ends in the wisdom of not taking a relationship to the next level.
Tasting that kind of love in my first courtship helped me gain a mature understanding of the unconditional love I now give and am blessed to receive from the man I married. That's another reason I label my first courtship an success.
In the following months, YLCF team members and contributors will be sharing authentic stories of successful courtships that did not end in marriage. Our goal is not to inspire fear nor to throw blame. We seek to show the beauty that comes from brokenness, to share the glimpses we received of God's heart even in the midst of pain, and the fruit that can come as we seek to love one another well…even when it hurts. For more on the concept of 'guarding your heart', be sure to read Jessica Telian's post "Emotional Purity?"