When a Mister Steals your Sister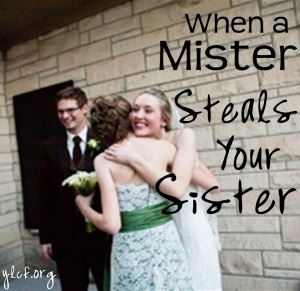 If someone had told me on September 25, 2011, that I looked like I had just lost my best friend, it wouldn't have been true. But that's the way I had thought of it in the weeks and months leading up to her wedding. When I was younger, the idea of my older sister getting married and moving out seemed like…well, the worst idea ever.
We are two years apart, and as extremely similar and extremely different as only sisters can be. I knew that whenever she moved out, I'd have my own room for the first time in my life, but the thought of life without her around seemed not just terrible, but simply impossible. We had always been close, she had always been there for me; I couldn't imagine life without her.
When she was eighteen, she and my (now) brother-in-law started dating. When she was twenty, he got down on one knee in our stable and asked her to be his wife. Later that year, after all of my agonizing anticipation, the day finally arrived. I waited outside the double doors of the church, sniffling away emotions and cold symptoms. The Maid Of Honor bouquet felt heavy in my sweaty hands. Relatives scurried past us and into their seats. Walking down the aisle, I wondered, "Am I running? Am I taking a painfully long time?" I haven't watched the video to find out.
I'm almost certain I cried more than anyone else in the church, but the thing is — it wasn't because I was sad. Yes, there was the pain that comes with waving good-bye to a good chapter in one's life. Seeing her become someone's wife reminded me that I'd never see her as a child again. Seeing my father place her hand in her husband's hand…well, to describe it will only make me cry again! It was difficult, yes, but not at all like I had anticipated. There was no envy or resentment in my tears. There was very little sadness. Really, it was tears of awe that God had brought these two people together to make their time on earth that much richer.
During the wedding planning phase, I struggled with the idea a lot. I hated to think that the wedding was getting closer every day, while my sister seemed to love reminding everyone of the fact! I found myself dreading the wedding and avoiding conversations about the future. Really, my attitude was very un-Christ-like at times. It was an attitude of, "What's in it for me?" Little did I know.
Because of this selfish attitude, I know I missed a lot of moments that could have drawn my sister and me even closer. I found myself thinking it was better for us to drift apart now rather than be torn apart when she married. But can I tell you an insider's secret? Marriage is about unification, not separation.
I know that when someone close to you gets married, especially when you yourself are single, it can be hard to imagine it will do anything but damage your relationship. It can seem like your sister or friend is choosing a guy over you and the rest of the world. In a way, that's true. She's making a covenant to her husband, "forsaking all others." But when a sister marries, she is really unifying two families. She is changing into a new role, for sure, but a girl who is deeply connected to her family could never fling off her past roles in one day.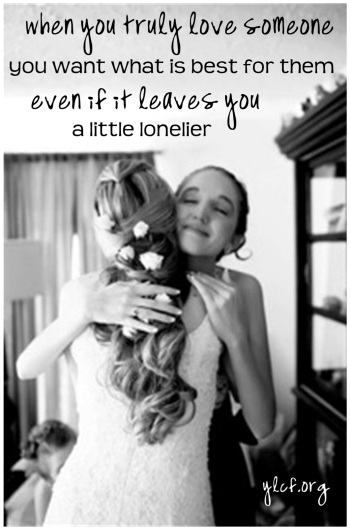 I used to tease my sister by singing the words of the showtune, "God help the mister, who gets between me and my sister!" But I've learned that sisters are sisters no matter what happens. I've also learned that when you truly love someone, you want what is best for them, even if it leaves you a little lonelier. I've learned that sometimes life is not about me. And I've survived.
On top of all that, I gained a brother-in-law, something God never owed me. And not just a brother-in-law, but a man of God who is lots of fun and an amazing cook! A man who looked across the table at me while I ate a grilled cheese sandwich and told me that the right guy will wait for me, no matter how long it takes. A man who continually prayed for me when I went through a difficult season. A man who makes me delicious lattes even though I don't know how to order them and sends an extra cup of whipped cream along with them!
"What's in it for me?" you ask. More than I ever hoped for.
And? I didn't lose my best friend: I just got to celebrate one of the happiest days of her life.