In the Hands of a Fiercely Tender God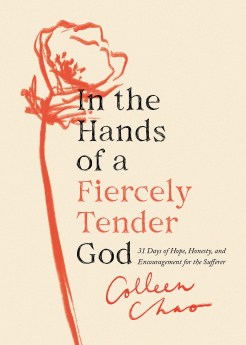 31 Days of Hope, Honesty, and Encouragement for the Sufferer
Is it possible to face the darkest days of life with hope and joy and purpose?  
The life of Colleen Chao was bright and beautiful—it was brimming with hope and possibility. She was a talented, confident, and ambitious young woman. So, Colleen never imagined that she'd swim through two decades of deep-water anxiety and depression. She didn't guess that she'd marry late, suffer years of chronic pain and illness, and give birth to a child with health complications. And never in her life did she imagine hearing the words: "Cancer. Stage four. Terminal."
(description from Amazon)
Order Now!
Disclosure of Material Connection: Some of the links in the page above are "affiliate links." This means if you click on the link and purchase the item, I will receive an affiliate commission. I am disclosing this in accordance with the Federal Trade Commission's
16 CFR, Part 255
: "Guides Concerning the Use of Endorsements and Testimonials in Advertising."