True Beauty (review & giveaway)
Disclosure: This post contains affiliate links which won't change your price.
I started growing my hair out when my son was born three years ago. It had hardly been much past my shoulders since I'd chopped it off around age 13. I was ready to see what long hair felt like. I wanted to know if I would be as beautiful as those women whose long hair I admired.
I enjoyed the process. I loved having longer curls. But the extended hair care regime just wasn't practical. And, over time, I realized it just wasn't me. Even if it did make me feel glamorous.
My mom's hairdresser could hardly bear to cut it all off. And I wasn't sure what to think of the face looking back at me from the mirror for those first few days. But it wasn't long before I was smiling at the lighter feel of my haircut. (Not to mention the added benefit that my husband always has liked my short 'do.)
A few weeks later, my oldest daughter asked me to cut her hair short, just like mine. I wasn't expecting that. But her standard of beauty had changed. And it was humbling to realize anew that, as flawed as I am, I am my daughter's standard of beauty.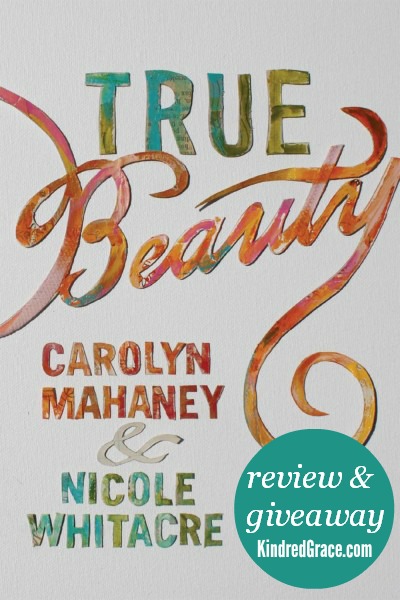 Where do we get our standard of beauty? Is it our mothers, our sisters, our church, our culture, or a combination of them all? In True Beauty, Carolyn Mahaney and her daughter Nicole Whitacre explore the biblical standard of beauty. But it's not what you'd expect. It's not a book full of legalistic rules. There's no discussion of hem lines or rules about how low is too low. Instead, True Beauty goes straight to the heart of modesty: our heart, and what we believe about beauty.
"The more we see God's beauty, the more our taste for beauty will be transformed… When we try to get attention for our own beauty, we cease to give God glory for his beauty."
–True Beauty
But Carolyn and Nicole don't stop there. They dig into our perceptions of other women's beauty and even the way we react to our own husband's compliments. True Beauty provides a thought-provoking read that will become a classic for Christian women, along with Carolyn's Feminine Appeal.
"Nothing ruffles a gentle and quiet spirit faster than comparing ourselves to other women."
Though True Beauty starts out a bit slow, I was quickly drawn into its pages by the refreshing discussion it contained. If you're weary of the modesty debates, True Beauty reads like a cool glass of water on a summer day. And it's guaranteed to challenge and change not only your definition of modesty, but your standard of beauty.
"The question is: in my cultural context, do my clothes celebrate femininity and the beauty of God?"
What has influenced your standard of beauty?
Comment to enter a giveaway for a copy of True Beauty. (Giveaway ended May 12 at midnight EST. Congratulations to Libby, selected by Random.org as the winner. Review copy provided by NetGalley; giveaway copy sponsored by Kindred Grace.)
P.S. True Beauty is the perfect companion to our own Trina Holden's book Embracing Beauty. Carolyn and Nicole help us understand the standard of true beauty, while Trina delves into practical application of embracing beauty within our wardrobes. (Read some team reviews of Trina's book from Emily and myself, as well as Trina's post "Called to Be Ambassadors of Beauty".)