When Modesty Isn't About You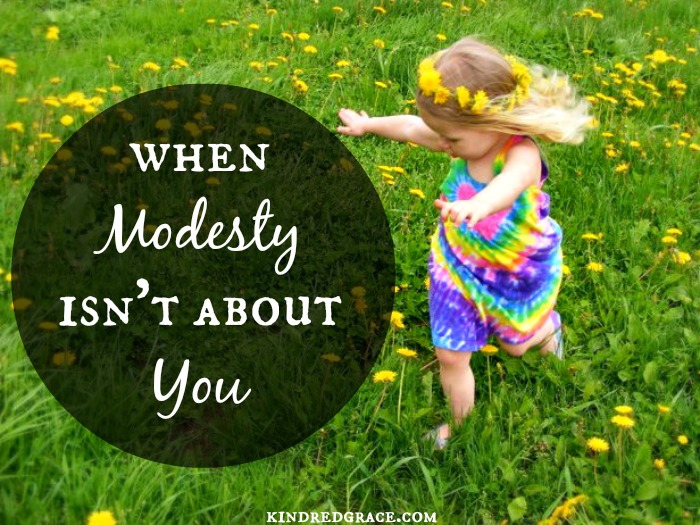 Modesty. Swimwear. The videos and articles have circled the web. If you travel in any conservative circles, then I'm sure you've seen them. The words themselves can elicit a plethora of reactions from those reading them.
I'm a bit hesitant to join the conversation because I believe we, as Christians, are called to a high standard when it comes to our words and actions. Even when we don't like it. Even when we're filled with passionate disagreement about what someone else thinks or claims.
But I have something I want to say to Christians on this issue. And my heart is burning for us all to find a place of unity. So, I pray that my words are gentle and easily understood. (And no, I'm not going to tell you what you need to wear, so don't worry about defending your choice in clothing.)
What I want to tell you is a story.
I live next door to conservative Mennonites. For those of you who don't know what that means, let me explain: the women wear cape dresses and head coverings. The men wear long pants and long-sleeved shirts. All year long.
We have been good friends for years. They know we aren't conservative and we know they are. We are all Believers. We are all putting our trust in the redeeming power of Jesus Christ.
Last year the father passed away suddenly. The oldest son was left with large farm to run and a funeral to plan. In the aftermath of this tragedy, my husband and I were spending 4-6 hours in their barn every day. We milked, fed cows, scraped down manure.
It was dirty, nasty work.
In my barn, I do that work in jeans and a hooded sweatshirt. It is the cleanest, simplest clothing choice I've found.
But in their barn? I wore a skirt and wrapped my hair in a handkerchief. Every day. Even though I do not think that I need to do such a thing to please God.
I did it out of respect.
They are friends, whose consciences worry about things that mine does not. And Scripture is pretty clear about that.
Paul lays down principles for us to follow in a discussion about eating meat that had been sacrificed to idols. (I Corinthians 8) We are free in Christ, of course, but we also need to be gentle with those whose consciences condemn things. In fact, he goes as far as to label it sin when we are not.
When you sin against them in this way and wound their weak conscience, you sin against Christ. (1 Corinthians 8:12)
Our neighbors know I wear pants and shorts and tank tops – and they also know that I will never show up in their barn, where their children are working, in a way that is offensive to them.
Why? Because we're all Believers. And there should never be a time when I put my own personal interests over the interests of the Body of Christ. End of story.
And that, really, is where I stand on the issue of modesty.
There have been times when I have gone swimming in my shorts and t-shirt because I arrived at the pool and realized that my idea of a modest swimsuit was different than the other people there.
I don't do it because I think the guys can't handle what I'm wearing, or because I think that it is my responsibility to not cause them to lust, I do it because it's respectful.
And because, to be perfectly honest, it's not about me. It's not about me looking good or even being comfortable. It's about being respectful and kind and gentle and loving.
Not just in my choice of clothing, but in my words and my actions and even in the way I move around a room.
Friends, I encourage you to make your clothing decisions based on what is comfortable for you and what you feel is acceptable to God, and I also encourage you to be respectful to those around you. In word, in deed, in action.
There may still be a time that you offend someone. There may be a time when you are confronted about your clothing choice by a concerned person (it's happened to me!). But the prayer of my heart is that I will be gentle enough, my heart soft enough, that I can listen and apologize and comfort the person offended, and then take the matter to God, with ears open to hear His correction or His confirmation.
And through every circumstance, to learn to walk deeper in grace.
Have you struggled with the issue of modesty? How have you handled the clothing choices of other Believers?