Joey + Rory: A Love Story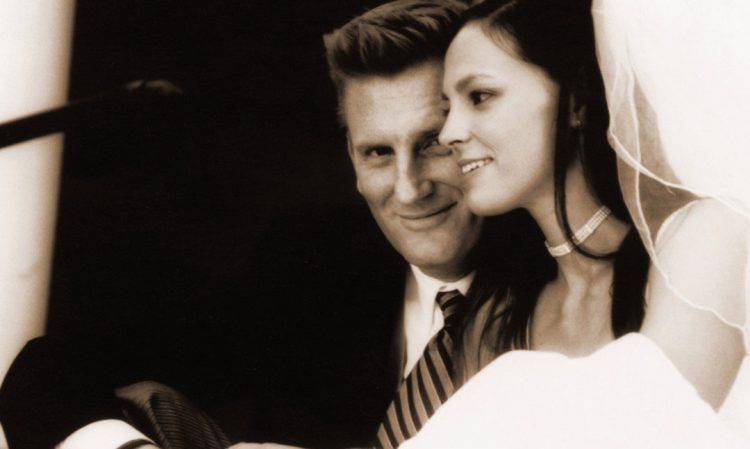 the story of Joey Martin & Rory Feek
story compiled by Elisabeth
In the fall of 1998, twenty-three-year-old Joey Martin had left her tiny hometown of Alexandria, Indiana, and moved to Nashville, where she was working at a veterinary clinic for horses while she pursued her dream of becoming a singer.
Everyone advised her to attend a Writer's Night at the ninety-seat Bluebird Café, a key networking location for singers and songwriters. On the schedule that night was a red-headed songwriter dressed in overalls. As Rory Feek sang the songs he had written, Joey was drawn to the way he wrote and talked, and to his presence: "He just had a real kindness to him." The more he sang, the more she fell in love.
I don't know who that man is, but I'm gonna marry him someday, she thought.
Then Rory introduced his two young daughters, and Joey realized he was already a family man. All the good ones are gone, she mourned.
Time passed, and Rory Feek "decided to write far away from Nashville, to just pull a Norman Rockwell and write where the people are." He bought a century-old farmhouse, and renovated it with the help of his daughters, Heidi and Hopie.
By the fall of 2001, Joey had signed a record deal, but she was still working at the vet's while she gathered songs for her album. That September, one of the doctors at the veterinary clinic invited her to a small-town songwriter's night at Pearl's Palace, a reception room at a local restaurant. When Joey learned that the event would be hosted by Rory Feek, she exclaimed, "That's the guy I was going to marry!" After she told her coworker the story, he replied, ""Rory's not married. He's been a single father for twelve years." Somehow that made Joey love him even more. She decided to attend, wondering if she would feel the same when she saw Rory again.
When she arrived, he was already at the reception room, standing alone at the top of the stairs, ready to greet everyone. She ran up the stairs, exclaiming, "Hi, I'm Joey!"
Rory thought, Wow–she is awful beautiful to be that far away from Green Hills. She's lost!
Nervously, Joey ran to her seat. She did feel the same way, but she didn't know what would happen!
The next week, she came back to the songwriters' event. Rory had heard that Joey had a record deal, so when they chatted afterwards, he asked if he could pitch a few songs to her. She agreed, and gave him her number. He called and left a message. When she returned his call, she left a message with her post office box number, suggesting that Rory mail his songs to her.
She was so cold and distant that Rory was "real clear on what kind of impact I made on her, which was none."
A couple days later, Rory's friend and co-writer Tim Johnson, told him, "I have two words for you: Joey Martin."
Rory replied, "Joey Martin! That girl hates me!"
Then Tim explained that he and his wife had given Joey a ride back to her truck after that last event, and she had asked if Rory was dating anybody.
Hmm, thought Rory.
He called Joey again, and left his home number, in case she wanted to talk to him. About nine that night, as Rory sat on the couch in his farmhouse, Joey called. The first thing she said was, "I saw you play at that songwriter's night about two years ago at the Bluebird Café. I loved everything about you, and I knew in that moment that you and I would spend the rest of our lives together." Then she explained that she had been so cold and distant because her feelings were just as strong, but she had been dating someone back in Indiana for the past eighteen months.
Joey said, "I just want you to know if things were different, you and I would be together."
Rory replied a little incredulously, "Really? So if things were different, I would be your destiny, but now I'm not your destiny?"
She said, "Yes."
He said, "Wow."
As she talked, Rory was having a surreal moment. "I've heard about love at first sight, or magic love, and I've written lots of songs about it, but I can guarantee you, I had never lived it. I never thought it was really possible until then."
They did spend a little time together, long enough to co-write a song. Recognizing that they both had these feelings, but it didn't look like they were going to be together, they were still grateful to have something, rather than "Nothing to Remember."
In the two or three years since Joey had first laid eyes on him, God had been working on Rory's character. As he pondered how unusual it was for a woman that beautiful to come to him, Rory asked God for a sign that they were meant to be together. "I probably shouldn't have asked for that," he says. And yet one day when Rory asked Joey where she learned to play music, she grabbed a guitar and began singing her father's favorite song: "Have I Told You Lately that I Love You?"
Both dads had played the guitar. Both had learned songs from the radio. And both had the same favorite song. Rory took it as his sign. He told God "I don't need any more signs. This is where I'm supposed to go, and I won't question You."
One day in the spring of 2002, Rory began asking Joey what kind of engagement ring she might like someday. She replied, "Something old, I think. Maybe something antique that has some personality and history to it." As she continued to describe silver, platinum, and uniquely cut diamonds, Rory was fighting off a thought. At last he gave in, and retrieved a little box from his sock drawer, and showed Joey a ring.
"You mean, like this one?" he asked.
Joey loved it immediately, but Rory still had to explain how he had bought it a couple years before for a different girl, when he was "trying to make something terrible work." Finally it ended up being thrown across the floor at an Alan Jackson concert, and Rory figured he needed to find a place to sell it.
"Don't get rid of it," Joey replied. "I'll wear it if you ever decide that you want to ask me."
Surprised that she wasn't angry, Rory realized that to Joey, "all the ring needed was time… to find the right left hand."
Two months later, they traveled together to Alexandria to talk to with Joey's parents. Then Rory took her on a walk, and proposed. They were 26 and 36 years old.
On June 15, 2002, they were married. Joey's parents sang "Have I Told You Lately that I Love You?" and they held the reception at Pearl's Palace, where Rory had held his songwriter's night the previous fall.
By now Joey had completed her album, and she began looking into promoting it. As a newlywed, Rory was "very scared to be married to a woman who was a singer because of the terrible stories" he had heard. In addition, he knew something of the loneliness of life on the road. During some of his eight years as a Marine, Rory had toured with a band to military bases in Japan. After playing in Houston nightclubs, he had decided on songwriting.
Rory remembers how Joey went to her producer with some "commonsense questions to make sure our marriage could stay intact while she was busy doing radio tours and setting up the album. They did not respond well to these questions at all."
Joey said, "I'm going to be going out on a radio tour, why can't my husband come out on the road and play guitar for me?" Unfortunately, they felt that the fact she was no longer a single, available woman would be a hindrance to her career. Faced with the decision between her career and her marriage, she said, "Well, I only get one marriage in this lifetime. And I choose my marriage over anything."
In 2003, Rory wrote his first Number One song. In 2005, Joey's label came under new management, and her album, "Strong Enough to Cry," was permanently shelved. In early 2007, she opened a restaurant with Rory's sister, Marcy. By that time, both Joey and Rory had begun to give up the idea of becoming solo artists.
One day as Rory was working on a song with John Bohlinger, they shared lunch at Joey's diner. After meeting Joey, Bohlinger suggested that couple meet him in Nashville. When they got together, Bohlinger described the TV show Can You Duet to Joey and Rory, adding, "Y'all should go out for it."
They looked at him and asked, "Y'all who?"
"You and Rory," he replied. "As a husband and wife. As a duo."
Later, Rory said, "I don't think it would have occurred to us to sing together. It's sort of obvious why. She's beautiful, and she's so talented in her own right. She has such an amazing voice she doesn't really need anything else with her. . . . I may be a really good songwriter, but I wouldn't add any star appeal." Being on TV was his worst nightmare, but he also knew that "if we were together it would be just like we were singing at our kitchen table. You can't lose doing that. So we decided to try out."
Joey says, "He did it for me."
So they bought an $800 video camera, filmed a seven-minute audition video at their farm and diner….and got on the show. In the spring of 2008, they won third place on Can You Duet, but became the most successful duo from that season.
Joey recalled the time five and a half years earlier when she had chosen her marriage over her career: "I was 26. That was my chance, and it was gone. But I knew I had made the right decision and that God would bless me in the end, somehow. I had no idea it would be in this way. And, gosh you know, it was just an experience that was very hard at the time, but I'm so pleased and so glad that, on the other side of that, this is what God had in store."
In an interview that winter, the duo was adamant about being Joey+Rory, not Joey and Rory. But it wasn't just so that they could stand out from other Country music duos, Rory explained. "We're together, like two names carved in an oak tree. And we want to be together for a long time."
In 2010, Joey and Rory won the Academy of Country Music Award for Top New Vocal Duo. By 2012, they had begun producing The Joey+Rory Show on their farm, where Rory could write the kind of songs that told a story and quietly underline their faith, rather than toeing the line of pop music producers. Meanwhile, Joey could pursue her passion for a simple, family-focused life. Her greatest fear had been motherhood, but more than a decade into her marriage, Joey came to a place of peace and trust in God to equip her for that role. The result was Indiana Boon Feek, born in February 2014.
The month before, Joey and Rory made the bold decision to take a year off, just when their singing career was flourishing, trusting that, too, into God's hands. Rory began chronicling their life through his blog and his video-camera, accumulating terabytes of footage. The result was a film called "To Joey, With Love", because unbeknownst to him, Rory had begun recording something irreplaceable. In May 2014, Joey was diagnosed with cervical cancer. In March 2016, she died at age 40. They had been married for thirteen years.
At the beginning of "To Joey, With Love", Rory quietly voices his heart in this way:
"We believed God would give us a great story."
"And He did."
Sources:
Rory Feek at This Life I Live: To Joey, With Love, The Right Left Hand
The Joey+Rory Show: Joey+Rory's Wedding Story, Story of How We Became Famous, Story Behind The Song "Nothing To Remember"
Jim Malec at 9513: interview in October 2008
Edward Morris at CMT News: interview in December 2008
Amy Sciaretto at Taste of Country: article in January 2011
Bill Gaither: video interview in 2015
Image Source: This Life I Live via Hello! Magazine
I am always encouraged to read or hear of a love story that truly reflects God's fingerprint, His perfect timing, and the evidence of God in each of the individual's lives. Love stories that were not manipulated or brought about by human scheming; each detail was obviously constructed by our Creator. Love stories that are a picture of Christ continually wooing and winning His bride; loving us when we least deserve it and accepting all of the ugly. Love stories in which the man desires to lead and the woman wants to be led and loved like the church. It helps me to believe that the kind of dreams and prayers that we all should have are not too big.