"You're in the Army Now!"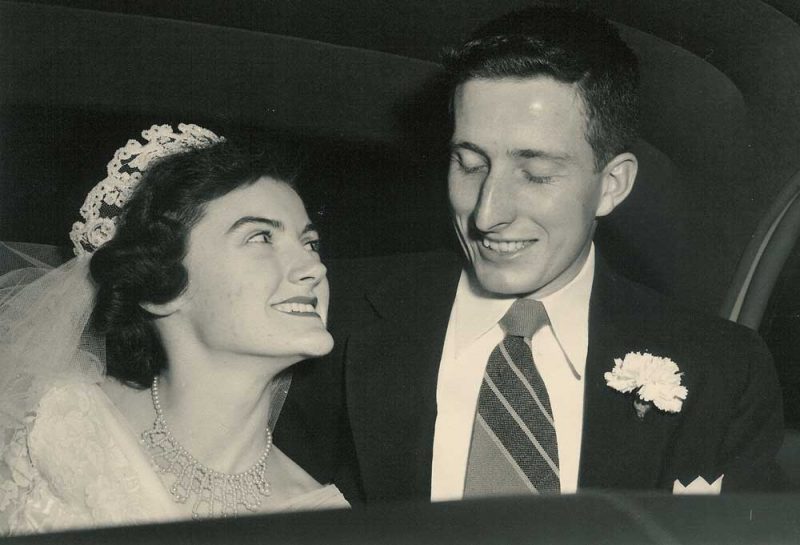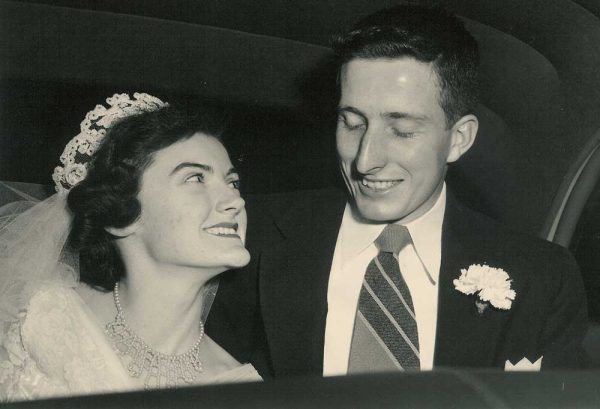 the story of Jessica & Bill Brink
the story of how God brought Bill and Jessica Brink together
recorded by Jessica Brink
We met in October 1951 at Canterbury, the college group at St. Mark's Episcopal Church in Berkeley, California. I was a freshman at the University of California, and Bill was a junior.
Since my parents lived just a few blocks northside of campus, I did not live in a dorm. We had moved from Illinois just one month after I graduated from a high school of about 300 students, and I entered a university with an enrollment of 24,000! My parents thought I should attend Canterbury on Sunday evenings in order to meet people. I did not want to go alone, so Daddy drove me there and picked me up.
Bill and I don't recall a specific introduction; perhaps it was via nametags. Apparently, we noticed one another on one of these occasions. Mother used to say it was like the line in "Some Enchanted Evening" when strangers meet "across a crowded room."
My early impressions of Bill: He was a polite gentleman, which were traits I was accustomed to in my Daddy. He was a faithful churchgoer. He was friendly with a nice smile. He was intelligent. He was witty with a good sense of humor. He was good-looking and well groomed.
Often after Sunday evening services, the Canterbury group would have a topical study and sometimes share a meal together. We took turns working in pairs to plan the menu, purchase and prepare the food. As we washed dishes afterwards, the crew sang songs.
Our first date was January 8, 1952, for a basketball game between Cal and UCLA. During the remainder of our courtship, we attended other games, concerts, plays, movies, proms and also visited Tilden Park in the Berkeley Hills and Golden Gate Park in San Francisco. Bill did not yet have a car, so we did a good deal of walking around Berkeley, using public transportation for Oakland and San Francisco destinations.
Two places I remember eating after dates were Kaspar's Hot Dogs In Oakland. Edy's was a dessert stop in Berkeley, known for its hot apple pie with caramel sauce. Their signs said, "apple pie without cheese is like a hug without a squeeze."
The summer of 1952, Bill had a job at a fish hatchery. I lived most of the summer with my sister's family where I babysat my niece and four nephews, and also did clerical work at their business. Bill and I wrote to one another during that time. Whenever a letter arrived from Bill, I had five very interested on-lookers, especially when a dried guppy tumbled out!
In April of 1953, I was invited to spend spring break at Bill's home, where I met his parents for the first time. On the desert, Bill gave me a lesson on shooting a.22 rifle.
Bill graduated from Cal in June 1953 with a B.S. in Zoology. That ended his student deferment during the Korean War. While waiting for his draft notice, he remained at his boarding house near campus and worked at Alber's Milling Company. I had completed my sophomore year at Cal and worked at a State Farm Insurance Company.
We enjoyed a fun summer of activities, unencumbered by homework in the evenings and on Saturdays. We often read together from the "Forward"-a daily devotional.
When Bill would walk me home on Arch Street, there was a steep hill to climb. From this vantage point, there was a beautiful view of the sparkling lights on the bridges over the Bay and the picturesque skyline of San Francisco. We called it "our picture". One evening after a date, we drove to a spot in the Berkeley Hills that afforded this same panoramic view. In this setting, Bill proposed to me.
We became officially engaged June 6,1953. Bill presented me with a lovely diamond solitaire ring, which we had selected together, along with our wedding bands, at Morrison's Jewelers in Berkeley
When the notice arrived for Bill to report to his draft board, he left Berkeley on November 14, 1953, to drive to see his parents and grandmother, and to move his "civilian" belongings home. A bus took local recruits to San Bernardino; then they were shuttled to Los Angeles for the physical, "the shots," and induction into the U.S. Army. He was then sent to Fort Ord near Monterey, California for about ten weeks of basic training.
Throughout those weeks, we wrote one another in great detail every single day/night. Bill carried a piece of paper with him to write at any "stolen" moment and every conceivable location…rifle range, awaiting troop formations and inspections, even foxholes! Mail call was the highlight of Bill's day, and the postman's arrival was much anticipated by Jessica. The over-riding theme of our voluminous correspondence was where Bill would be "shipped" (stateside or Korea), exactly when, and specifically if I could accompany him. His C.O. (Commanding Officer) was not concerned about such mundane matters as the marriage plans of his recruits. "You're in the Army Now"! As persistently as Bill tried, he could find out nothing about his orders.
During Basic, he was allowed a few quick weekend leaves via bus to my folks' place. We knew he could not be off the post for Christmas; but he took us by surprise and appeared on our doorstep just before Christmas Eve, although unable to stay for Christmas Day. He had a five-day leave over New Year's, and we attended a dance at the Merritt Hotel in Oakland on New Year's Eve. When Bill left this time, our future was still uncertain; so he presented me with a 1st Class Hero" medal to encourage me to be a "tough tiger" till Basic was over January 23rd.
The decision must now be made-"to be, or not to be" married at this time. Army orders directed Bill to report to Camp Pickett, Virginia in just ten days. How long he would be there, or if he could live off the base were unknowns. After many months of deliberation, we decided on Sunday evening to be married that upcoming Wednesday night, January 27. After all, 72 hours should be ample time to prepare for a wedding! Furthermore, the bride would accompany her groom to the east coast, with only five days to cross the country in winter in an old 1940 Ford.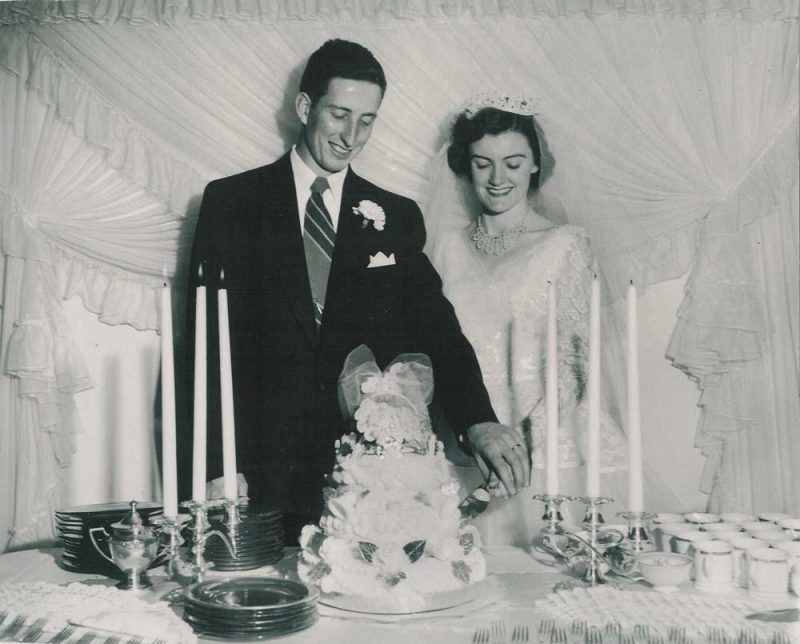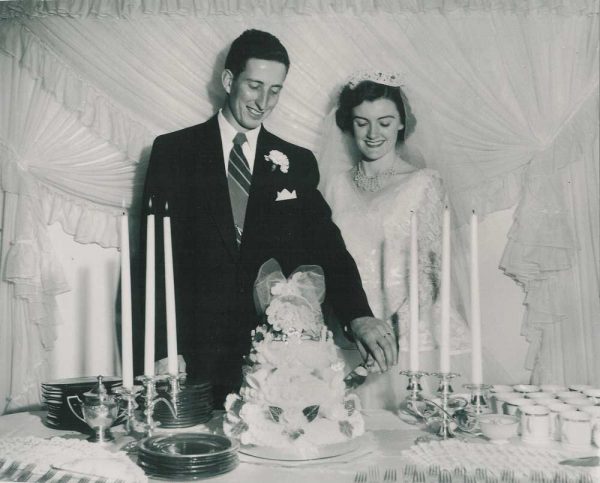 With the tremendous assistance of my parents and our dear friend and landlady, a very nice wedding was arranged in just three days! The stores were conveniently open on Monday night so that Mother could join our landlady and me after work to shop for my wedding gown and veil-which we found at Capwell's. While I was being fitted, the ladies went to another department to look for my going-away outfit. A photographer was booked and a cake and flowers were ordered.
Although our wedding arrangements were hastily made, our courtship covered two years, six months of which was our engagement period. Instead of a wedding ceremony on a sunny Saturday in June, ours was on a rainy Wednesday night in January; but it was not lacking in love and joy!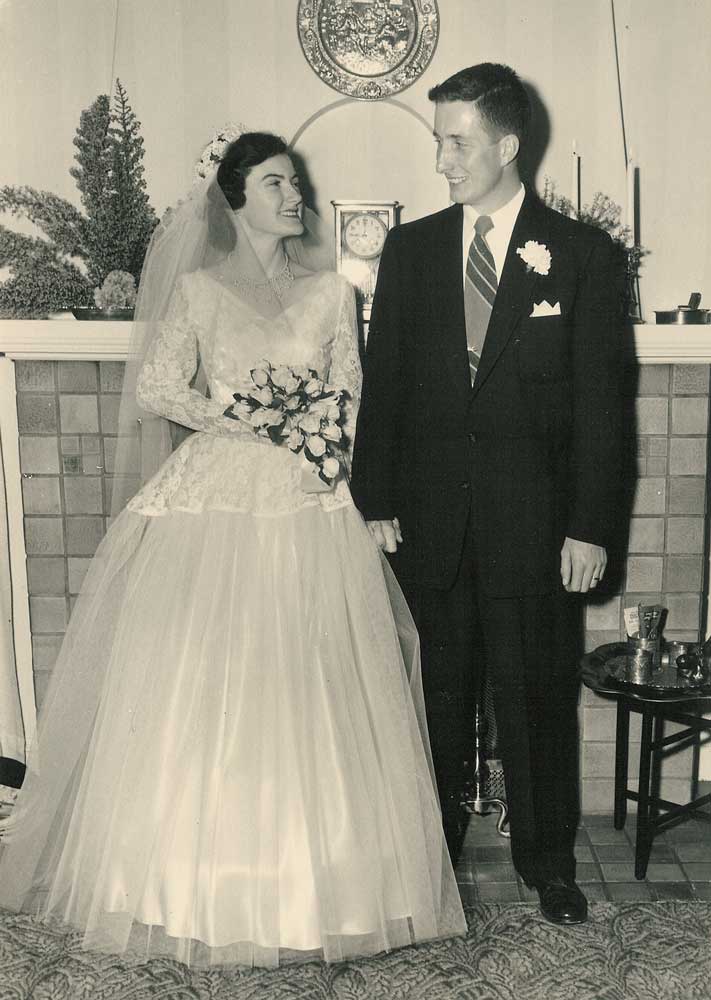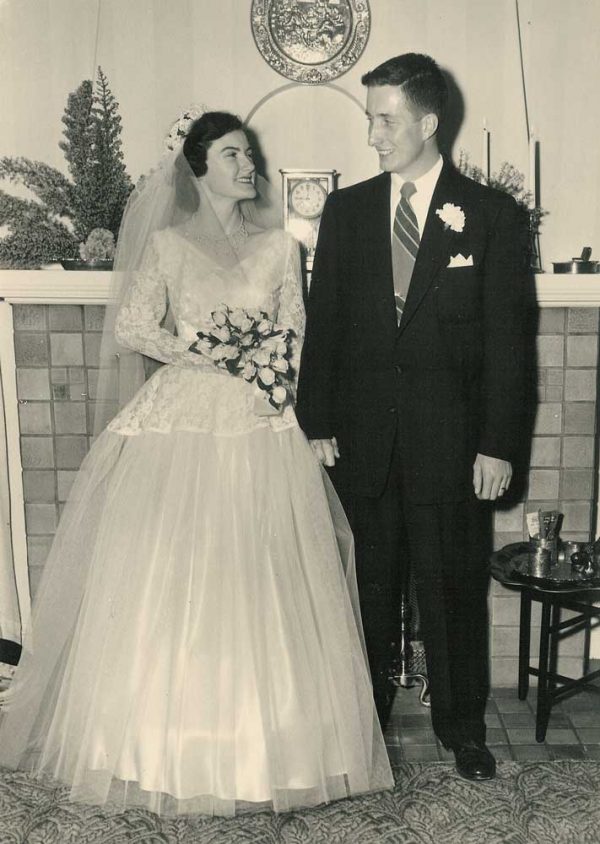 My gown was of imported Chantilly lace and net over satin. The veil was of silk French illusion, secured by a coronet of matching lace, trimmed with seed pearls and rhinestones. My bouquet was a white satin cross, covered with white rosebuds. My pearls had been given to me by my sister as a high school graduation gift.
There was no picture of our "getaway" after the reception. My outfit was a navy blue linen sleeveless dress with satin cummerbund and matching jacket with three-quarter length sleeves. I wore a red "pixie" hat and carried a red yarn purse.
Amid a shower of rice, we began our cross-country "honeymoon"-destination having been determined by Uncle Sam. After our first night in Tracy, California, we proceeded to see Bill's folks and grandmother. The following day we headed east for Virginia with nary a flat tire, or any problem with ice or snowy road conditions.
Upon our arrival in Virginia, we went to the main post office in Richmond, where Daddy said a letter would be waiting in General Delivery. From there we went to Blackstone, the small army town outside Bill's assigned post of Camp Pickett. There were no motels, and the rental lodgings had no vacancies. Where was I going to "hang my hat" while Bill was required to live on post? The situation appeared bleak as he soon had to leave me off somewhere and report for duty! Places were even full where Army couples were alternately sharing kitchen and bathroom facilities with others.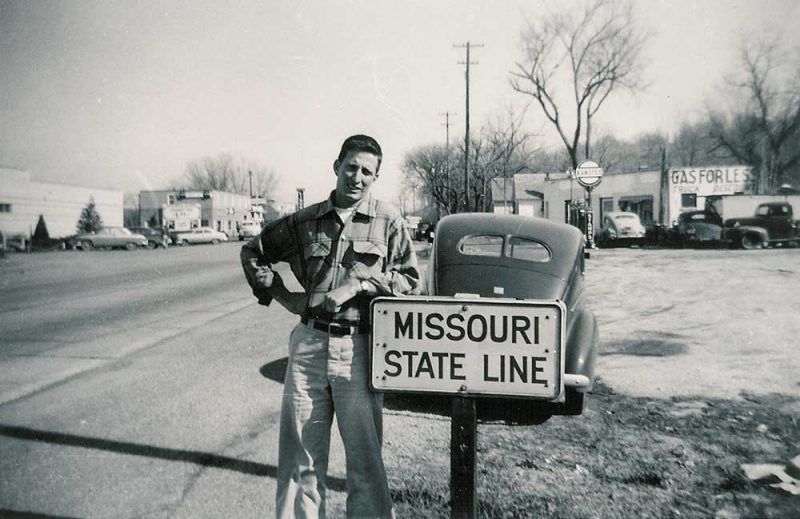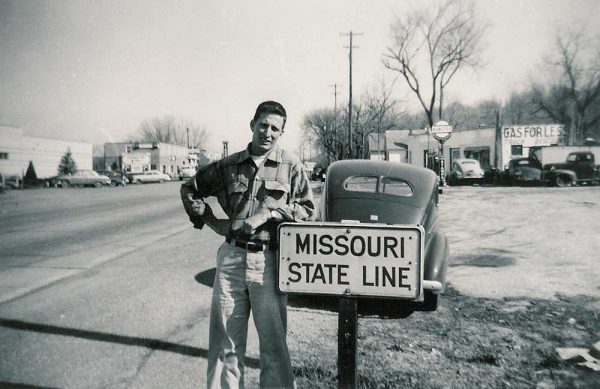 Finally, someone told us of a "long shot"-a family by the name of S—– lived in a two-story house on Main Street and formerly had rented out two rooms upstairs. The lady had recently had surgery and was not at present making it available. We had nothing to lose, so called at this house. Mrs. S—– kindly took pity on two "wayfaring strangers" and agreed to allow us to occupy that space, with the stipulation that if they had company, we would need to share the bathroom. (In our approximately six weeks there, that did not become necessary).
Our "first home" consisted of a large kitchen and a small furnished bedroom, complete with a mouse living behind the old-fashioned radiator.
Bill was seldom allowed off post, so I spent my time alone reading many books from the nice little library down the street. I walked to a little laundromat to do my meager washing. Our "china" consisted of plastic picnic plates.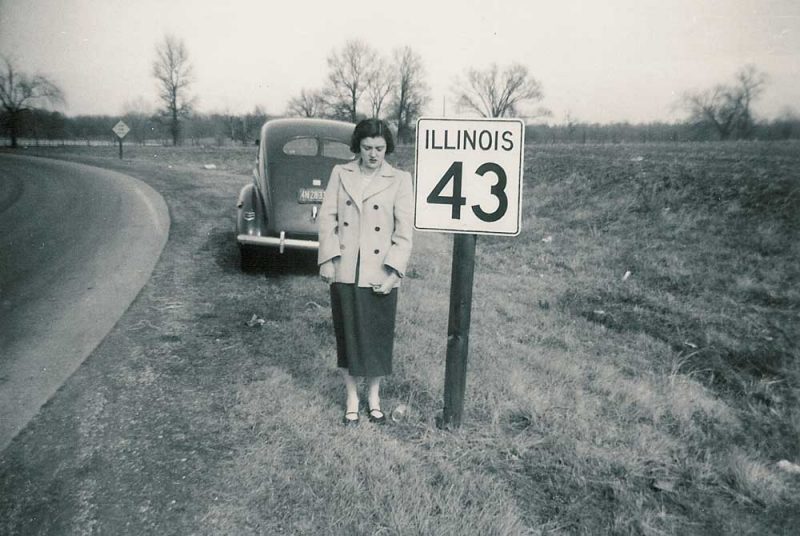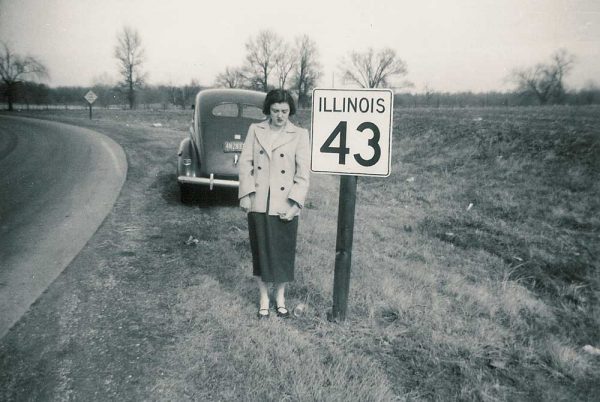 In March, Uncle Sam decided to send Pvt. Brink to Fort Sam Houston in San Antonio, Texas. The only hitch was that the soldiers were ordered to fly down there as a group, and I did not drive. How to get new wife and "little green bug" from Virginia to Texas? No problem! A fellow in Bill's outfit had no car, but a new wife who could drive! One evening when the guys had a rare pass off post, we went to Gordon and Eileen's place for us gals to meet and consider our strategy. Eileen was willing to drive our car to "deep in the heart of Texas". Thus began a neat friendship between us two couples.
We had no way of knowing how to contact our husbands upon arriving in San Antonio, so they said there would be a letter in General Delivery at the main post office there, with a phone number to track them down. Undaunted, Eileen and I left with all our "worldly possessions", and set off with snow on the ground. I wonder if we even had a map? Oh how I wish that the "co-pilot" had kept a journal! We just headed south through the Carolinas, Georgia, Alabama, Mississippi, Louisiana, and finally, the "Lone Star State."
Our husbands had instructed us not to drive after dark, and the days were short this time of year. Bill said that if the car acted up, not to let anyone sell me a new generator-we would only need a new solenoid. His warning was prophetic. When our car began showing signs of a problem, we pulled into the nearest station and wouldn't you know, the attendant claimed we needed a new generator! I held firm and told him what my husband said. When he persisted in claiming our car would catch fire down the road, we decided to travel on for another opinion. The attendant at the next station confirmed our suspicion of the previous one and agreed to replace the solenoid. The rest of our journey was uneventful.
I don't know how many days we were on the road, but we probably averaged more than a state per day. We tried to check in early at motels, but may not always have met our "curfew", bypassing interesting sights in order to reach our destination ASAP. I do remember driving along the Gulf of Mexico through picturesque old southern towns like Biloxi, Mississippi, with its bayous and magnolia trees. We saw the skyline of New Orleans in the distance, but did not digress.
When we reached our goal, a letter was indeed waiting with phone number to call on the base. Bill was out on maneuvers, but we were able to reach Gordon. They were both able to get a pass off base to meet us at The Alamo.
How the Lord mercifully watched over us kids! And fifty years later, He is still.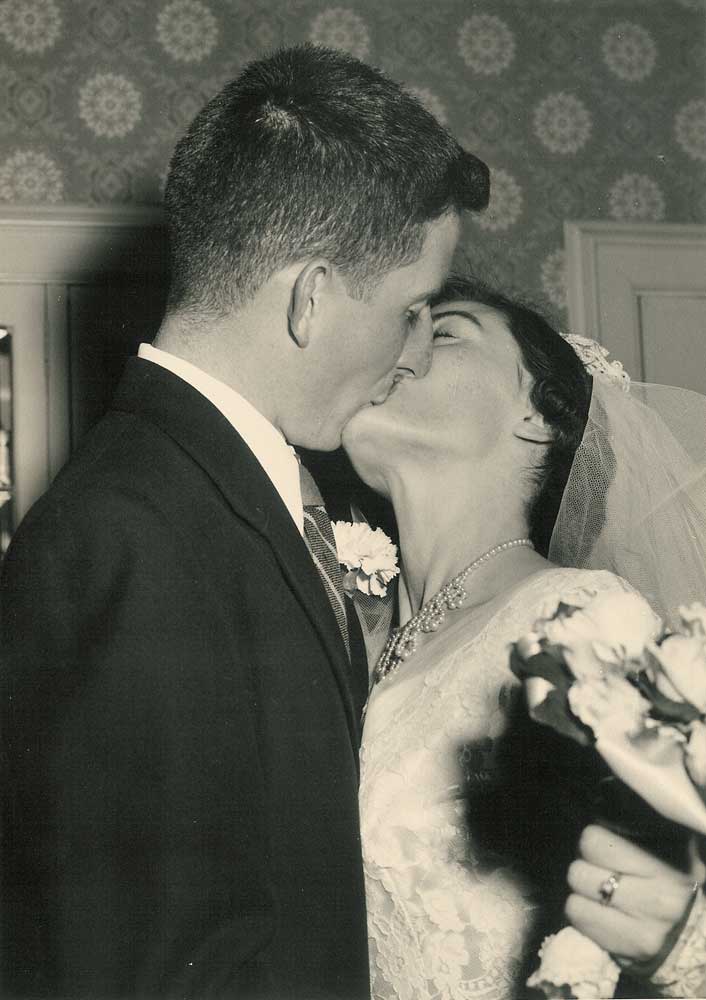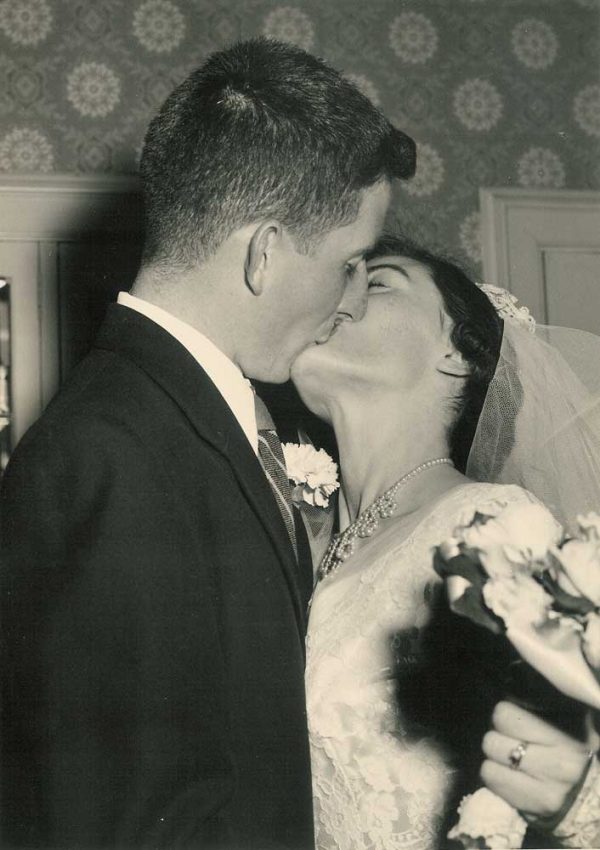 Related:
God's Truth and Red Flags by Dr. Bill Brink
Falling and Growing in Love by Dr. Bill Brink
Don't look to the world. The world wants you to think that your happiness depends on finding the perfect guy – or girl. But this just isn't true. If you are a believer in Christ, then your joy is found in Him. Do look to the Word of God. Read the classic love stories found there, follow the instruction of the New Testament, and don't forget the wisdom found in the book of Proverbs.
(Lisa Jacobson in "Essential Dos and Don'ts for Courtship and Dating" at Club31Women.com)