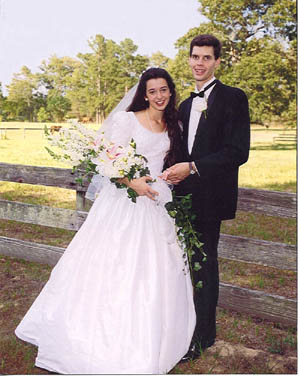 the story of Heidi Crank & Greg Greenlaw
Both the Greenlaws and us were thinking – Greg and Heidi – they sound so much alike and both desiring to reach tribal people. And to everyone's amazement, Greg was still unmarried but really needing a wife, one that would be as committed as he was to this work. And a major concern of ours was Heidi finding a husband who was truly going the same direction in which God was leading her, with whom she could go to the mission field.
God is "the best maker of all marriages," and I'm convinced that He loves to do it! He brought Eve to Adam. He prompted Eliezer's prayer for guidance, and then answered it by matching Rebekah with Isaac. He arranged for Ruth to "accidentally" bump into Boaz, inspired Naomi when she counseled Ruth to consider this man who seemed so beyond her grasp, and fueled Boaz's determination to finish the matter that very day.

This is a picture of God's heart. This is what He wants to do for all His children. This is what He wants to do for me.

If someday I live out my love story in light of the gospel, who can help seeing the pure and unconditional love of Jesus? That's an exciting thought!
(Elisabeth in "His Love Stories" at Boundless.org)