Songs We Put On Repeat In Hard Times
Disclosure: This post contains affiliate links which won't change your price.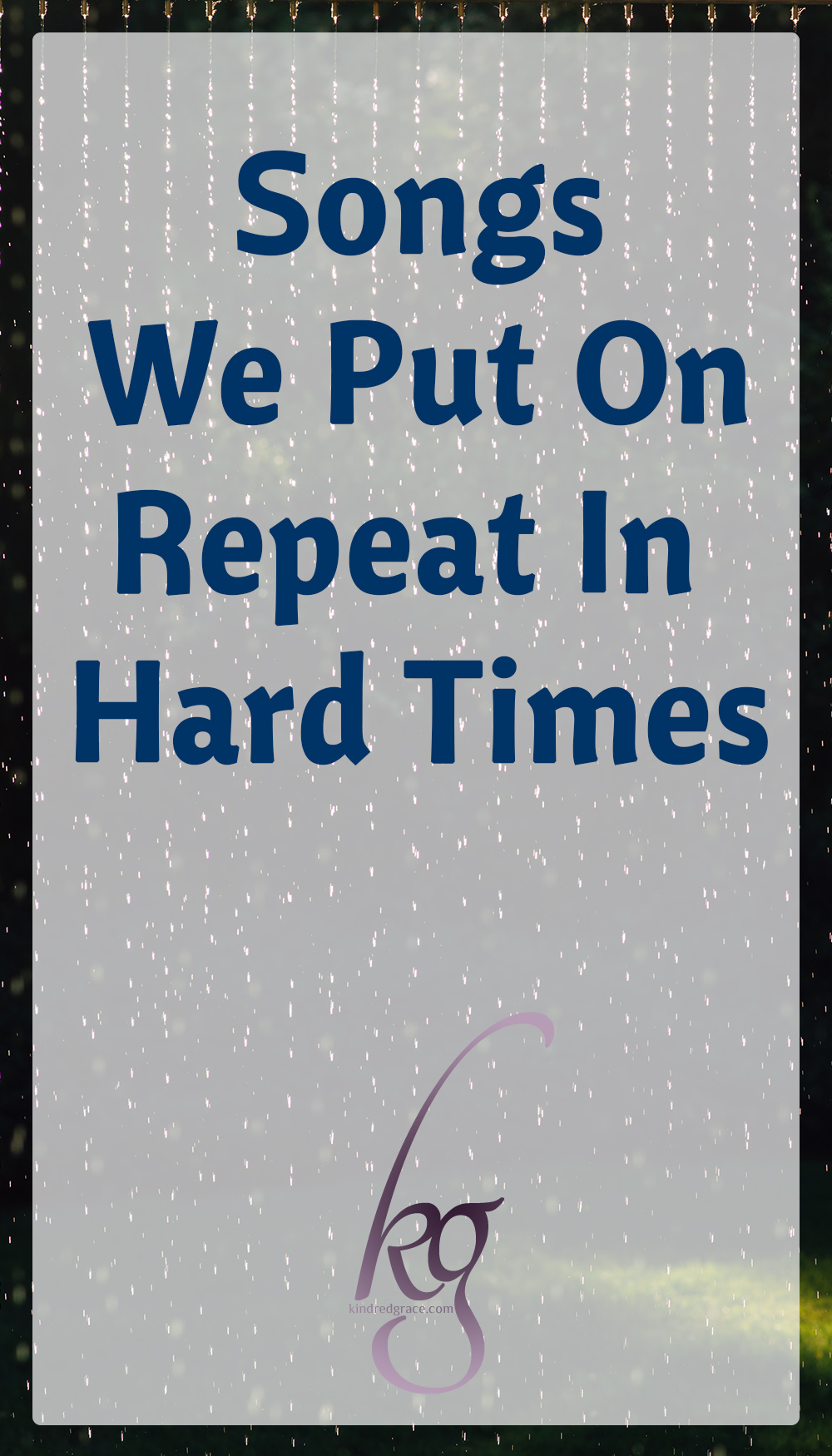 I couldn't read because light hurt my eyes. Screen time was out of the question. I couldn't even sit up. I could only lay there thinking of all the things I needed to be doing. But every minute I kept still was another that helped keep my baby growing safely inside me.
I knew eventually the bedrest would not be enough. I knew that one day I'd go for a check-up and be told I couldn't go home. I knew we might be facing a pre-term delivery and the NICU. I knew there was a great risk to me and a greater risk to the baby.
But I knew that stress and worry were only increasing my blood pressure–and the danger to us both.
My prayers were mostly wordless pleas. So I did the only thing I knew to do–I turned to the Psalms, my favorite source of comfort and communion with my Savior. I couldn't read their familiar words, so I put the Sons of Korah on repeat. And I fell asleep to their cadence over and over again in those days and weeks, resting in the sweet assurances of the Psalms set to music.
The Sons of Korah became the soundtrack to the days surrounding the birth of our youngest daughter. I can't hear their songs without thinking of that time. I can't think of that time without remembering the truth and encouragement I found in their songs.
Other songs define other seasons of my life. As a teen, I spent years hammering out "Be Still My Soul" and "How Firm a Foundation" on the piano. As we drove to the hospital for our two-month-old son to have hernia surgery, a song came on the radio that I never could find again, but was exactly the reassurance I needed at the time I heard it. As I came face to face with the health issues that put me on bedrest with three of our four children, "Broken Together" was the song that my husband played for me. And in between, in the ups and the downs, it was "Hold Me, Jesus" and "Thrive" running through my head.
Each time I've faced a season when I especially needed to remember God's promises of goodness and care, I turned to music. And I know I'm not alone.
I found out about the Sons of Korah thanks to my friend Jessica. I discovered another favorite artist, Andrew Peterson, through my friend Lanier. So I invited my friends from the Kindred Grace team to join me today.
Together we are sharing the tunes that have carried us through trials, the anthems that have brought us hope as we have waited to see the goodness of the Lord in the land of the living.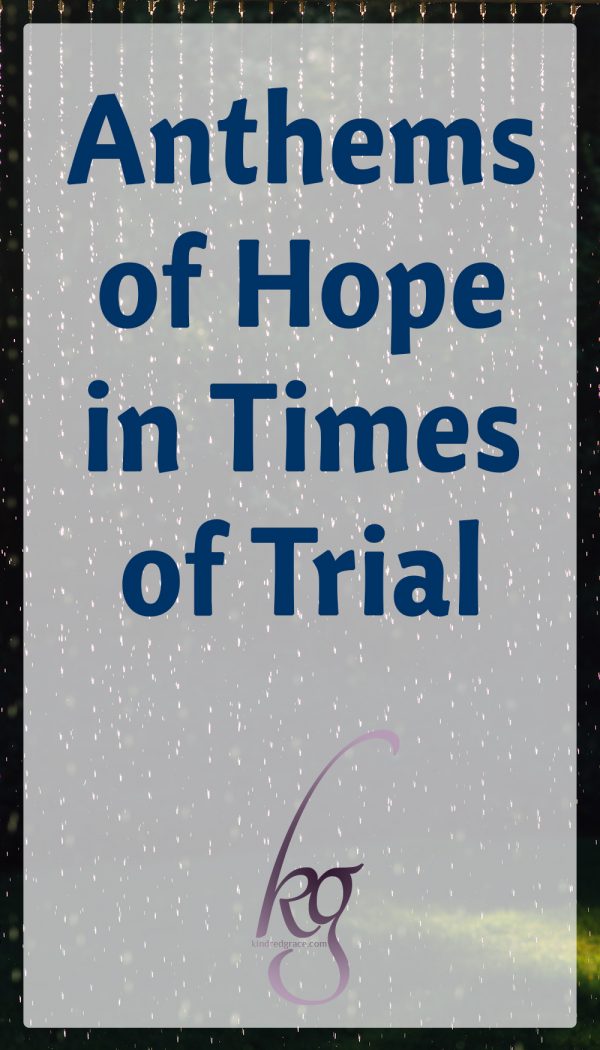 (This page contains affiliate links. Your clicks and purchases help support Kindred Grace at no extra charge to you.)
Anthems of Hope in Times of Trial
Callie Mitchell
I remember listening to "I Will Wait" over and over again, praying on my floor, grieving over the Lord's timing of events. It helped to orient my thoughts toward the Lord and cultivate a patient spirit, through making that declaration, "I will wait for you, Jesus." and commitment, "I believe in the word that you promised." This song is a great source of encouragement to persevere when you just want to give up.
Katrina Slabaugh
"You Deliver Me" and "I Turn to You" by Selah are two songs I have on my worship playlist for labor as I await the birth of my fourth child. These songs have ministered to my heart in previous life seasons and challenges, and always remind me to look to my Savior instead of my circumstances.
Gretchen Louise
I love this collection of original music. The words are prayers and Scripture set to music; poetic phrases that my heart clings to and sings again over and over. "In an uncertain world, You're the rock that we cling to…" But I'm not the only one who loves it. My children quickly picked up the words and tunes. What a joy to hear them singing, "Above all else let us follow Jesus…"
Rachelle Rea Cobb & Angela Rea
Joey and Rory sing classic hymns with heart and feeling. Listening to their music is all the more special because we know it is played and sung by precious folks that were living out the words of the songs, songs both familiar and well-known, but made fresh on this CD. (Read more about Joey + Rory's story.)
Jenni Marie
I love the soulful way that The SHIYR Poets have put the Psalms to music. While they don't gloss over the sorrow in the songs of lament, these Scriptural songs speak Truth and Hope into my heart. They offer an emotional release during steeply challenging times and provide a beacon of Promise into the days of waiting. Psalm 10 is my favorite in both the tension and the victory: "Why, LORD, do you stand far off? Why do you hide yourself in times of trouble?" But then comes the triumph: "No! No more will mortal man terrify your own."
Jessica Telian
An unexpected benefit of having The Sons of Korah on repeat is that the songs that get stuck in my head are the words of David and other psalmists as they cried out to the Lord in both hard and happy situations. Though the words are so familiar, in a way they seem new as they continue to encourage me and renew my mind. (Read Jessica's full review.)
Caroline Rose Kraft
I bought Audrey Assad's album, Fortunate Fall, this spring (after I saw Jessica Telian recommend it!). I kept the CD in my car and let it play over and over again. Audrey's voice is a gift and her lyrics are an eloquent, sincere interlude from the pop I usually hear from Christian musicians. I have particularly clung to her Psalm 23-inspired song, "I Shall Not Want", which reminds me to be content in any and all circumstances. When I have Jesus, I truly shall not want.
Jenni Marie
"What Love Really Means" by J.J. Heller was released when I needed it. You know those moments when God reminds you He's listening and He understands? This song was that reminder to me during that season. As I faced a season of hurt and questions and thoughts of "am I unlovable?" this song spoke to me reminders of Ultimate Love when I was waiting to know if I'd ever experience romantic love.
Elisabeth
When an exploratory relationship ended without the closure I longed for, it was God's silence that made me feel deserted — as if He was indifferent to my needs. Much later, I began to learn that His silence comes out of love, that it is the eloquent silence shared between friends, and that it will not last forever. And that helped me to wait for the comfort and understanding that would come…in His timing.
Elisabeth
I can't remember now what season prompted me to listen to this song again and again, but I do remember that these lines stood out to me: "God is at your side. No longer dread the fires of unexpected sorrow." As a longtime single woman, it sometimes feels like my whole life is about waiting, and at times I have been tempted to fear the future. But I've found that Jesus changes the look of every experience, just because He is in it with me.
Elisabeth
About the time this song appeared on the Rabbit Room blog, we had just passed the one-year anniversary of my youngest sister's brush with death, and my aunt had been diagnosed with cancer. There are many ways God leads us to respond to painful suspense, and sometimes a little godly spunk is just what fits: "Trouble, go down! The Savior calleth. Trouble, go lay thee down!" It reminds me of Micah 7:8:
"Rejoice not over me, O my enemy;
when I fall, I shall rise;
when I sit in darkness,
the Lord will be a light to me."
Elisabeth
As soon as we hung up from phone call in which I learned that my aunt's cancer was terminal, I burst out singing this hymn — to myself, and to my dad, who was about to lose his youngest sister.
"I must tell Jesus all of my trials;
I cannot bear these burdens alone;
In my distress He kindly will help me…
Jesus will help me! Jesus alone."
Elisabeth
Sometimes in this life, we're not just fearing an imaginary future; we're waiting for something sad that will actually happen. I played this song for my aunt, whose cancer meds gave her bad dreams…as she waited for her fast-approaching death. Sometimes, late at night, I play it as my own prayer in the fight against disturbing thoughts. It hints at something J. R. R. Tolkien wrote about: the day in which everything sad comes untrue. And that is a beautiful kind of waiting.
Elisabeth
This song. Oh my! It's amazing how much God trusts us to trust HIM with…and how He helps us grow from acceptance to spunk to hope of heaven. But perhaps the toughest waiting for me to do is the kind where I ask for the impossible in the here-and-now. It is so uncomfortable to open my heart up to what God has not guaranteed may ever be. And yet I believe it delights Him for me to see Him as the God who gave children to Abraham and Sarah — and may yet give children to me.
Marian Nicole
Written several years after the Chapmans' tragic loss of their daughter, this song came into my life after we lost our second child. Amidst dark, thick grief that I couldn't imagine ever lifting, long-term hope was what I needed. "There's so much of the story that's still yet to unfold…"
Marian Nicole
This is my anthem for those times I truly can't foresee how "this" is going to work out. One verse begins, "And this is my prayer in my battle, when triumph is still on its way–" and I tear up every time. I need these assertive repetitions of truth: "My God is the God who provides" and "I am a conqueror and co-heir with Christ" and "God is my victory and He is here." This song also addresses seasons of "plenty," and seasons of "fire," and helps me cling to God's promises in every season alike.
Jessiqua
Have you ever played a song on repeat during hard times? "Oceans" is one of those "old faithfuls" for me. Not only is it long and soothing, the words have helped build my faith and ministered to me in seasons of uncertainty and turmoil. The great unknown doesn't seem quite so scary when we're holding our Father's hand. He makes everything beautiful in its time.
Chantel Brankshire
"Blessings" was a powerful reminder to Scott and myself through our long season of unemployment that even though things felt and looked rather gloomy and desperate, that even hard times are often God's "mercy in disguise."
Chantel Brankshire
Sometimes our most precious lessons are learned during the times when it seems like all we hear is silence in answer to our prayers for direction. During my life I've had so many of these times when I've clung to the promise that even when His answer is not loud and clear like it is other times, we are never alone. He still is guiding and directing.
Vicki V. Lucas
I found "Take My Hand" on a sample CD at a Christian bookstore when I was in college. Little did I know that this song would follow me through upheavals of life for twenty some years and still be one of the first songs I turn to when trials come. In times of great sorrow, when I was on my knees fighting to breathe with this world's sorrow pressed so heavily on me, this song was on repeat. I could picture Jesus holding out His hand for me to lean on. This song is followed with "He Won't Let You Go." These two songs, written as if Jesus were saying them, give me hope and strength to continue on no matter what I face.
Gretchen Louise
This collection of songs is tinged with the melancholy of waiting, which is overcome by the joy of the expected coming. With both traditional Christmas carols as well as Scripture turned to song, Waiting Songs is one of those CDs we enjoy all year long as we await another Christmas, another year closer to His coming!
What refrain is on your heart in times of trial and testing? What psalm of praise is on your lips in times of peace and plenty?
We'd love to hear the songs that you turn on when you need to tune in to His presence. Find more recommendations on our Facebook page. Or check out the playlist on Spotify or on YouTube Music.
Photography: JenniMarie Photography