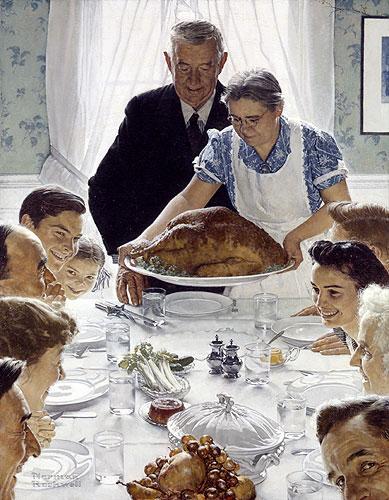 Over the years, my family has celebrated Thanksgiving in a variety of ways. There was the year that my dad's job had us commuting back and forth from our home in Central Texas to an apartment in Hartford, Connecticut. We ate turkey sandwiches at a rest stop (and didn't mind one bit, if I recall).
A year or two later, we enjoyed a small turkey dinner with only the six of us (at the time, that was my entire immediate family) because my dad was just recovering from serious pneumonia. That's the only time I ever recall my dad calling in sick in my whole nineteen years of knowing him as M.D. ("my dad").
However, this year will add yet a new variety to tradition. My eldest sister will be spending Thanksgiving Day at her in-law's house. We are glad to know that this means that we get the newlyweds at Christmas, but it still seems strange to think of celebrating Thanksgiving without her.
Yet, most years (this one included) have much in common. On Thanksgiving, we cook, we eat, and we clean. My mother, grandmother, aunts, cousins, sisters and I all spend hours in the kitchen preparing the meal. Guests walk in the front door bearing casserole dishes and boxes of ingredients. Our kitchen feels suddenly small and we wish we had two more ovens and three more refrigerators.
At last the meal is ready and the delicious scents waft through the house, giving no need for a dinner bell. We pray and enjoy the meal and before we know it, it's all over. Then it's back into the kitchen to clean up the immeasurable mess. That night, we fall into bed exhausted and Thanksgiving is over.
This Thanksgiving, though I want to experience as many of our traditions as possible, I want to do something new as well. I want to remember a certain passage of scripture as I help cook, eat and clean. (Yes, eating is helping too!)
"Martha was distracted by much serving." Luke 10:40
We all know the story of the sisters, Mary and Martha. Mary sat at Jesus' feet and listened to His words while Martha slaved away in the kitchen. We all know what Jesus said to her: "Martha, Martha, you are anxious and troubled about many things, but one thing is necessary. Mary has chosen the good portion, which will not be taken away from her." (Luke 10:41-43)
We can see, at the end of the story, what a mistake Martha had made. How could she think that cooking and cleaning were more important than Jesus? It seems foolish, doesn't it? But I think we often forget what it was that drew Martha away from Jesus' presence. She was not some rebellious woman who was dragged away by sin. Rather, she was one of Jesus' best friends and it was service that distracted her.
Every day — and especially during this season of holidays — I need to keep this in mind. It was service that distracted Martha from "the one thing" that is necessary: Jesus.
In Micah 6:7, we hear the question: "Will the LORD be pleased with thousands of rams, with ten thousands of rivers of oil?"
In other words, what can I do to please God? Work hard? Make sacrifices?
Then, in verse 8, Micah says: "He has told you, O man, what is good; and what does the LORD require of you but to do justice, and to love kindness, and to walk humbly with your God?"
The question rings clear in my soul: am I willing to walk with Him instead of merely striving? Am I eager to sit at His feet and savor Him even when –– especially when — there is service to be done? Am I ready to do "that one thing" in order to gain that which cannot be taken away from me?