Reading Stories Everywhere
Disclosure: This post contains affiliate links which won't change your price.
[Polly] was glad to see such a happy ending to the romance she had read all down the street. (Louisa May Alcott, An Old Fashioned Girl)
One of my favourite things about being a scribbler is that I read stories everywhere. I don't just read stories between the pages of a book. I read them in people and places and things. I'm not sure which came first.
Do I read stories everywhere because I'm a scribbler? Or am I a scribbler because I read stories everywhere?
Hmm. What I'm sure of is that I am a scribbler and I do, indeed, read stories everywhere. I'm not sure if this knack is a gift or not. It gives me more than my fair share of joy and sorrow. I tend to see miracles and tragedies everywhere.
The good thing about reading stories everywhere is that I read stories in my own life. Well, maybe not when life is good, when I'm happy to enjoy the moment. When life is hard, however, I read a story in the hardship.
I think of Sarah and Ruth and Hannah waiting and praying and trusting in God.
I think of Mary being utterly, wonderfully surprised by God.
And then I think of Cinderella waiting by the fire. I think of Maid Marion working for justice with Robin Hood in the castle and the forest and the cave. I think of Polly Milton of An Old Fashioned Girl, one of my favourite heroines from literature, living with her piano and her canary and eating her supper of bread and milk by book and candlelight.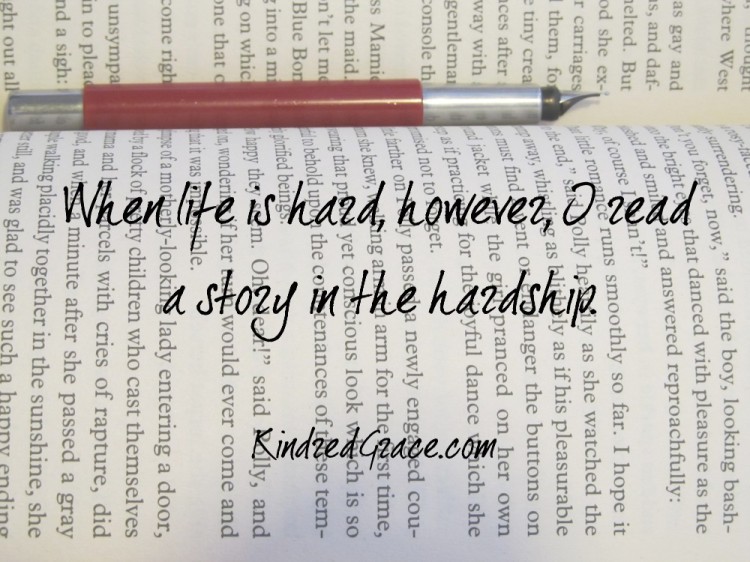 Life doesn't feel so hard when I can read a story in the waiting and the working and the eating of supper by book and computer-screen-light. Suffering doesn't feel so pointless because, of course, the suffering in a story makes the happily ever after bit better.
The moment when the prince slips the glass slipper onto the petite foot of Cinderella is better because Cinderella has so patiently served her wicked stepmother and selfish stepsisters. The moment when Robin Hood sweeps Maid Marion into his arms and carries her away to live happily every after is better because he saved her from the dungeon of the castle. The moment when Polly realises that Tom loves her is better because she's hoped and prayed for so long for that moment.
And so I anticipate the moments which will be happier than I can imagine now precisely because now they feel impossible and I doubt that I'll ever go to the ball or hear the voice of my beloved beyond the dungeon door or discover that a certain someone cared all the time.
My trials and tribulations, of course, aren't exactly the same as those suffered by Cinderella or Maid Marion or Polly. My family isn't stopping me from going to a ball, I'm not locked in a dungeon, I'm not pining for the affection of a special someone — not a special someone I know anyway!
The point is that Cinderella and Maid Marion and Polly overcame their trials and tribulations. The happy endings of their stories give me hope that my story will have a happy ending too. And so, by reading stories everywhere, I see hope everywhere too.