Disclosure:
This post may contain affiliate links which won't change your price but will share a commission.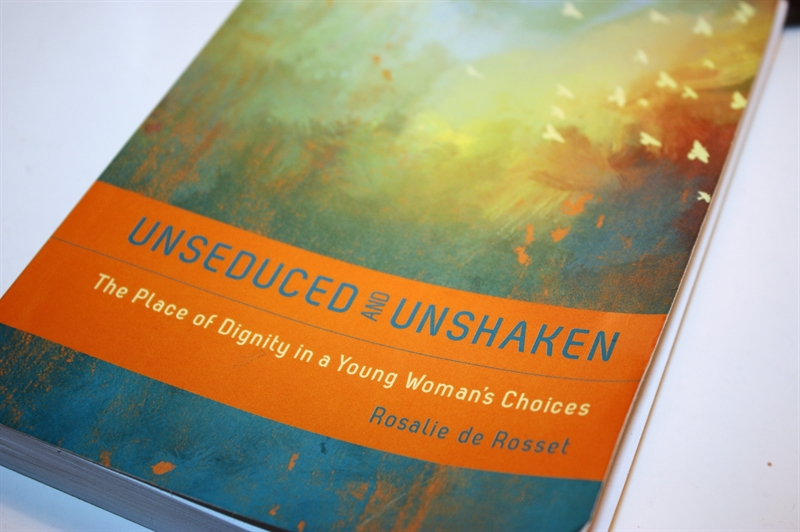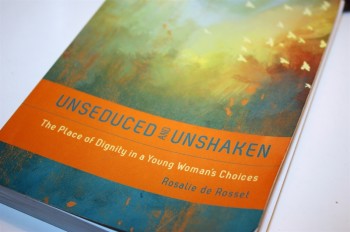 Dignity.
It's a word we don't hear too often in Sunday School or late-night slumber party conversations. But it forms a central theme in Rosalie de Rosset's book Unseduced and Unshaken: The Place of Dignity in a Young Woman's Choices. According to Dr. Rosset,
To be a Christian woman of dignity, a woman must know who she is before God… Dignity is a strong, chosen, deliberate way of life, the result of the totality of a person's choices and worldview.
Rosalie de Rosset is a professor of literature at Moody Bible Institute, and she writes with an intellectual yet accessible style. Along with several other contributors, Dr. de Rosset has compiled the lectures she has given young women over the years into Unseduced and Unshaken. She challenges readers to rise above the culture's expectations of women and realize their true identity in Christ.
Christ so loves us that He wants our entire selves (body, soul, and spirit) to be His dwelling place, setting us free not to sin, setting us free from the enslavement of cultural pressures and the lies we are told and which we tell ourselves.
As a literature professor, Dr. de Rosset uses characters from books such as Jane Eyre and Pride and Prejudice to describe women of dignity who are also concerned about their intellectual growth. Christians cannot "separate spiritual life from the life of the mind," and she encourages women to educate themselves in the things of God. The book also covers the topics of sexual dignity and modesty in an honest yet graceful manner, calling women to follow Christ's leading rather than either the culture's example or man-made rules.
The chapter "Mindful or Mindless" encourages women and girls alike to establish a theology of leisure. Facebook, chick flicks, and ever-popular Christian romance novels often serve as an escape from the busyness of life. However, Dr. de Rosset questions the lasting benefits of pop culture's entertainment and instead challenges women to pursue pastimes that cultivate the mind and soul. Instead of hopping on Pinterest during a free evening, she challenges women to read a timeless novel or watch a classic movie.
Unseduced and Unshaken calls women to pursue God with body, mind, and soul, embracing the dignity we can find only in Jesus. With follow-up questions and suggested reading lists, this book gives readers tools to examine themselves and strengthen their walk with Christ. As the cover reads,
Being intentional with your choices, cultivating your intellect, and taking seriously your voice determines not only what kind of person you are, but also what kind of woman you will be.