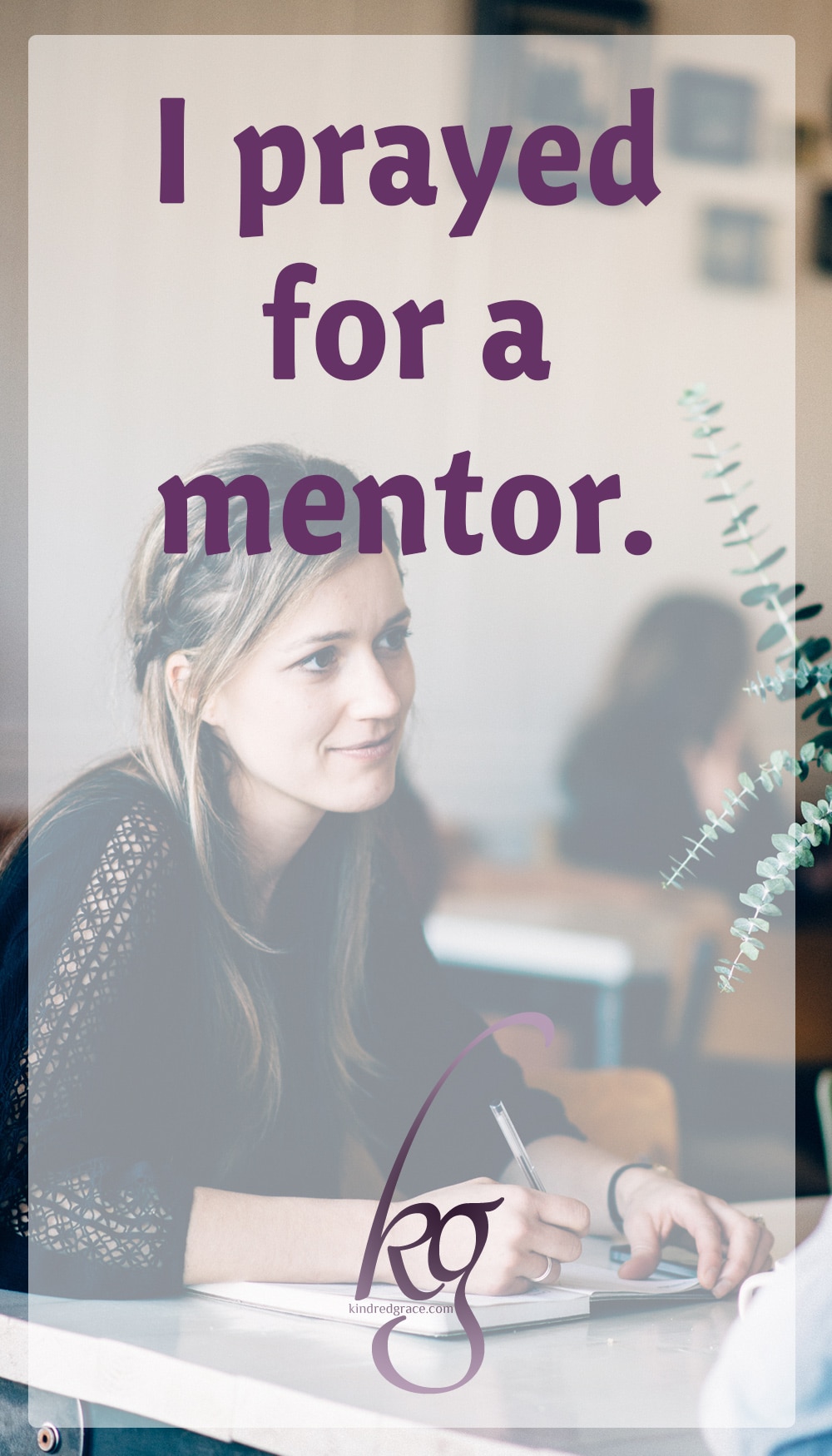 Many years ago, my husband was called to join the ministry staff of a church in a city new to us. The women in the church invited me to a ladies' tea to welcome me and help me become acquainted with them. I was only twenty-three years old, so most of the women there were older than I was. When I was asked to give a spontaneous short speech, I appealed to the women for a mentor, someone who would fulfill the Titus 2 role in my life. I knew there was much to learn about being a wife and ministering to those around me. I was disappointed, though, when many of the women told me they had already paid their dues and were ready to "fade into the woodwork," as they were tired of the work of ministry. I left that ladies' tea feeling lost in the role I was being called to fill, and I continued to pray for a mentor.
A year and a half later, just after our first child was born, one of those dear women called me and asked if we could pray together. I don't remember her coming on a structured weekly basis, but she came often enough that I began to call her Grandma. And we prayed. As my baby grew strong enough to sit on the floor, we would sit on the floor with him, keeping one eye on him as he played; and we prayed. She taught me a great deal about prayer and trust and forgiveness and love and mothering through those times we spent pouring out our hearts to our heavenly Father. She was never pretentious or authoritative, but always loving, thoughtful, and kind. She never said mentor, but I considered her one and loved her for it.
As the years progressed, God continued to bless me with mentors. Two women particularly guided the direction of my life, but not in the same way as my other mentors. Through her books, Edith Schaeffer taught me about family life, being a mother, serving others, and making my home a place of beauty and rest. I love her dearly, though I never met her. Charlotte Mason has also mentored me through her written works. Her thorough research and years of experience gave rise to a philosophy of education that has heavily influenced my every thought about learning. These two women have profoundly affected my thinking, my home life, my parenting, the education of my children, and my personal life. I am grateful they took the time to write their thoughts—thoughts and ideas that have elevated my thinking and challenged me to be the noble person God created me to be. I am also glad I took the time to read and study, for I see now that their influence on my life continues on, affecting the lives of my children. What a blessing!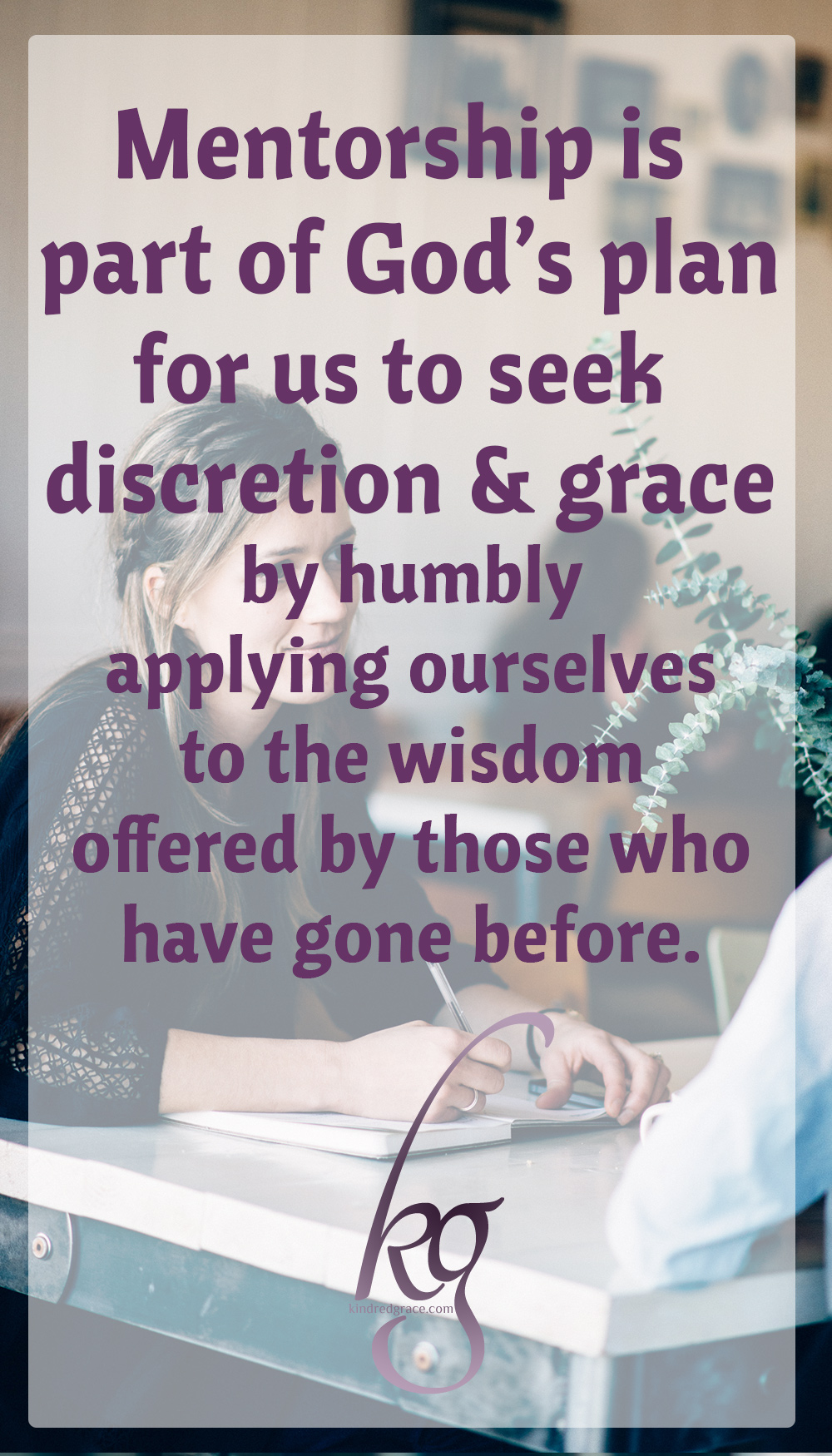 I have learned that mentorship is not a buzzword or passing fad. Mentorship is part of God's plan for the young—to seek for wisdom, discretion, and grace by humbly and fervently applying themselves to the wisdom offered by those who have gone before.
I still have mentors in my life, though I am older now. I have dear friends who join with me in prayer, to whom I can give an account of my walk with God and my efforts to be a godly wife, with whom I can discuss my Bible study and books I have read. I benefit from their wisdom when we discuss how to respond to our adult children and even how to care for our bodies as we age.
I find myself on the other end of the mentoring relationship, too, with young women who have become like daughters to me because of their eagerness to learn. And I am humbled. Perhaps they will learn from my past experiences, both the wise choices I have made, as well as my mistakes. Perhaps God will use the wisdom I have gained to encourage and gently teach them. I know that God is using them to compel me to continue to learn, to remind me to be gentle, as He is gentle, and to press me to pray for them.
I am grateful each time I remember the woman I called Grandma, who prayed with and for me, who taught me and demonstrated a faith-filled life to me. Life is short, even though those early days seemed long with nurturing, loving, training, educating, cleaning and cooking for my children, then falling into bed so I could do it again the next day. I know now, however, that the years are short.
Please humble yourself and ask an older woman to pray with you, to offer her perspective developed through years of trust, study, and prayer. You may find it to be a life-altering, life-giving request. And many short years from now, perhaps a young woman will come to you for the same such guidance and prayer.
Have you prayed for a mentor? Are you actively seeking one?
Photography: JenniMarie Photography