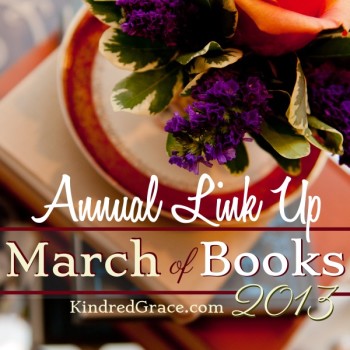 My PaperbackSwap wishlist has grown by leaps and bounds this month. I love hearing what authors I respect are reading! And more than one friend's book review title got moved to the top of my list throughout the March of Books. So many titles, so little time.
But that's why I love the March of Books each year: it's when I find books to put on my wishlist, when I decide what books to order for which person's birthday, and, of course, what books I have to read next!
And it's not over yet. Now it's your turn to link up your book reviews, book-related posts — any writing about reading! — that you've published on your blog this month (or this past year!). Share the wealth of your favorite book titles in exchange for a chance to win a $10 Amazon or Book Depository gift card to get that next book on your wishlist.
Please be sure to mention the "March Of Books" and link back to KindredGrace.com.
Any blog post, Tumblr, LiveJournal, or Facebook note — anything with a link! — can be added to the link-up, as long as it is book or reading related.
The Kindred Grace Team reserves the right to remove any links we deem inappropriate.
Thank you to Jennifer van Leeuwen for the beautiful photo and Chantel Brankshire for turning it into this year's March of Books button!