How Sweet the Light Might Taste: interview with Joanne Bischof
Disclosure: This post contains affiliate links which won't change your price.
A few months ago this sweet lady named Joanne Bischof commented on a blog post of mine. Then we connected through Twitter and Facebook. Turns out, she is the author of the Cadence of Grace series, a beautiful trio of historical romances set in the Appalachian mountains at the turn of the twentieth century. Would you like to meet her? She's answering questions about writing and grace today!
Rachelle: Hi, Joanne! A sincere welcome to Kindred Grace. We're delighted to have you here to tell us a bit about yourself and your books! But first, let's get personal. Tell us a bit about yourself.
Joanne: Thank you so much for having me! Growing up, I always had my nose in a book and my head in the clouds. As a girl, I was one part Jo March, one part Beatrix Potter, and one part Laura Ingalls Wilder. I was always writing, drawing, and living with my imagination in the past. Being a writer was always my normal for as long as I can remember. The earliest story I have saved is from the third grade and I don't know if I would be here if it weren't for the encouragement of my parents from the get-go when it came to my love of writing. I always hope to encourage my kids the way they encouraged me!
Aww, so that is why you dedicated your first book to your parents? Speaking of which, tell us a bit about your first book, Be Still My Soul. Can you share how the idea for Lonnie and Gideon's story came about?
As the idea for Be Still My Soul took seed, it unfolded to be a love story between two mismatched people—a marriage between a shy, innocent girl with a strong faith, and a cocky, confident bluegrass musician who hadn't given God much thought. By throwing them together in a shotgun wedding, I wondered how their story would unfold. Could true love rise from the ashes of broken hopes? This was the question I asked myself as Lonnie and Gideon's journey began. I am amazed by what God can create out of nothing, and I wanted this love story to be a testament to His goodness and faithfulness.
What a story it is, too. And it continues! Your second book in The Cadence of Grace series will release soon. Can you give us a preview of what might be in store for Lonnie and Gideon?
For those who've read Be Still My Soul, there is a little hint of what's to come right in chapter one. As soon as people step into the first pages of Though My Heart is Torn, they quickly realize that something is about to happen…that Gideon, a redeemed womanizer who is so sincerely in love with his bride, Lonnie, actually has two wives—but he doesn't know it. However, he's very soon to find out for she's quite ready to emerge from the shadows of his past.
I really want readers to take away from this story that, though it may tug your heart and although a tear may fall for this couple who only wanted each other, the happily-ever-after can still be all the more richer—purer, sweeter—if we find ourselves looking out from the darkness and wondering how sweet the light might taste and if one day we might see it again. Though all hope may seem lost and though weeping may endure for a night, joy comes in the morning.
That right t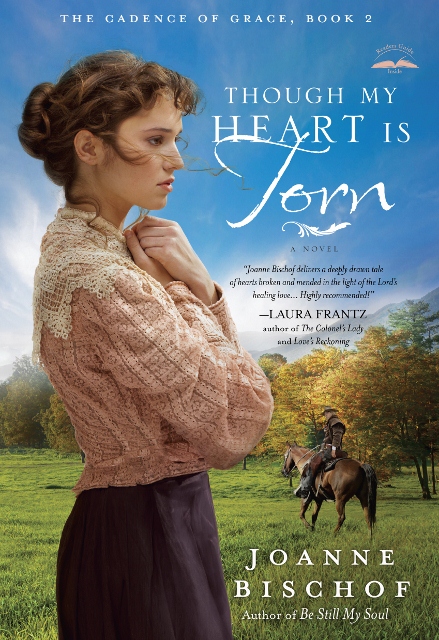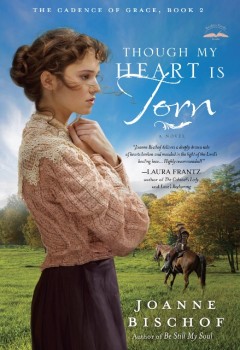 here is one of the reasons I love your writing, Joanne. Beautiful. And your books have one of the loveliest series titles: The Cadence of Grace. What does grace mean to you?
Thank you! I really wanted the series title to honor God's goodness towards us.
In combining grace: An unearned and unmerited favor; the absolutely free expression of the loving kindness of God to men finding its only motive in the bounty and benevolence of the Giver.
And cadence: the modulated and rhythmic recurrence of something.
The idea behind this series is that God has a perfect plan…but it's not always through calm waters. Nothing along the journey is for naught. Perhaps it wasn't time for their happily-ever-after to come. Not just yet. I think the hero of the story, Gideon, still has some lessons to learn. He still has some growing up to do. I think that trials come into our lives, so that we might come out on the other end a little bit stronger and a little bit wiser. Not because God is unkind, but because He is gracious to give us that time of growth—when we need it the most.
Oh, wow, that hits straight between the eyes. Before I get lost in that thought, one last question about your books. When I had the privilege of reading Be Still My Soul, I loved how Gideon is such an unconventional hero. He really grows from being almost a villainous character in the beginning of the book to someone who learns what it means to be redeemed from God's grace…how did you come up with this non-traditional element?
Yes! He really was quite a villain in the beginning of Be Still My Soul, and truly, has been one of my absolute favorite characters to write. There were so many times I wanted to pull him back. Write his character a little smoother, a little softer—but nothing else would have been Gideon. I've experienced what God can do with a man like Gideon—what He can build out of nothing. Gideon had a huge uphill climb, but as the seed of the desire to change was planted and he began to yearn to lay aside his own selfishness, so that Lonnie might be loved the way she deserved, those first changes occurred. Taking a man who begins the series as the villain and progresses towards learning what it is to be a hero, was something I really wanted to do with this story.
You succeeded! So… what does a day in your life look like?
A day in my life includes my three wonderful kids. My husband and I chose to homeschool so they are with me all day, and I absolutely love it. I love that I can't get any writing work done because I've got a baby on my hip and a six-year-old helping me get the eggs out of the coop or planting seeds in the garden and a three-year-old helping me make banana bread and singing our favorite songs together. Each moment is so precious. I write when they sleep, whether it's nap-time or late at night and I am so thankful for these years I have with them! And we all have much to celebrate when their daddy gets home each night. Those are when some of our favorite memories are made.
Precious, indeed. So what is one thing you have learned from walking this publishing road during nap-times and after bedtime? What did you enjoy most about this journey to authorhood?
What I learned while walking the publishing road is that joy isn't found at the end of the road, it's found along the journey. There are so many days when it was easy to think that maybe tomorrow would hold something wonderful, when in reality, we often have our hands full with that "wonderful" without realizing it. It might not be our dreams come true, but perhaps it's an experience that God wanted us to walk through before we got to that moment.
One of the things I've enjoyed most about this journey to authorhood has been meeting so many amazing people. I didn't know there were so many kindred spirits out there—women who love to write and love the Lord and together, we get to make a difference doing what we love.
That is something I'm coming to realize, also. There are more kindred spirits willing to say "me, too" than I ever imagined. Of those kindred spirits, who inspires you?
Oh wow, so many people inspire me. My mom inspires me as she walks the road of rheumatoid arthritis every day with a smile on her face and a song of praise on her lips. And young women like you inspire me! I love seeing that there is a new generation of Godly women rising up. It is such a blessing!
Thank you!! Lastly, what books speak to your heart? What are your favorite books (of any kind!) to recommend?
One of my favorite Christian novels of all time is Thorn in My Heart by Liz Curtis Higgs. It is a book that has always stuck with me. The heroine, Leana, is quiet and meek, but filled with a wisdom and a graciousness as she walks the pebbled road through her story. I absolutely loved it. I love finding books that not only tell a wonderful story, but turn the spotlight towards the One who loved us first, so that we might know that depth of love.
That is exactly why I love fiction so much. Yours included! Thank you so much for letting us peek into your life, Joanne!
Thank you for having me!
The Giveaway
Joanne would like to invite ya'll to enter a giveaway for her book! Which book, you ask? That is up to you! Whether you've already read Be Still My Soul and would like to receive the second in the series OR you're a newbie to the Cadence of Grace series, use the Rafflecopter form below to enter this giveaway for a chance to win your choice of either Be Still My Soul or Though My Heart is Torn! Also, Joanne is hosting this giveaway of two prize bundles inspired by Lonnie and Gideon — be sure to check that out, too!