Do you remember circle time?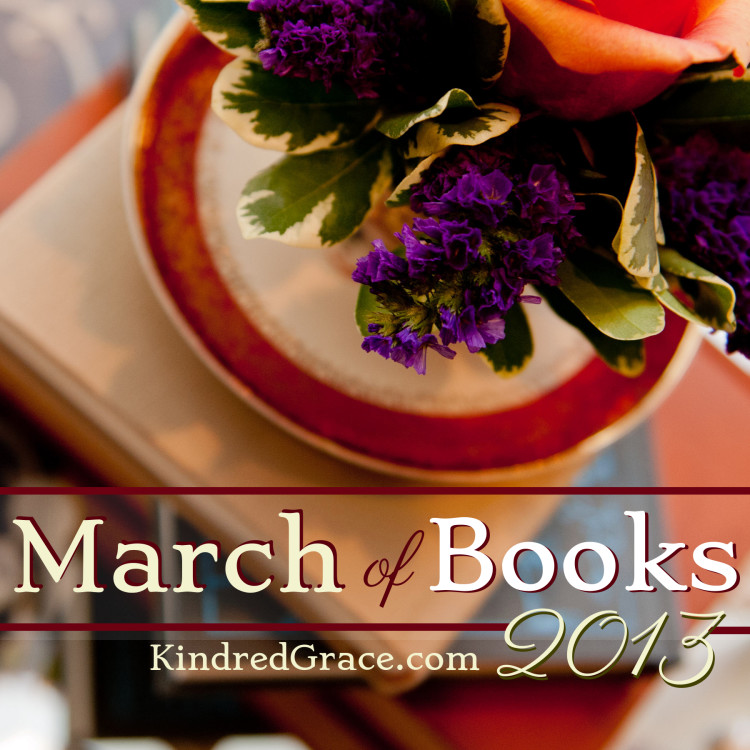 Your teacher, or mom, or Sunday School teacher would gather you and your peers into a little group and, as eyes widened and voices hushed (okay, not so hushed at times!), she would open up the pages of some intriguing story and you'd fall into the enchanting world of an author's imagination.
It would be really cool if the complete readership of Kindred Grace could gather on one rug and blissfully read together all evening, but that being somewhat improbable, we've come up with an alternative. Welcome to the March of Books! Instead of gathering on the same rug, we'll be gathering around the same webpage, hashtag and literary topics. Instead of spending an evening together (this is the great part!), we'll be hanging out all  month!
All month long we'll be here talking books, books, books! As we've done for the past three years, March will be a month of reviews, giveaways, s link-up and general bookishness. Oh, and something extra this year which I am particularly thrilled about: author interviews with some brilliant writers you've been waiting to hear from! Coming up with questions has been so much fun and the brains behind our favorite books have been kind enough to indulge us.
And, like circle time or one of those cozy book clubs I've always wanted to be a part of, we'll be doing this together. March of Books isn't a performance by the Kindred Grace team, but a festival that you're all invited to! If you enjoy books of any kind, you'll want to keep an eye on Kindred Grace this month for the posts, giveaways and interviews you'll be interested in. But more than that, we'd encourage you to join in our link-up so we can really sit close and read over each other's shoulders!
So get out your favorite books (old and new!) and your own pen (to join in the conversation!) and a cup of tea/coffee/beverage of choice and join the circle!