12+ Historical Novels to Fascinate Every Age
Disclosure: This post contains affiliate links which won't change your price.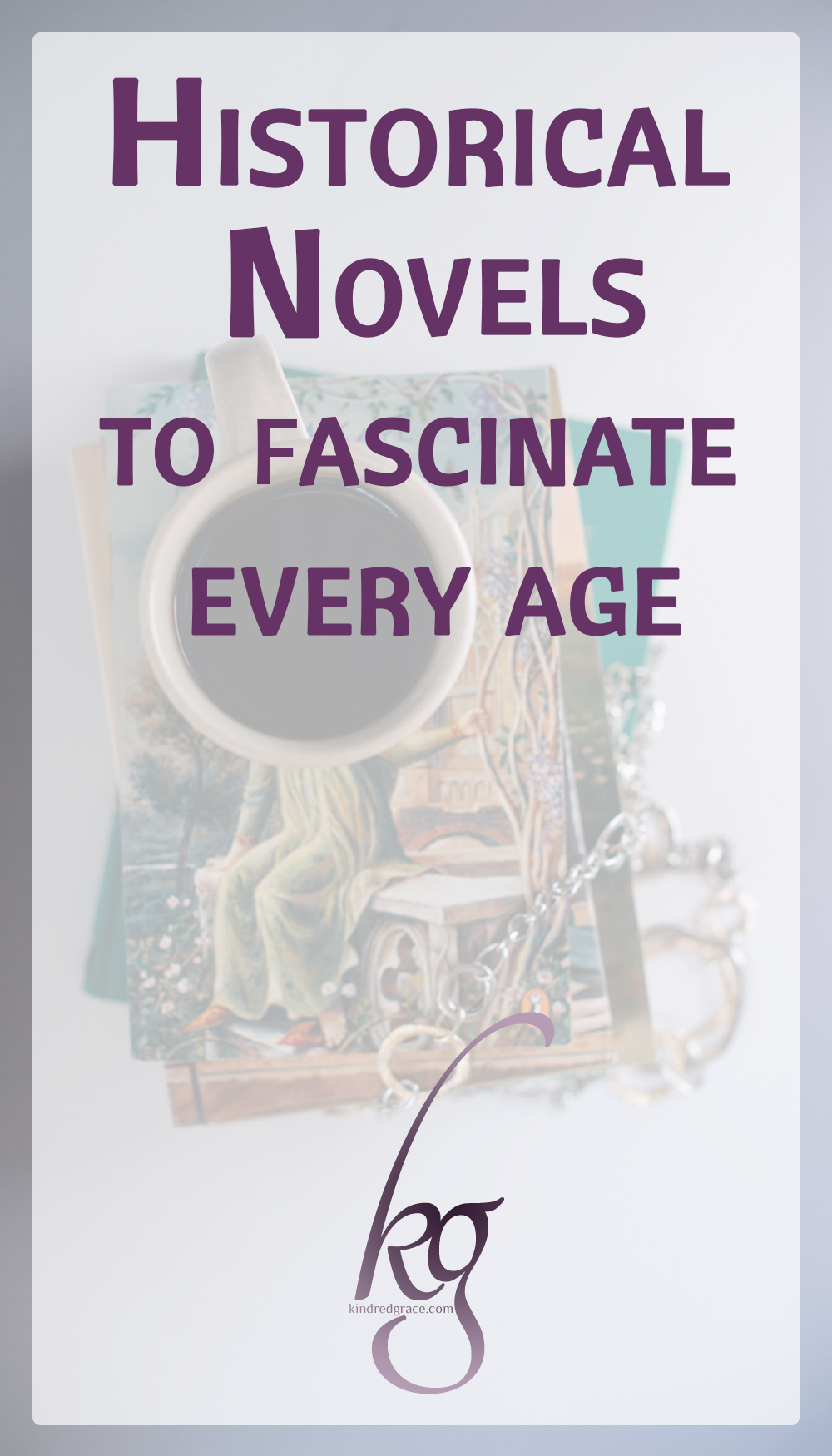 As a historical fiction author, I'm often asked what gems of the genre I recommend. I love being asked for book suggestions, but I always follow up with a few questions first because there are so many facets (and sub-genres) to historical fiction! Here are my questions and answers, and most importantly, the titles of my favorite historical novels for every age.
Whatever your taste in history or books, browse the list below for ideas on where to time travel next!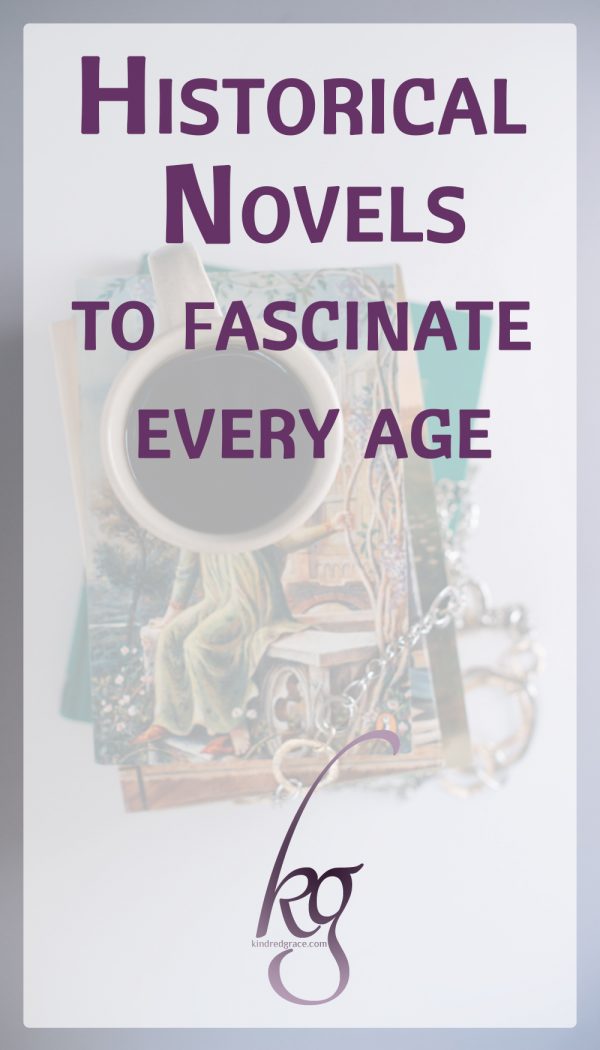 Are you looking for historical fiction for your daughter?
For young girls, I would happily loan out my copies of The South Seas Adventures and Lois Gladys Leppard's Mandie books. My friends are also talking a lot about Christy Martenson's epistolary tale Love, Mary Elisabeth.
I have read and reread The South Seas Adventures so many times. Some of the latter books in the series can be hard to find, but I have collected each title over the years and reading the series in its entirety at last was well worth the wait! I sincerely love these books about a girl with a disability making a way for herself in the strange, exotic lands her parents' travels land her in. Her adventures will hook the interest of all 8-12-year-old girls (and older!) and the Christian undertone make this a staple book I want my daughter to read.
I remember devouring these stories, yet there are so many books in the series, to this day I have not yet read them all. Set at the turn of the century, these stories are all mysteries in which the main character, Mandie, learns valuable life lessons about friendship, family, and faith. From losing her father at a young age to traveling the world, Mandie has a maturity that makes these books a joy to read.
Reading Love, Mary Elisabeth was like taking a walk through a sun-warmed flower garden at sunset. Everything comfortable about a whimsically relatable childhood, but with magical surprises along the way. I laughed alongside Mary Elisabeth's antics, ached with her as she faced the unfortunate realities of life, and rejoiced with her as growing pangs morphed into new mystery explained. I especially loved reading unexpectedly perfect descriptions of childhood perspective, relating them to my own experiences, and walking with Mary Elisabeth as she navigated through her year of changes. But, truly: Mary Elisabeth reminded me of the joy of letter writing (and receiving!), encouraged me to remember the beauty of family, and described (better than I ever could) the unparalleled delight in coming home. (Review by my friend Jenni Marie.)
Are you looking for historical fiction for your teen girl?
For teens, I've recently been raving about Lapis Lazuli for Hope. Melanie Dickerson's and Louisa May Alcott's books also top my favorites list.
A new favorite of mine, Lapis Lazuli for Hope transports me back to my favorite time period: the same medieval era in which my own novels are set. The heroine, Clare, has grown up in an abbey intending all her life to become a nun just like her friends around her. Then all the abbeys and monasteries in England are shut down for political reasons, and she is thrust into a life she's unfamiliar with–and with a priceless treasure she wasn't even aware she had. I thoroughly enjoyed all the twists and turns of this novel, the expert way the author painted the setting true to life back then, the call to hope, and the resolution which I won't spoil here except to say it will earn this book a treasured place on your bookshelf.
This is one of Melanie Dickerson's first and best fairy tale retellings (she has written many!), all about a girl who wants desperately to read the Bible and finds herself an indentured servant at a time when servants didn't read–and certainly didn't read the Bible. Again set in my favorite historical time period–the medieval era–The Merchant's Daughter is set even earlier than Lapis Lazuli for Hope, in the 14th century. The author does a stellar job drawing the reader in with accurate historical detail and a sweet love story set loosely after the Beauty and the Beast fairytale.
Before she ever wrote Little Women, Louisa May Alcott first told these stories of two nineteenth-century girls finding their way in society. A pair of coming-of-age novels sure to suit both younger and older teens, A Rose in Bloom and An Old-Fashioned Girl follow Rose and Polly through two distinct seasons of life: growing up and getting married. Lest those sound trite to you, though, let me assure you the lessons Rose and Polly learn along the way are ones I still think about to this day, a quarter-of-a-century old and already a wife! (Also: Eight Cousins is a prequel to A Rose in Bloom!)
Do you prefer books written recently about historical settings or books written near their now-historical settings?
Most of the time, reader friends don't give a yes-or-no answer to that question–and that's fine! But if the answer is the latter, I always mention Catherine Marshall and Gene Stratton-Porter.
A classic that is the best kind of historical fiction–written not long after the years in which the story are set. Following the journey of a young teacher taking on a school in a rural area at the turn of the century and learning more about what it means to have faith in the face of tragedy, fans of Hallmark's When Calls the Heart will recognize similarities to Elizabeth Thatcher in Christy.
Gene Stratton-Porter was an author first introduced to me by a fellow Kindred Grace author. Although I also enjoyed Freckles, Laddie and A Girl of the Limberlost are my favorites. Perhaps because the books tie together with a shared character. Perhaps because of the unique setting, which I have yet to read another book depicting. Perhaps because of the lessons of love and faith taught within. Whatever the reason, I love these books and loan them out to anyone wanting a taste of historical fiction at its best.
(Many of Porter's books are available for free download for Amazon Kindle as well as via Google Books, Project Gutenberg, and Loyal Books Free Audio Books.)
For Christian Romantic Fiction Fans
I learned to love historical love stories from Janette Oke, the grandmother of the Christian romantic fiction genre. Recently, though, my bookshelf has filled with Roseanna M. White titles; she has mastered the art of combining spiritual truths with page-turning plots!
A friend of mine in high school read this stellar series of books about the same time as I did and we still to this day talk about the impact they had on us. A sweeping historical drama that spans generations and ties the stories together beautifully, this series delves into heart-breaking circumstances leading two young wives and mothers to raise each other's daughters. These books will be one you read late into the night. I still have the old, tattered, large-print library versions I requested from PaperbackSwap when I was desperate to complete my collection! This series is a great introduction to reading Janette Oke's Christian Fiction classics, some of which are the basis for the Hallmark Channel's exceptional When Calls the Heart series.
A modern author who has mastered the historical fiction genre Janette Oke helped pioneer, Roseanna M. White is one of my favorite authors and I have read almost all of her books. Her latest series, Shadows Over England, takes place in a new time period for her, but as always she transports the reader back in time and relays a series of love stories while there! Fans of Austen will enjoy Roseanna's writing (and if you're a true Austen enthusiast, check out this list of books just for you!).
And if a reader friend has not yet read my own books, I often just casually mention that I've written several books set in the 16th century. The first three books span a saga that follows a glasses-wearing girl running from a revolution and the red-headed hero who saves her life. The most recent addition, Follow the Dawn, tells the story of a shy wallflower who befriends a little boy … whose father then returns from war to discover he not only wants his son by his side, but her as well. If you enjoy historical romance that faces hard subjects like injustice, miscarriage, adoption, verbal abuse, and always, always points back to the love of Christ, my own series could be just the ticket back in time to a land where castles still dot the landscape but holding onto hope is just as much a needed message as in modern times!
Whether you love historical fiction or you're searching for some books to suggest to or buy for your daughter or friend, I hope you find this list a springboard into a beautiful genre where time travel is made possible by good books.
Photography: JenniMarie Photography