Disclosure: This post contains affiliate links which won't change your price.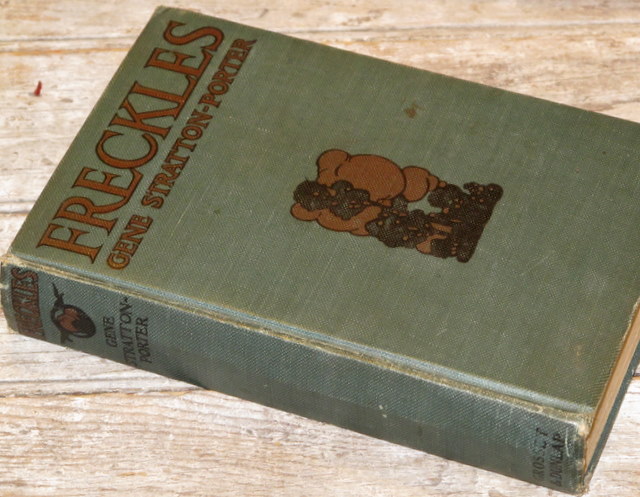 I grew up in the very dry, middle-of-nowhere, southeastern Idaho. Various shades of brown and grey were the dominant colours for most of the year, but May and June usually brought some green hues with them and I was always so thankful. I absolutely love green-ness, rain and humidity, and as silly as it sounds, I can get easily depressed by dry brown-ness. And so when the hills and lower mountains grew mossy-coloured in late spring, I reveled in it. And to celebrate, I usually read some Gene Stratton Porter. Her descriptions of the verdant swamps and woods of the Midwest always added to the general fresh and green feeling of those few months of spring.
My aunt was the one who introduced me to Gene Stratton Porter, and we first became well-acquainted through Porter's most famous book, Freckles. It was so long ago that I honestly don't remember my first impressions of that book, but they must have been favourable since I continued to read her other books. I somehow came to own a two-in-one copy of A Girl of the Limberlost and Laddie and read those treasures often.
I eventually found my own copy of Freckles in the book room of a little antique shop just outside of Christchurch, New Zealand. And a recent re-reading of it moves it right up there with my other Gene Stratton Porter favourites — it might even top the list now! Porter's beautiful descriptions of the woodlands of Indiana are of a similar quality to L. M. Montgomery's…and that's very high praise coming from someone who has read many of Montgomery's books numerous times! The storyline is a perfect mix of the lovely everyday and some page-turning tense plots. And Freckles himself is such the epitome of noble manhood that he is a joy to read about.
In so many ways, Freckles is a delightful read. If it's your first introduction to Gene Stratton Porter, it will leave you wanting to read more. And if you've already read some of Porter's books, but somehow missed this one…find a copy posthaste, and enjoy!
(Many of Porter's books are available for free download for Amazon Kindle as well as via Google Books and Project Gutenberg.)
Have you ever read any of Gene Stratton Porter's books? What is your favourite season and why?
(originally published in 2012; edited from the archives)