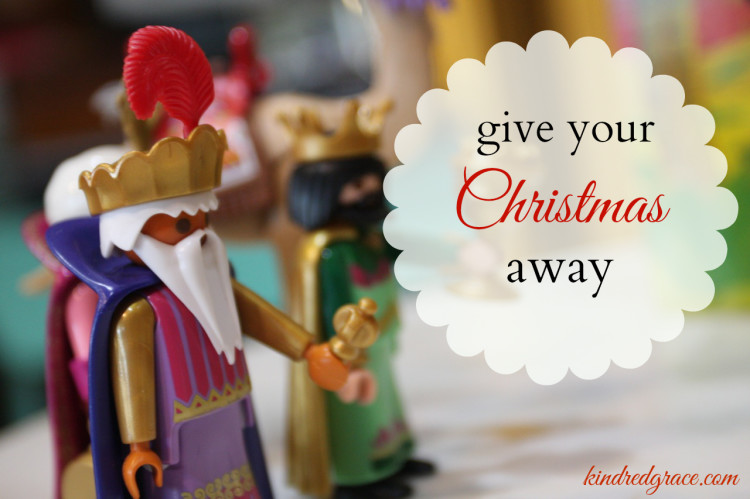 I come from a large, close-knit family. Holidays have always been very happy, special times. We aren't the type to sit quietly around the the tree and wait as each person opens their gift. Christmas morning is always a time of beautiful, intentional chaos because we are all bursting with joy and gratitude. Thanksgiving dinner has taken place all over, but it always includes family and traditional homemade food, and yes, a football game on TV. We're not always peaceful and picturesque, but we're happy.
Even with all of the quality family time and, in the recent years, nightly Advent devotionals to keep our focus on Christ during this season, there is something I have been holding back on holidays past. When I look into the little plastic manger in our nativity set, I can almost hear the words from Jesus Himself: "Give your Christmas away."
Now, I've spent Thanksgiving on the road and Christmas in an orphanage and my birthday in a broken-down RV on the edge of Death Valley, but special days have always been for my family and I and don't-you-dare-mess-with-them. We have to have turkey on Thanksgiving. We have to put the ornaments on the tree all together with Aaron Nevile's Christmas album playing on the old stereo. We have to have doughnuts on the morning of Saint Lucia's Day and we have to all have turns wearing the crown. We have to watch the ball drop on New Year's Eve and we have to have fried pork chops on New Year's Day. There are some traditions you just don't tamper with.
But the holidays are a very good reminder of all that we have as a family. We don't have to wait for Christmas to spend time with each other. We don't have to wait for Christmas to buy a new pair of shoes or firewood. We don't have to wait for Christmas to have any of our needs met. Our needs are met every day.
Christmas is a grand finale at the end of a year full of joy, full of family, full of provision. The gifts are a display of the love we'd have for one another all year long. We eat special food, but food itself is not special. We sing special songs, but glee is not unusual. We've had a whole year of celebration and peace already.
Christmas is something that we can kind of let churn around in our hearts and in our family without ever really sharing it. It's something we can take for ourselves to enjoy as we close our front doors tight to keep the warmth in. We tend to justify our splurges and gorging and downtime and forget that when we say, "Jesus is the reason for the season" Jesus is waiting to see if we'll act on those words.
Because you know that Jesus was the ultimate gift, right? And He didn't come down here to sit in our plastic mangers and eat candy canes. He came to save the lost and He did that by giving Himself.
Jesus is the real gift that keeps giving. He has been given to us, that we might give Him to others, but the there's only one way to do that and that's for you and I to also become a gift.
Christmas is special. Spend this time relaxing with your family and buying new things or making memories. But remember that The Gift came down that we might share Him with others. Give your Christmas away to someone. Let them make your Christmas dinner a little bit awkward with their hard past, their thick accent, their burning bridges, their own beliefs. Let someone make your stocking a little lighter with their open hand. Help someone else look forward to a New Year.
Let your cup run over into someone else's cup. An empty cup. A dusty cup. A cracked cup.
In Heaven, Jesus is celebrated in pristine and perfect worship, but on earth He is worshiped by getting our knees a little dirty in someone else's flowerbeds, getting our hands soapy in someone else's dishwater, getting our hearts filled and emptied and probably a little dinged up by giving ourselves away.
He is The Gift. He is Love. Give Love away. There is always enough, always more.