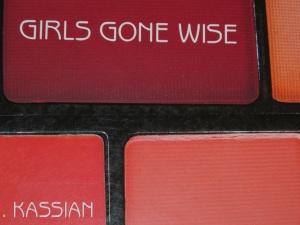 The title was … interesting.
Girls Gone Wise in a World Gone Wild? I wrinkled my nose at the computer screen. It wasn't a bad title for a book, but … I wasn't sure Girls Gone Wise was going to be "my" kind of book.
I was wrong.
"There is a measure of Girl-Gone-Wildness in all of us …"
I don't like to think of myself as a girl gone wild. I was home-schooled! I was raised without TV and Internet! I'm still every inch a preacher's kid – and, more to the point, I know Jesus. In other words, I'm a Nice Church Girl, right?
Well, in Girls Gone Wise Mary Kassian is talking to any and every Nice Church Girl who is listening. Girls like me. And you.
"The Girl-Gone-Wise trusts in the Lord. She has a Saviour."
Mary Kassian begins her book by retelling the story of "the wild thing" from Proverbs 7. Following are twenty chapters – twenty "points of contrast" between "a wild thing" who follows the ways of the world and "a wise thing" who follows the ways of God.
These twenty "points of contrast" include the "normal" points all books for Christian woman include – attitude, appearance, habits, focus, body language, boundaries, possessions and speech. But Mary Kassian also asks a girl if she is wise or wild in her heart (what's first in your affections?), her counsel (where do you get instruction?), her approach to love, her understanding of male and female roles and her sustainability in relationships. I raised my eyebrows when I reached the chapter about sexual conduct – but I didn't find it compromising or offensive as a single girl.
And then Mrs Kassian asked me to examine my authenticity. My reliability. And my influence. I found myself asking myself, "Am I needy?" "Do I think I'm entitled to … anything?" And, ultimately, "Am I teachable?"
Perhaps I don't need to add that Girls Gone Wise isn't always a "comfortable" read! It's challenging. And it's convicting. Mary Kassian applies the truth of the Bible to every area of a girl's life and concludes with an invitation for all of us to become "a wise thing" like the Woman at the Well, and thus become "the most beautiful woman in the world".
"Christ's call for self-denial is radical. Jesus said, 'If anyone would come after Me, let him deny Himself and take up his cross daily and follow Me' (Luke 9:23). A Girl-Gone-Wise answers Christ's call to radical obedience. Every day, she takes up her cross and resolves to follow Jesus – no matter the cost."
It's Mary Kassian who says that, "what today's young women need is a vision of womanhood that is irresistible – one so real, so true, so lovely and so promising that their hearts are captivated." It's that sort of vision that she shares in Girls Gone Wise.
I'm not sure I'd recommend Girls Gone Wise to a homeschooled teenager who's grown up at home without TV and Internet – unless she's reading it with her mother or another mentor. Why? Because Mrs Kassian doesn't flinch from telling the truth – the truth about the world as well as the truth about God. I don't think she wants to shock or worry her readers, and she presents the truth without apology but with compassion. Still – I raised my eyebrows a few times and I'm 26!
I want to underline most of the book. I can't choose a "favourite" chapter. Or, even, a favourite quote! Perhaps it's because the Bible is woven into the heart of the message in Girls Gone Wise. This isn't the sort of book that has some "nice" Bible verses tagged onto the message here and there – this is the sort of book, on the contrary, that is written about and around more Bible verses than I can remember! Mrs Kassian builds her message about "girls gone wild" and "girls gone wise" on the foundation of the Bible – on the foundation of what God says.
"A Girl-Gone-Wise … knows that the highest pleasure exists in denying self and willingly bearing the cross of Christ. She forfeits earthly joy for the eternal joy that God had set before her. She sacrifices lesser joys for infinitely greater ones. "
Mary Kassian says something new about how God wants His women to live. I have more than twenty books (yes, this is a little bit embarrassing to admit!) about "biblical womanhood", "godly womanhood", etc. I sort of expected Girls Gone Wise to say the same things as these books. In a way, it did, so it's consistent with the biblical concepts I've been learning for years. But in a way it's so new – so relevant and insightful – that it's like a breath of fresh, vitalising air.
The message of Girls Gone Wise is alive. I believe it captures God's heart for this generation of women. Not just women my age, but women my mother's age too. (Not that my mother is a girl gone wild – she's given copies of Girls Gone Wise to most of our friends!) This is a powerful and living message of conviction and hope for any – and every – girl who wants to be wise in this world gone wild.
(Click here to visit the official Girls Gone Wise website. And check out Gretchen's review of Girls Gone Wise from last November.)
Congratulations to AnneGirl for winning a copy of Girls Gone Wise!