Why have you forsaken me?
Disclosure: This post contains affiliate links which won't change your price.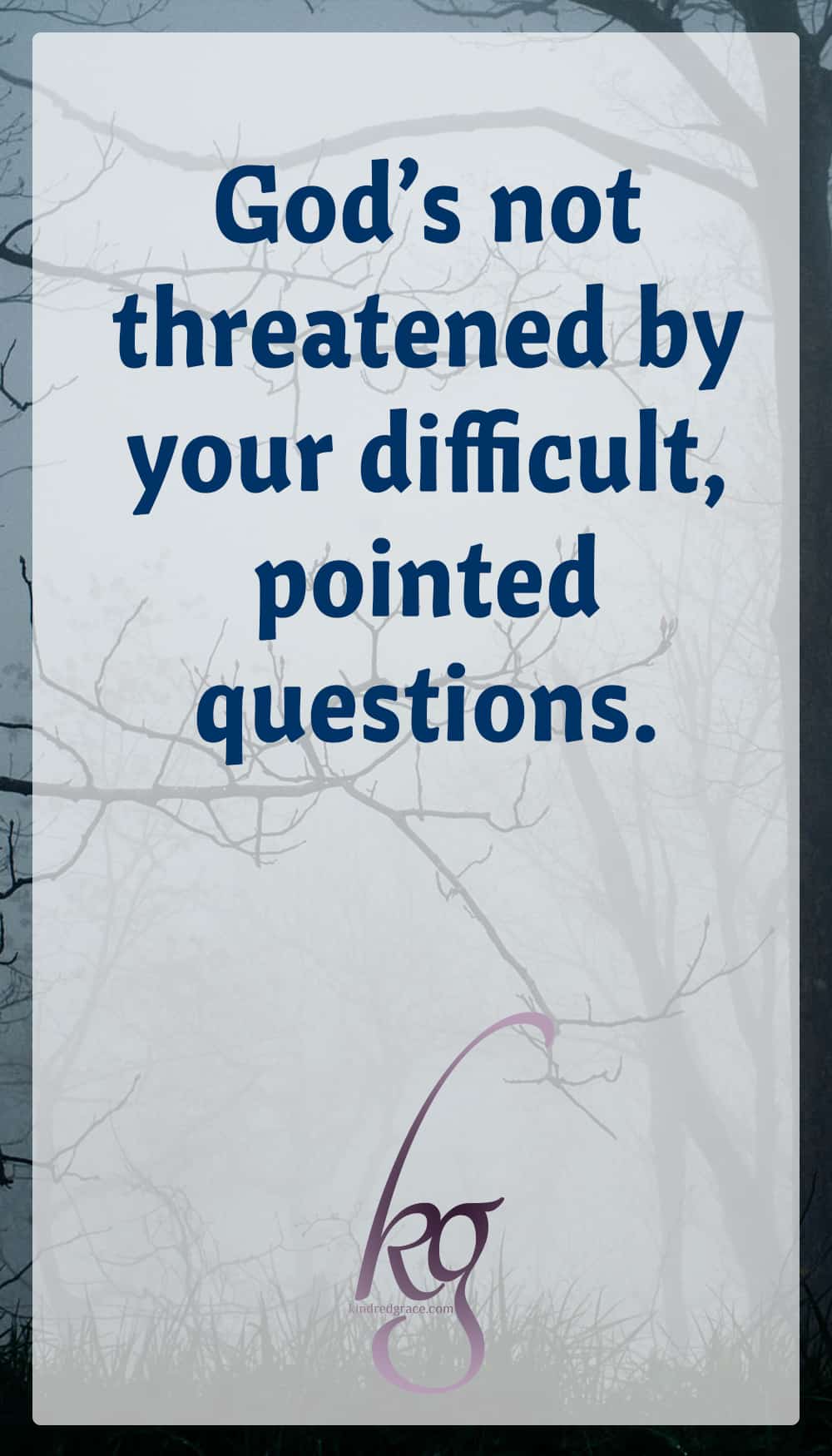 "Why would you let this happen?"
"Don't you care about me?"
"Why didn't you save my baby?"
In the wake of miscarriage we're pummeled with questions—questions about the biology of reproduction, about our bodies, about medical procedures which may be required, as well as questions about how to process grief, how to share the news with friends and family, how to know if what we're feeling is normal, and many more. But perhaps the most debilitating are the questions tangled up in our faith.
After suffering my miscarriages, I was constantly told things like, "God doesn't give us more than we can handle" or "God's ways are higher than ours" or "God works all things together for good." The theology behind these sentiments (and others like them) may be sound or flawed, but either way, bereaved parents can be left feeling hopeless in our ability to understand what happened, and distraught as we wonder where God is in the midst of our heartache.
Perhaps you've wrestled with similar questions. Or perhaps you've gulped them down with a hard swallow because you felt like whispering them aloud would be akin to admitting you're unsure of God's goodness. Maybe you're afraid your faith isn't as strong as it "should" be.
Here's where I want you to lean in close, sister, and consider the words Jesus cried during his darkest moment:
"My God, why have you forsaken me?" (Matt 27:46)
Despite His perfect communion with God, Jesus unleashed His anguished question—Why have you forsaken (abandoned, rejected, despised) me?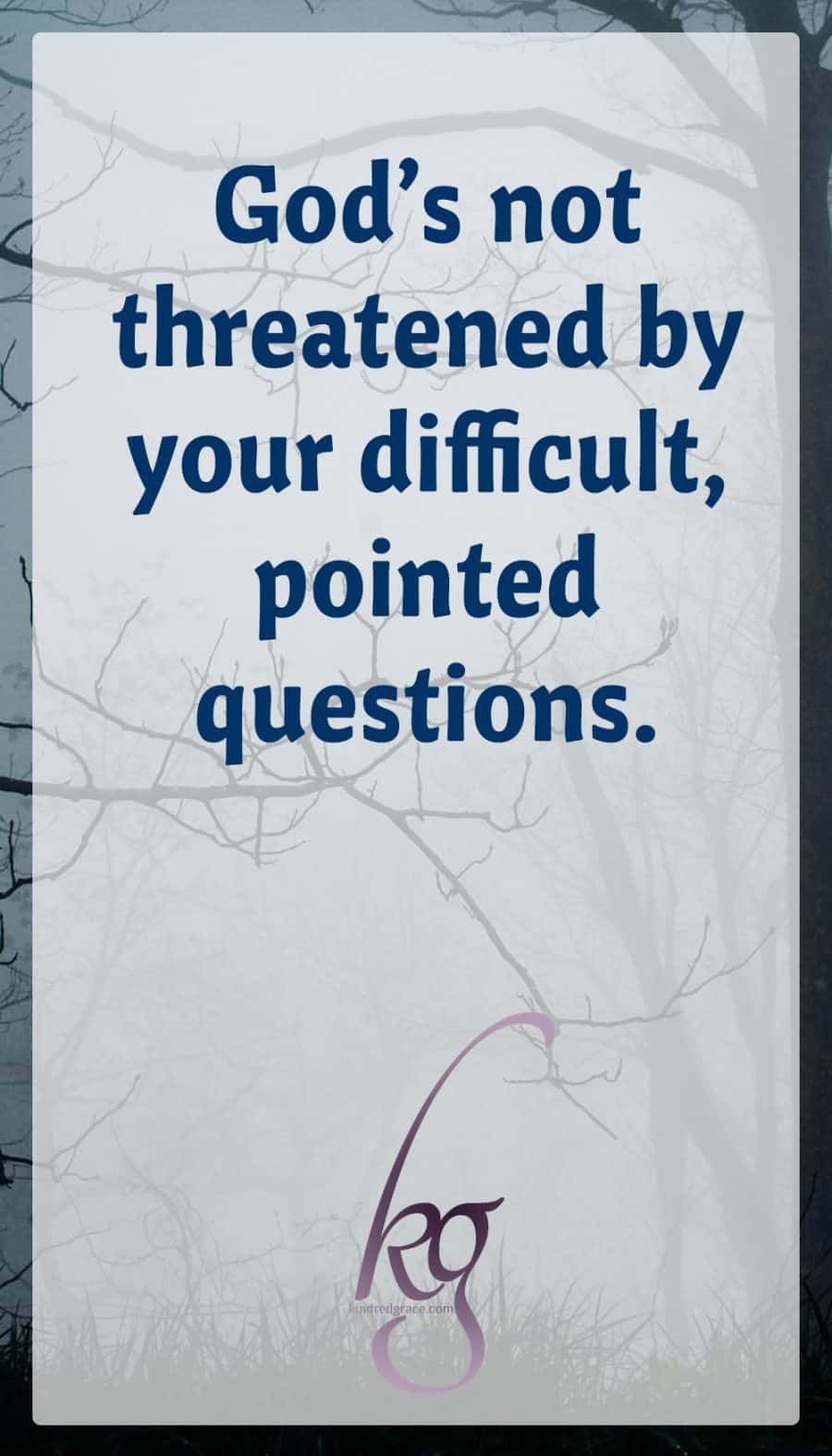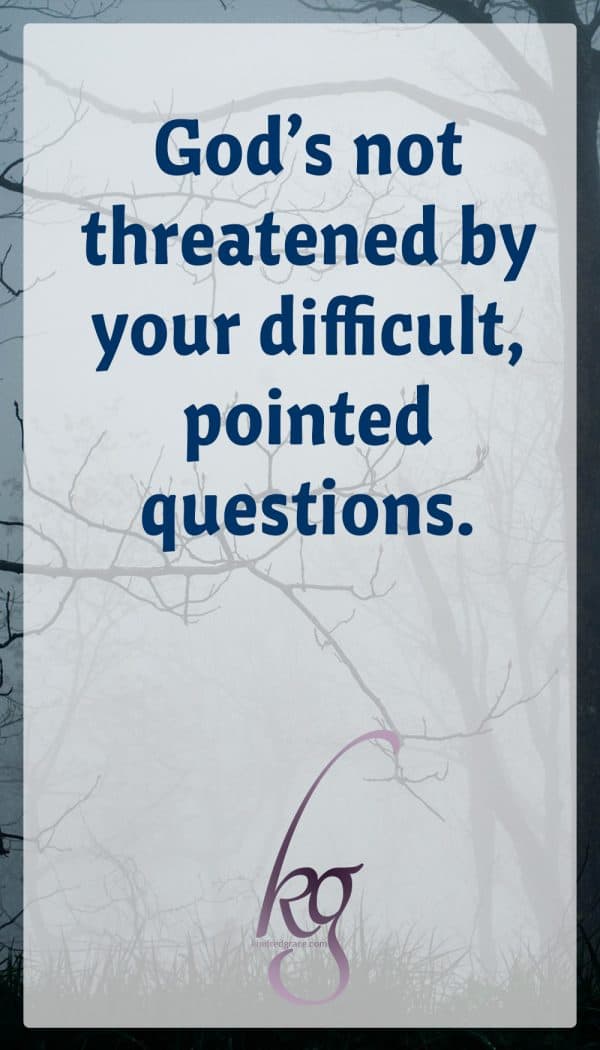 God's not threatened by your difficult, pointed questions. He's not disappointed by your humanity—your doubts, fears, anger, confusion, or despair.
He can handle it all, even your accusations. Our humanity can be the very thing that keeps us tethered to Him because it exposes our great need.
As you wade through grief, remember this: your grief—your emotions, your questions, your mess—is not "too much" for God. Like a mother longs to gather her hurting child into her arms, so God wants to gather you into His. He's not offended or surprised by your humanity; He simply wants to be found in the midst of it. Your humility to approach Him exactly as you are releases His grace over your life (James 4:6).
If Jesus Himself felt the freedom to question God, let that serve as permission for us to bring our whole selves to Him as well.
Offer it all: your questions, doubts, anger, sadness, loneliness, lament, accusation, confusion.
You are not too much for Him.
Question to Consider:
Have you dared to ask God your hard questions and then opened your heart to receive His grace even if they aren't met with obvious answers? If not, why?
Further Meditation:
Psalm 22:1-2
Hebrews 13:5
2 Corinthians 12:9
Psalm 142:1-3a
Adriel is giving away a copy of Grace Like Scarlett to one of our readers!

https://www.instagram.com/p/Bo2vmTMgaDj/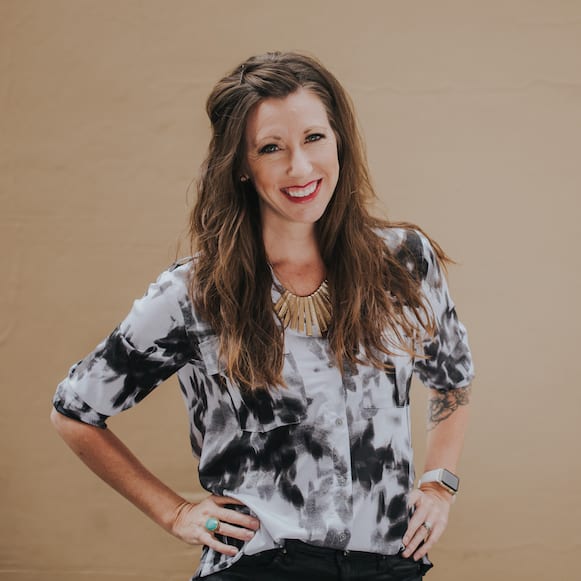 Adriel Booker is a writer and speaker based in Sydney, Australia where she co-leads an inner-city YWAM ministry along with her husband. They have six children—three busy boys living under their roof and three babies lost to miscarriage. She is the author of Grace Like Scarlett: Grieving with Hope after Miscarriage and Loss, writes on motherhood and family, women's issues, missions, and everyday spirituality at AdrielBooker.com. Find Adriel online at @adrielbooker or download her free ebook on how to journal through grief after pregnancy loss.
Photography: JenniMarie Photography