It is true that our youth is fast fleeting, and I know the rush of wants, the perfect fury of desire which such a thought summons. All that it involves – this getting on to thirty – brings a push of hurry and a surge of "possible" regrets over the soul.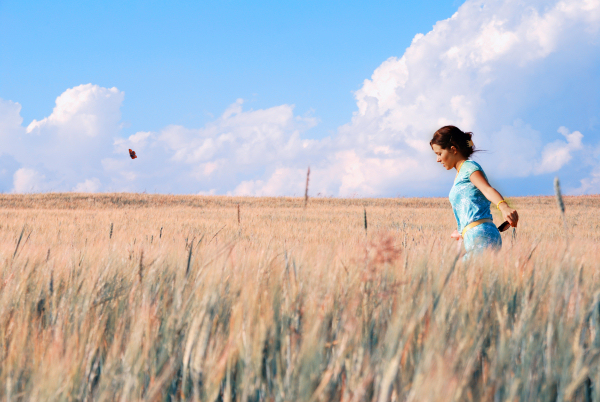 I cried when I read these words of Jim Elliot for the first time. I thought, before, that I was the only one to feel like this — to experience the "rush of wants" and know the "push of hurry" that Jim describes so vividly in a letter he penned in the jungles of Central American more than sixty years ago. He was writing to his future wife, Elisabeth, but he didn't know then that they would be married. Or that they would have a daughter together. Or that Jim would be killed, before thirty, by the people with whom he wanted to share the Gospel.
At the time of writing that letter, Jim was blessed with many gifts: a call from God to missions that had led him from America to Ecuador, a mission station in the jungle, and an ever-changing and never-ending opportunity to serve the people of the jungle in practical and spiritual ways. James 1:17 says that "every good and perfect gift" comes from our Father in Heaven. And we all know that love is a gift from God. Marriage? Yes, of course, it's a gift from God that reflects the heart of Christ. Children? Well, hello, they are adorable, precious gifts from God too!
What about an opportunity to serve my family, my church, my community and an opportunity to study? These are gifts. Every person I get to bless with a word of encouragement or a smile is a gift. Every book I get to read is a gift. Does every person and every book feel like a gift? Honestly, sometimes, no — "gift" is not the word I use to describe this person or that book! Usually it has nothing to do with the person or the book in question when I put my head on the keyboard of my computer and cry, "God? This isn't what I want to be doing right now!"
What I want to be doing — right now! — is what I've dreamed of doing since I was a tiny girl. Making a home, loving a husband, cuddling some babies. I never dreamed of being twenty-seven and single. This life I live — and, usually, love — isn't the life I thought I was going to live.
There's always a gap between expectations and reality. These days that gap in my life feels like a chasm that's deep and wide and wild. Spanning the chasm, like a rope that it's better not to trust with the weight of my heart, is the inherently human, perfectly natural (and not only God-given, but God-blessed) desire for love and marriage and children. There's the dreaming and hoping and praying. There's the waiting and wanting and wondering.
And on my side of the chasm there are gifts in the shape of people and books.
I can look at the gifts I haven't been given and feel like Cinderella — dressed in the rags and tatters that nobody wants. I can (and sometimes do) cry because most of my friends, now, have been given the gifts that I want. I feel, like Cinderella watching the clock by the fire in the kitchen, excluded from the party. I can panic because thirty is beginning to loom, like a rather large mountain to be climbed, on the horizon of my life. The hour hand of the clock is ticking closer to Midnight and there's no sign of a fairy godmother or a glass slipper and a pumpkin coach…or a prince.
Alternatively I can look at the gifts I have been given. I can embrace this moment and celebrate these gifts. An opportunity to serve? That's a gift from God. An opportunity to study? That's a gift from God too. He gives good and perfect gifts. And He gives them knowing my heart, my dreams and desires and even my age! The gifts He's given you are probably different from the gifts He's given me. They are unique to you, but He's given them knowing your heart, your dreams and desires, your age.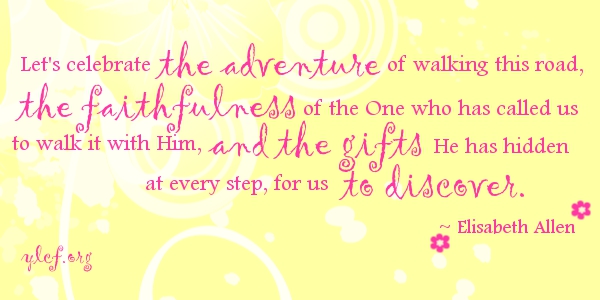 This February I'm celebrating the gifts that are given. Won't you join me and celebrate too? There is grit and there are tears on this road. It would be silly to pretend otherwise or to imagine that the road on the other side of the chasm is smooth and painless. Let's throw a party anyway, here and now, in the middle of the road with fairy cakes and party poppers! Let's celebrate the adventure of walking this road, the faithfulness of the One who has called us to walk it with Him and the gifts which He has hidden under bushes and behind rocks, at every step, for us to discover…and enjoy!
This is just exactly what we have bargained for. Obedience involves for us, not physical suffering, perhaps, nor social ostracism as it has for some, but this warring with worries and regrets, this bringing into captivity our thoughts. We have planted (in our integrity) the banner of our trust in God. The consequences are His responsibility.