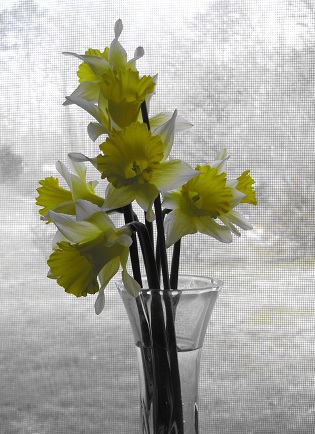 I like to collect sunshine. I like finding those little things or moments in my day that glow and add a certain touch of contentment and happiness to an ordinary day.
I like finding sunshine in the first rays of the morning, breaking over the tree tops.
I like finding sunshine in the way every drop of rain sparkles like a polished jewel after the rain has stopped.
I like finding sunshine in the patches of daffodils blooming behind the shed. Who would have thought I'd find them as early as January?
I like finding sunshine in the voice of my little niece, as she tries to sing along with the hymns I love to sing, too.
I like finding sunshine in the smiles that come back to me. There's nothing quite like getting smiles back again.
I like finding sunshine so that I can keep it in my heart for the rainy days.
"Every day may not be good, but there's something good in every day."
– Author Unknown
So I collect sunshine — like so many snapshots of happy times, and beautiful things, and the sounds of life around me, tucked into my heart to remind me that no matter what life looks like tomorrow, there will always be something worth remembering about today. When days are good, it just means there's more to gather for the days that aren't so good. And isn't it on those bad days, that some of my sunshine from yesterday will be warmer and brighter than it was before?
I don't have it all down when it comes to living, but I do know that I can count on some of my sunshine to brighten up just about any kind of day.
What does your sunshine look like?