in which we like to talk about books (the third annual March of Books begins!)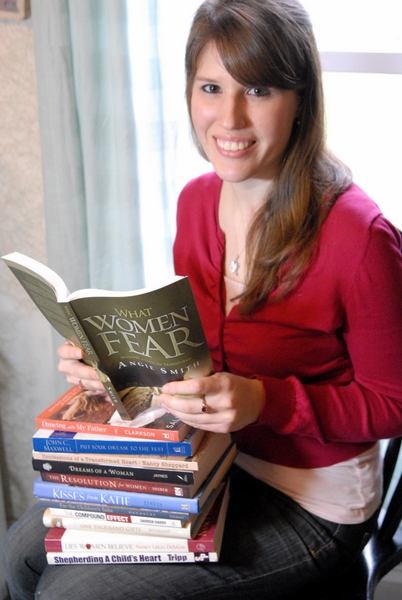 I like to talk about books. If it didn't already come up naturally with everyone I know, it would be the perfect thing to ask when conversation lagged: "What books have you been reading lately?" (Or, as is more likely for me and other young moms and students, "What book are you trying to make time to read?"!)
Apparently, all of you here at YLCF like to talk about books, too. In our recent reader survey, we asked what topics you wanted to see us write more about, and "Books" tied for second place!
Judging by the flurry of Tweets and comments, we've all been looking forward to the month of March here on ylcf.org. March is the month to read the books you've always meant to read, March is the month when we talk about books all month long. And this year, there are more giveaways than ever (the first of which is coming later today)!
I like to talk about books. So do my friends @YLCF. Come join us for the #MarchOfBooks. <—Click here to Tweet this to your friends!
Here's how the March of Books works…

All month long, you can post book reviews to your own blog (the more the merrier!). Then, at the end of the month, share the links to each of your book reviews in the Reviews Link-Up. And in between, there are more fun link-ups (and did we mention giveaways?!).
March 12 – Photo: My Favorite Place to Read
Do you prefer to read curled up on the sofa or in an old rocking chair? Maybe you love to read in the bus on the way to work or on your lunch break between classes. Wherever you like to read, we want to see a picture of it — and if you can get yourself in the picture, too, that would be extra fun! Be ready to link up on March 12 with a blog post featuring a picture of your favorite place to read.
March 19 – Children's Books Link-Up
You don't have to be under age 10 to enjoy children's books! This year, we're featuring a separate link-up on March 19 just for reviews of and details about your favorite children's books.
March 26 – March of Books Reviews Link-Up
We'll wrap it all up by sharing the links to all the other books we've been reviewing on our blogs this month. (Duplication is fine — we'd love to see your reviews of the books we review at YLCF this month, and reviews of the ones your friends are reading and reviewing, too!)
This year, the fun will be spreading to Pinterest, too. Be sure you're following YLCF for all sorts of book-related pins courtesy of Chantel, our Pinterest curator! (And of course, if you're already using Goodreads or Shelfari, you've found YLCF there, too, right?)
Grab the button code from the sidebar at right (click through if you're reading via RSS) to put the March of Books button on your blog. Many thanks, once again, to Abigail Westbrook for her talented graphic design. And the photo? It's by our own Trina Holden, and gives you a sneak peek of some of the books we're going to be reviewing and giving away!