In the fall of 2010, I had the privilege of watching the very first pre-showing of the movie Courageous during my internship at Focus on the Family. It was a night that changed my life. As I walked out of the theater, I began asking the promoters and Courageous staff what they were going to do for women. While the movie specifically focuses on encouraging men, as a woman, I walked away very challenged as well. Challenged to pray for and encourage the guys around me by the way I lived.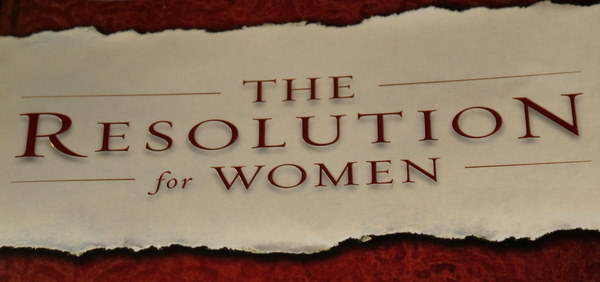 A year later, when The Resolution for Women came out, I quickly purchased a copy and began to read — but with a lot of skepticism. The movie was so good, the actors and staff were men and women of integrity, and my experience with them at Focus was life-changing. However, I was very cautious about the book.
I'd never heard of the author before, and I didn't want to read a book that would spoil my memories and experience with Courageous. It's been rare that I've read a book following a movie and found it to be any good. I was also really sick and tired of the Christian book bandwagon — the whole "every Christian is reading this so I should too, but it doesn't really change my life because I'm just reading it to be cool".
Praise God, this one was a bandwagon worth jumping on! It blew my skepticism instead. I was very pleasantly surprised at the content of the book. Priscilla Shirer's book The Resolution for Women is for married and single women alike. Laid out in very simple, easy-to-follow sections and chapters, the book address what it means to live as women of integrity and grace in our world today. Priscilla hits on many areas of life and the book flows naturally from one section to the next. Each section has a short resolution (a promise between you and the Lord) to sign after discussing in depth what that resolution will look like in your life.
The resolutions include:
"I will seek to devote the best of myself, my time, and my talents to the primary roles the Lord has entrusted to me in this phase of life." (The Resolution for Women, by Priscilla Shirer, p.110)

"I will champion God's model for womanhood in the face of a post-feminist culture. I will teach it to my daughters and encourage its support by my sons." (The Resolution for Women, by Priscilla Shirer, p.48)
No matter what season of life you are in, Priscilla will challenge you to live resolutely and courageously for the Lord – right where you are.
"Contentment is the equilibrium between the enjoyment of life now and the anticipation of what is to come. Contentment serves as a guard against desires gone wild. It is the key to unlock you from the bondage of unrestrained longing that wells up within your heart and inevitably begins to control your life, making you a slave to what you don't have instead of a fully engaged participant with what you do. It is a faith filled belief that what God has bestowed now is worthy of gratitude and appreciation, not merely because it is enough, but because it is good." (The Resolution for Women, by Priscilla Shirer, p.28)
The Resolution for Women book should be a must read; not because it's cool on the Christian book-reading bandwagon right now, but because it will challenge and change you. It will be a book that I recommend highly and give to both old and new Christians alike!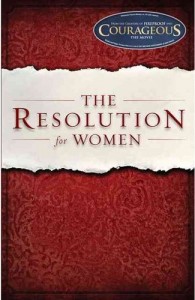 (To read a review on the companion book — The Resolution for Men, please visit the Manturity blog.)
To win a give away copy of The Resolution for Women, please comment with your answer to this question: What one character trait do you want to grow in as a woman — and why? (For example: I want to grow in grace, and become a women of quiet grace and strength. I'm quite passionate, and wish to be able to serve my family and friends better by balancing that out with more grace.) A winner will be chosen on March 9th. (Congratulations to Ashley for winning a copy of The Resolution for Women!)