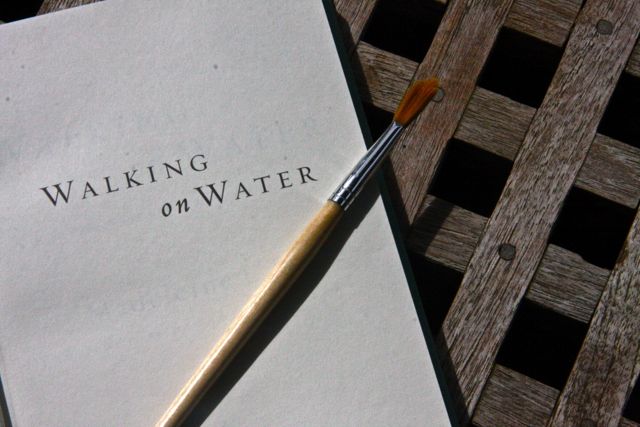 When I was a little girl, I told everyone that I wanted to be an artist when I grew up. As I got older, I realized that my truer passion was writing. At that point, I decided I wanted to marry an artist when I grew up (that way, he could illustrate my books!).
Though I still loved doodling and dabbling and meandering through galleries, I forgot something about art as time passed. I knew that I still enjoyed it, but I had forgotten that it is important — vitally important. I had an attitude of, "Yes, art's nice, but it's a luxury." Writing was more important than doodling, right? Writing could be about spreading truth and cultivating ideas and encouraging good things in our world. Art was just for fun.
But as we know, writing is an art. At least it should be. And if you're still young at heart, you'll know that a painting can share just as much truth as a sermon. Art is important, and I had almost forgotten that before I read Madeleine L'Engle's Walking On Water.
When I saw the subtitle "reflections on faith and art", I was immediately captivated. These were two things I had never paired together, yet have been struggling with and striving for all my life. My soul was in need of faith and art; I just hadn't put it into words. L'Engle did so in her usual candid eloquence.
This book is not a how-to book complete with bullet lists of how to become a better Christian artist in five easy steps. This is a gentle (if not somewhat pleasantly rambling) collection of thoughts from a woman who was truly devoted to Christ and to glorifying Him through art. And art takes faith.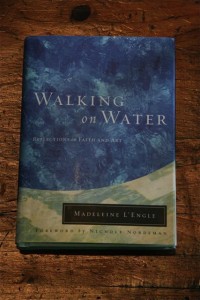 "In the act of creativity, the artist lets go the self-control which he normally clings to and is open to riding the wind. Something almost always happens to startle us during the act of creating, but not unless we let go our adult intellectual control and become as open as little children." (Madeleine L'Engle, Walking On Water, chapter 4)
Our God is the original, ultimate Artist. He is the only truly creative being because He's the only One Who wasn't created and Who created all else. We know that He is beautiful (Psalm 27:4) and believes in beauty. He is preparing a beautiful home for us in Heaven. We were wired for beauty and thus, art speaks to our souls. God created the flaming sunrise, the swirling tide, the lacy branches of an oak tree. He also created me. Isaiah 64:8 says that God is a potter and we are the work of His hands. He is gently but firmly molding us into what we were created to be; He loves His artwork.
Walking On Water is a quick read full of riches for any artist, whether your medium is oil paints, clay, computer keys, musical notes, dancing shoes or your own voice. L'Engle gives me the feeling of Elisabeth Elliot, C.S. Lewis and a walk down a tree-lined lane. Though it was written in a year before I was born, this gem of a book has proven to be timeless.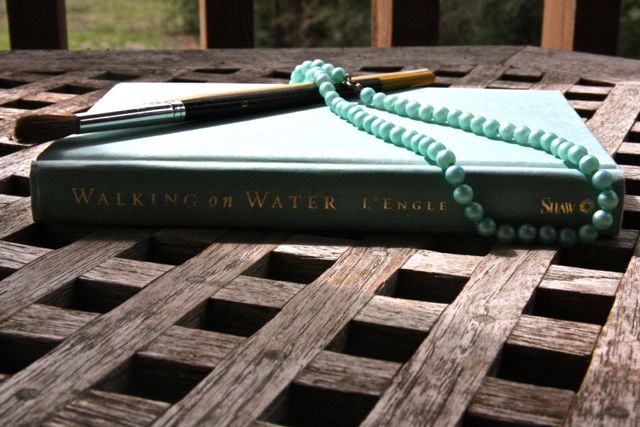 Walking On Water has encouraged me, both as an artist and as a follower of Christ — two roles that I'll always see as closely connected from now on.
"My faith in a loving Creator of the galaxies, so loving that the very hairs of my head are counted, is stronger in my work than in my life, and often it is the work that pulls me back from the precipice of faithlessness." (Madeleine L'Engle, Walking On Water, chapter 9)
And isn't that the most important thing? That everything we do pulls us nearer to the Lord?
I'd like to give a copy of Walking on Water to one of you. To enter the giveaway, comment with your answers: Do you consider yourself an artist? How do you creatively point others to the Lord?
(Giveaway ends March 9. Congratulations to
Natalie
for winning a copy!)