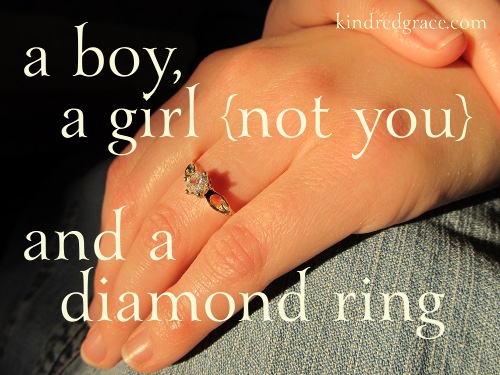 Maybe it was, whatever your age, a schoolgirl crush that will make you shrug and smile in years to come. Maybe it was a deep, genuine, womanly love for the man you hoped to marry and know you'll never forget.
Or maybe it was both a little bit more and a little bit less. You liked a boy. He liked you too. Your heart stirred and whispered that you could love this boy.
And now, somehow, another girl (but not you) is wearing his diamond ring and you're adrift in a stormy sea of disappointed hope and unrequited love. Nothing is the same. What do you do now?
1. Guard your tongue.
Yes, I said your tongue, not your heart. Don't keep your pain a secret, but choose your confidants wisely from your friends and mentors. Tell the story of your pain carefully and intentionally. Don't shout it from the rooftops of your life for acquaintances and strangers. And when you tell the story of your pain? Don't disrespect the boy who bruised your heart and the girl who won his heart. Don't spoil the gift of their love and their happiness with hard words and harsh reflections. Speak words of grace into their lives.
But God … don't you love the fact that there's always a "but God" in the stories He writes in our lives?
I want you to know that God understands the words on the tip of your tongue and sees the tears in your eyes. Don't try to hide your pain from Him. Tell Him all about the boy who touched (and broke) your heart. Tell Him about the hope that made you smile all the time. Tell Him the story of your pain and the bitterness of this moment. And then use your tongue to pray for the boy and the girl and bless the name of the Lord who has given and has taken. Choose to worship in the midst of your pain.
2. Forgive and surrender and release.
Forgive him for being careless with your heart…or just clumsy with his cute smile and friendly words. Forgive her for winning his heart and (probably without an idea in the world of what she's doing) crushing your dreams. And your dreams? Surrender them and the aching, yearning desire for marriage and motherhood to God. Surrender the so-called little, silly things that caught your heart, like his smile and his thoughtfulness. Release your claim on the boy and his heart.
3. Love.
I don't think that it's right to cultivate a romantic love for a boy who is engaged to another girl. But this boy is your brother in Christ. And this girl is your sister in Christ. You are called to love them in Him. Consistently, intentionally surrender the romantic feelings of attraction and attachment (again and again and again). Choose to love your brother and sister in Christ. Read 2 Corinthians 13. Pray for God to pour His love into your heart and out to them through your deeds and words, through your very presence. Practically? Pray for them and their new life. Congratulate them and celebrate with them too. Give them the gift of your friendship: conversation without bitterness, laughter without resentment, recipes and patterns and plans or whatever you share in common.
4. Give.
I often get my heart in line by getting my actions in line and praying that my heart will follow my actions. How do I give grace? I give grace by giving. I'm not thinking of presents. I'm thinking of responding to my pain — and maybe their sin, if there was any in this situation — with kindness and generosity. I'm thinking of seeking to give (what I'd like to receive) rather than grab.

5. Hope in God.
Don't hope in this boy (or another boy) or your dream of marriage and motherhood. Hope in God. Hope in His lovingkindness. Hope in His compassion. I read Lamentations 3:21-24 every night before I go to sleep:
This I recall to my mind,
Therefore I have hope.
The Lord's lovingkindnesses indeed never cease,
For His compassions never fail.
They are new every morning;
Great is Your faithfulness.
"The Lord is my portion," says my soul,
"Therefore I have hope in Him."
Hope in Him.
Responding graciously to disappointed hope and unrequited love may be one of the hardest things God asks you to do. Rest your bruised — or maybe even broken — heart in the knowledge that He knows and He cares and He's with you at this moment. Respond graciously in the strength of His grace.