Disclosure:
This post may contain affiliate links which won't change your price but will share a commission.
Elisabeth: Hello Sarah, and welcome to Kindred Grace. We're thrilled to have you here to chat with us today! I know you from our letters, as well as from your blogs and books, but it would be lovely if you could begin by introducing yourself to our readers. Who are you and what is your life like now?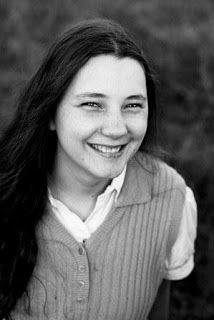 Sarah: I am so excited to be on Kindred Grace today! I have been reading this blog off and on since I was sixteen and it has been such a blessing.
I live deep in the heart of Texas with my amazing parents, four sisters, and one brother. Tuesday through Thursday you will find me at the Texas State Capitol working for Rep. Larry Gonzales. On all other days, you will most likely find me behind my computer working on my writing, or with my nose in a book.
In my spare time I enjoy sewing, playing the piano, reading, scrapbooking, and walking in the wooded area behind my house.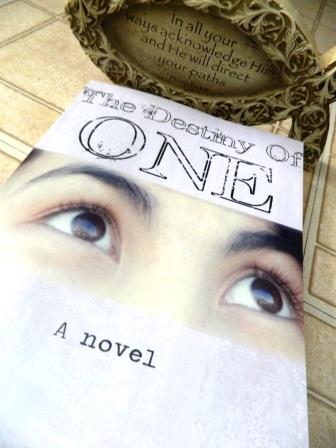 You write for a number of blogs and have written several books: The Destiny of One, The Destiny of a Few and The Destiny of a Galaxy. Can you tell us a little bit about your writing? Why do you write? Who do you write for?
My target audience is primarily girls looking for wholesome reading material. I try to provide that in several ways. I have my personal blog, The Destiny of One. On this blog I share my thoughts, opinons, book reviews and writing advice. I am the administrator for a devotional blog, Meditations of His Love. This blog is dedicated to encouraging and building faith in young ladies. My third and final blog is Homeschool Authors. This has only been around a year, but has exploded in size. It is dedicated to books written by homeschool students and alumni.
My passion is writing books. I have published a Sci-Fi trilogy that follows the adventures of Maria Morris, a young Christian girl in search of what God wants her to do with her life. The theme is one that we can all relate to at one time or another.
I am currently working on some historical fiction as well as a contemporary fiction. In all my books, I strive to write books that not only feed the imagination, but also the soul.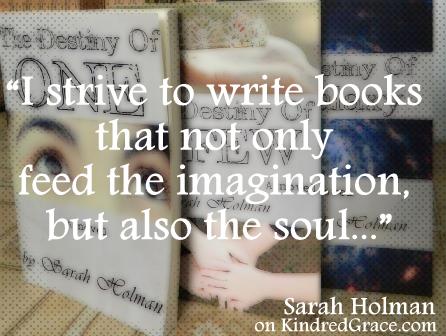 How do you hope to encourage girls looking for wholesome reading material?
I have the same prayer over each of my books; that at least one person's faith is strengthened by the story. If just one person is brought closer to God because of the stories (or blog posts) that I write, then it is worth all the hours of work I put into it.
What do you love about writing? What do you NOT love about writing? Why?
I love developing a story in my head and seeing it take shape on paper. I enjoy seeing the characters develop as well. The longer I write about them, the more I find out about them.
I think what I like least about writing is the editing.
I know from personal experience that you're very generous about promoting books you love. (Thank you!) How can girls promote favourite authors and favourite books? Can you share a few little hints and tips?
Buy the books new. Authors only make money off new books so buying used books doesn't help them. I understand not being able to buy all your books new, but pick at least one or two books a year to buy new.
Review books you love on your blog and on retail sites (Amazon, Christian Books, etc.), but also on social reading sites (Goodreads, Novel Crossing, etc.)
Write a quick note to the author telling them how you enjoyed the book.
Lastly, tell your friends about books you love. Word of mouth is still one of the best ways to get the word out about a book.
And, just for fun, what is your favourite kind of writing? Writing blogs or writing books? (Nonfiction or fiction?!?) Writing something else?
Writing fiction. Hands down. To me, there is nothing better than turning my ideas into stories for others to read.
Writers, of course, read a lot and I'm wondering, what do you read? Which books inspire your? And which books make you laugh and cry "just because"?
My favorite authors who inspire me the most are: Grace Livingston Hill for her unabashed faith and for writing over 100 books. Tracy L. Higley, for her unique voice and her well-researched historical fiction. Linda Lee Chaikin, for her diversity as well as strong faith.
Other than the Bible, I think the most powerful book that I have ever read is Christy by Catherine Marshall (not for younger readers or for the faint of heart). This book challenged my faith in a good way, made me laugh, and cry.
What books do you recommend to friends and strangers?
It depends on the person and what they like to read. For my target audience of young girls looking for wholesome reading, I normally recommend:
If you would like more recommendations, feel free to e-mail me (at thedestinyofone[at]juno[dot]com) and tell me what you are looking for.