I dreamed a little dream one day. Breathed it out into words and wrapped it up into the corner of my heart. It felt safe there, secured by the knowledge that no one but me knew that it had been dreamed.
Years slipped by. The dream nestled in my heart stayed warm and hopeful. Sometimes it grew a little brighter, sometimes it felt impossibly small and unlikely. But it was precious to me, and I treasured it above all the other dreams I ever dreamed.
Then came the day when He asked me to let it go. It was as if my LORD whispered in the quiet dark of the early morning, "Do you trust Me enough to give up even this one dream?" And I was sure I couldn't do it.
When I looked at what I thought my life might be without that dream, I felt as if it would be a life without purpose. I was sure that without that, nothing I'd ever done or said, or hoped to be would matter. It was the thing I thought maybe was the definition of who I was to be. I could give up anything else, but this? Why this one?
I struggled. I wrestled with it and said I didn't think I could. He just gently asked "Will you love Me more than this?" It was the question that broke my heart.
It was the moment I realized that all this time, I had been treasuring my own dream for this life with greater affection than I'd been willing to embrace His dream for my life. It wasn't that the dream I dreamed was evil. It was good, and I meant every bit of it to be for the good of others. It wasn't a wrong dream, it simply wasn't the right dream. It was not the thing that God wanted to use to define my life.
That day, I chose to let a dream die. I chose to unwrap it, and to place it and my now unplanned future into the capable hands of the One who knows our end from the beginning. I thought my life would never be the same. I felt empty and a little scared. I felt like Much-Afraid, offering up her heart on the alter. Pulling my dream from the depths of my heart, and laying it down at His feet and saying "I don't understand, but I choose Your way." He said, "Wait and see what I can do."
That day, letting go of my dream — it hurt. The not knowing and the wondering what happens now, felt like a cold wind blowing down on my heart. But in quiet and unexpected ways, God took the pieces of my heart, and the pieces of the dream I had given away and He built something new.
One day, He gave it back. He gave me back a dream, and I was amazed at what it was. It wasn't the same dream, but it was exactly what I would have dreamed if I had known to dream it. It was exactly what I needed to stretch and shape my life into the life that He intended me to live all along. Entwined in that dream were elements of the dream that I thought I'd never get to experience. Only instead of being wrapped in my own limitations, they were given back to me with unlimited sustaining grace — and the limitless provision of my GOD who does all things well.
I thought my life would never be the same when I gave up my dream, and it never was. It has instead been infinitely more challenging and infinitely more beautiful than I could have ever imagined. It has been more than I hoped for, exceedingly and abundantly beyond my deepest hope.
Are you holding on to dreams of your own? Are you afraid of the unknown on the other side of letting them go? Don't be.
Life is made for dreaming big dreams. Some of them are meant for holding on to, and some are meant for letting go. Some dreams are meant for a season, and some are meant to last a lifetime.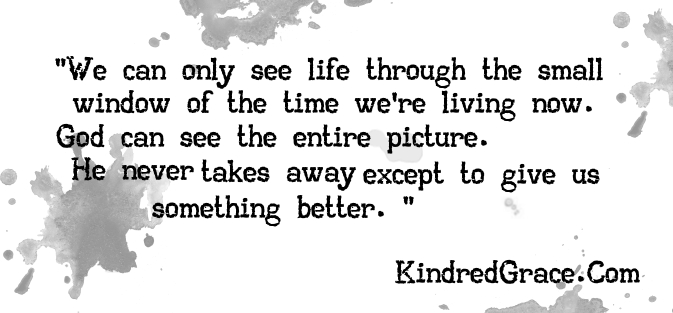 We can only see life through the small window of the time we're living now. God can see the entire picture. He never takes away except to give us something better.
I've dreamed a lot of dreams in the days since. I'm learning how to let some of them go. I'm still learning not to wrap them up in the depths of my heart, but instead to hold them up in my hands to God. I'm learning to trust Him with all of my dreams. I'm learning to say, "Not my dreams, but Your dreams" and mean it.
It hurts sometimes. It doesn't always make sense. It scares me, often. But I can tell you now that letting the dream I loved most die was one of the best moments of my life. It was the moment that I began to understand how much more beautiful life is when I don't limit it my view or my dreams, but leave my heart open to embrace His.
Keep dreaming big dreams. But hold onto what you dream loosely. Let Him be the sculptor, and the re-designer of your hopes and your dreams. Your life will never be the same, and it may look far different than you ever expected. But one day, you'll realize it is everything it should have been, and exactly what you would have wanted if you could have known.