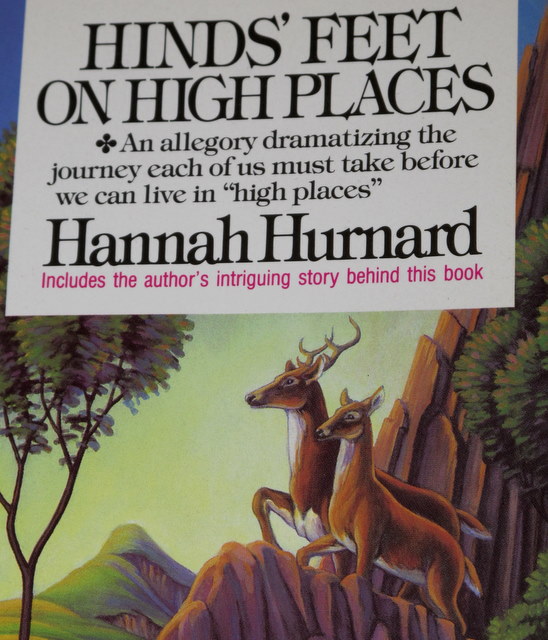 Most people may never know, because I can make a brave face when I need to. But I think you should know that deep inside, I am Much-Afraid.
I'm not afraid of dark nights, or big storms. I'm not afraid of being home alone or even of poverty. I am not afraid to stand my ground when I need to. Sure, I have a couple irrational and silly fears — like being on a roof peak or walking on a tall, swaying foot bridge, like driving in big city traffic and talking to strangers. But I'm not talking about those. I'm talking about the fears inside that few understand, and that most people never even know exist. The ones that often keep me back, that make me stumble and fumble and make me long for straight feet and a stronger heart.
It was when I was still very much a child that I started to realize where my fears came from and what they were. I wasn't afraid of the journey, the hardships or the conflicts so much as I was afraid of failure, rejection, disappointment and defeat. It was subconsciously much easier not to try than to have to say that I couldn't make it. I was afraid of the unknowns, of the things that I couldn't plan for.
I was 14 when my childhood best friend handed me a copy of Hind's Feet on High Places to borrow. I read Much-Afraid's story for the first time, and I also read much of my own.
My stumbling feet, my fearful heart, and the journey that God had chosen for my life sometimes feels a lot like the journey that the Shepherd planned for Much-Afraid. There were deserts that seemed to lead far away from the life I thought I was called to and there are journeys by the sea of loneliness. There are altars on which to sacrifice my stubborn pride and my dreams, to let Him change my Much-Afraid heart into "Acceptance with Joy".
It is a long journey. Much-Afraid wasn't changed from a fearful cripple and given hind's feet overnight. And even though I am not so afraid as I used to be, I think I'll be battling my fears every step of this journey. Like Much-Afraid, with each new step of the journey, it is about choosing to let go of fear, and to trust that His way is perfect. It is learning to trust His will and His way in the endless desert and by the lonely sea. It is in the valley that we come to trust Him on the heights of the mountains.
Our Shepherd delights in taking our weaknesses and turning it into strength. He loves to make Much-Afraids into Acceptance with Joy, into Grace and Glory, into one who is no longer afraid.
My grace is sufficient for you, for My strength is made perfect in weakness.
For each one of us Much-Afraids, this promise is for us. Believe it, count on it, and live your life like it is real. Because it is.
Even if fear is not your greatest struggle, there are so many precious lessons and promises tucked way in this book that I think everyone should read it at least once.
If you have never read Hind's Feet on High Places, here's your chance — the Young Ladies Christian Fellowship is giving away a gently used copy. To enter, please comment to share a promise that helps you to fight your own fears in this life and tell us why it is meaningful to you. (This giveaway will end on March 19. Congratulations to commenter #8 — Naomi — for winning a copy!)