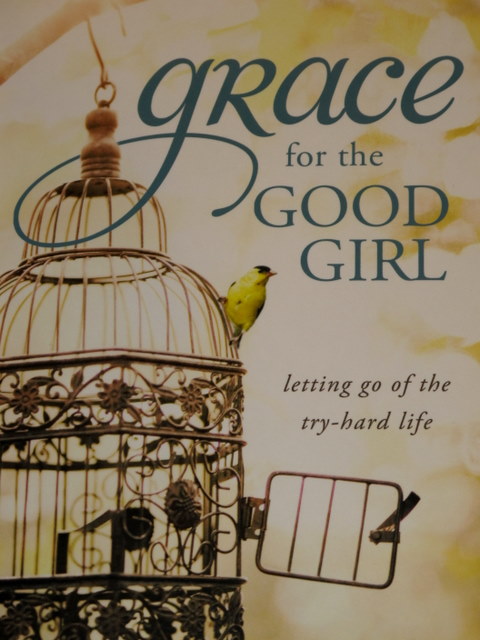 When I first heard of Emily P. Freeman's book , I thought, "Grace? Check. Good? Check. Girl? Check." All those words were familiar to me, so I thought I didn't need this book.
But then I saw the sub-title. "Letting go of the try-hard life."
And I knew this book was for me.
Like many young women who were raised in the the church and homeschooled, I know all about being a good girl. I know all the rules and just how to play the part. And I know, just like you, how much work it all is.
As I immersed myself in Emily's delicious prose (it's as enjoyable as a bubble bath, friend!), I began to feel like she knew me better than I knew myself. Her story was as gripping as a novel because it was like a backstage pass to my life. She described my own childhood, full of hidden doubt and fear, my struggle to find true relationship with Christ through my teens, and even the guilt and shame I felt as a young mom who never seemed to find time for devotions and prayer. Emily's been there, too.
But the Lord has patiently guided Emily beyond the try-hard days to a life lived from His perspective. She's learning to see her worth through His eyes, instead of slaving for people's approval. She's found her identity is not in what she accomplishes in a day, but in Whose she is. And she takes you along on the journey, allowing you glimpses of the freedom to be had, and giving vital hints for finding your way out of the good girl treadmill.
Chapters detail the many ways we hide — behind performance, reputation, spiritual disciplines, indifference, and our comfort zones. Then she reveals how we can be found — through truth, trusting, worship, service, and setting our minds. Finally, she assures us that we are safe — even in hurt, failure, and when things are out of our control.
I found this book refreshing and exciting. To know that someone else understood my hidden fears and ridiculous drive for affirmation, and that there's freedom and joy available for this good girl, even when I mess up. It's so good, I wish I could buy cases and cases of them and give them to every good girl I know — to all of you! Alas, I'm not that good. 😉 But two of you will get your own copy of Grace for the Good Girl through this giveaway…
Do you remember the first time you felt like a "good girl"? Was it based on something you accomplished, or your appearance? Share one of your "good girl moments" in the comments to be entered for the book giveaway. Then ponder the fact that God loves us because HE is good… (Giveaway ends March 23. Congratulations to our winners, commenters #12 and #14, selected by random.org: Leah and Bekah!)
Visit Emily's website to read the first chapter of Grace for the Good Girl. And if you're a high school girl, stay tuned! Emily's new book just for you is now available for pre-order: Graceful: Letting Go of Your Try-Hard Life.