100 Things I Love About You
I was eighteen when my oldest brother married. He didn't have to look far for a wife. After working, traveling and establishing a business, he turned around and asked my best friend to be his.
We always laugh about their story. How they only dated for like, two days. How he proposed in front of the entire church on a Sunday morning. How she called me, breathless, herwordsrunningtogether, to tell me the news. How I sat right down in the living room of my house in Alaska and cried.
I moved back home before the wedding and lived with her those last months in her house on Coco Solo Avenue. It was this pretty Florida building with gray walls and tiled floors and vines that covered the carport. Three months passed and then we danced through their twinkling ceremony and sent them off on a honeymoon. I packed up my bags while they were gone and moved back to my old bedroom at my parents.
I went over for dinner the day they came home. My best friend turned sister-in-law caught me up in a warm hug and pulled me into the kitchen, chatting away about the trip and the little cabin they rented. As we fixed salad and chicken and baked potatoes, I noticed it.
The white refrigerator that had been so bare all those months we lived together now sported a long list. Three sheets of computer paper with numbers, 1-100. The first fifteen were filled and the rest lay empty and waiting. Across the top, in her fluent handwriting with little swirly-cues, read the words, "100 Things I Love About Ezra".
My gaze fluttered over a few on the list. The things spanned from physical attributes, to emotional connections, to spiritual gifts, to memories. I glanced at my sister-in-law and she smiled bright. "I'm trying to write down at least one thing a day that I love about him, for the first one hundred days of our marriage. Hopefully, by then, it'll be a habit."
It was a moment that I tucked into my heart. Remember this.
It was years before my own wedding. I traveled to Haiti, El Salvador, and Brazil. I went to college and bought and sold houses. I worked two different jobs. But I kept that moment tucked close.
And during the first 100 days of my marriage, I wrote down one thing each day that I loved about my husband. I pasted it right out in the open on my refrigerator. I whispered to him each night, "I love that you…"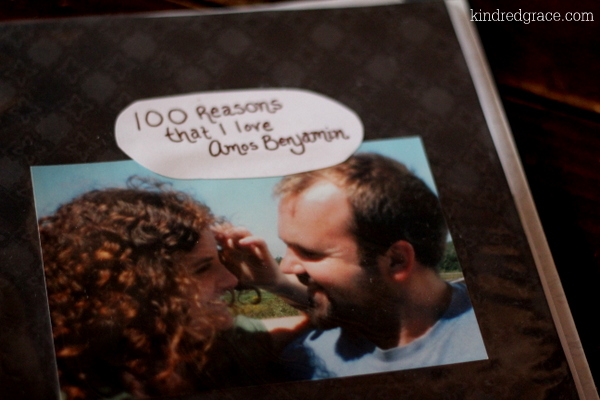 I don't keep a list anymore. But the habit formed.
Many times I repeat the same things. How I love his strength. How I love his boldness for Christ. How I love the way he holds my hands and prays with me each night.
But I am often stunned at the new things I discover. The things that I would have overlooked if I had never cultivated the habit of identifying what I love about him.
This month I have a challenge for you.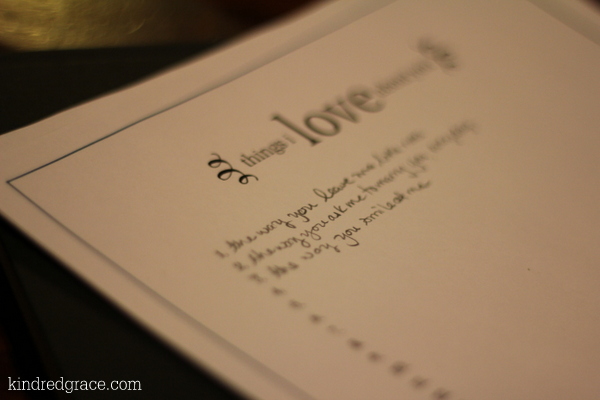 The month of February is 28 days long. Can you write a list of 28 things you love about your spouse? One thing each day? Can you look him/her in the eye and say, "I love that you __________", every single night?
For those of you who aren't married:
Is there someone in your life that you can encourage with a list? A friend, a sibling, a parent?
Learning to speak love is an important part of the Christian walk. In the book of John, Jesus says,
"By this all people will know that you are my disciples, if you have love for one another." (John 13:35, ESV)
Let us cultivate the habit of speaking love. Of reaching out with compassionate grace and spurring one another on in good deeds.
Use this free printable (or make your own!) and start today!