by Kris Camealy
It was a strange thing, the way the urge to write swelled up within me. I've always written, in journals and online (privately), so it didn't quite make sense the way this urge to write words out loud suddenly started to push and gnaw at my insides.
Ignoring the feeling, I carried on with my usual routine for a few days, but still, the thought wouldn't budge. The message came, but still, I needed more.
Write. This is your gift.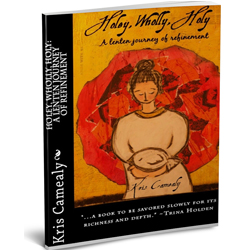 I needed to hear God on this. I recognize the Holy Spirit's voice in me and I needed clarity, direction — confirmation. I found a plan on my YouVersion Bible app for a 21 Day Fast. I thought about it, and decided to do it. I've fasted weekly for years, so this was not a new discipline for me to practice, but 21 days – -that felt like a long time. I knew giving up food was not a realistic option for me, so I pulled the plug on Facebook.
It was harder than it should have been, but at the time, I was spending a lot of time there and I knew that the noise from that arena was making it hard to hear God.
Fasting is a practice not to be taken lightly. It is a spiritual discipline that requires sacrifice, and for some the sacrifice weighs harder than for others. But fasting isn't about food. Fasting is about faith. It is about consciously choosing Christ when we want nothing more than to stuff ourselves with that which is temporary.
–Holey, Wholly, Holy: A Lenten Journey of Refinement

Sometimes, we are tempted to think of spiritual practices as irrelevant, or unnecessary. I want to tell you, this is simply a lie from the enemy.
Spiritual practices, like fasting, are entirely biblical and useful.The practice of fasting is important because when we stop doing something, and replace that activity with seeking God, He answers. My favorite encouragement regarding this is found in Jeremiah 29:13, "'You will seek me and find me when you seek me with all your heart. I will be found by you," declares the Lord" (NIV).
When we make a deliberate effort to seek God, He answers. That is the truth found repeatedly in His word. Fasting is a deliberate, focused seeking.
The Lenten season is just around the corner (beginning February 13). If you are familiar with Lent, you know that fasting is often part of the practice of observing Lent. As we reflect on the season of preparation and refinement, we do well to seek God deliberately.
What are you struggling with? What do you need from God? Are you grieving? Does your life reflect mounting tension between yourself and others, or between you and your circumstances? Seek God. Seek Him deliberately. Consider fasting as an act of obedience and intentional worship.
When we enter into a position of humility, when we set aside the distractions to get closer to God, He never fails us. Our hearts are transformed and moved by this active worship, and God hears us and draws closer to us through our confession and repentance as we earnestly seek Him (James 4:8).
Fasting is not easy. The practice requires us to depend on God to sustain us. In our dependance, we find Him willing, waiting, eager to answer our hearts cry. He is moved by the prayers of His faithful people:
And I will do whatever you ask in my name, so that the Son may bring glory to the Father. You may ask me for anything in my name, and I will do it. ( John 14:13-14, NIV)
What I have often discovered during my fasting is that my prayers often change — by this I mean that though I may start off praying for a specific result, God's spirit often moves my heart to simply seek His will and my prayers shift to being more open to receive whatever the answer is that God would have for me. The answer rarely looks like I imagined — but it is always infinitely better, and at the end of a fast, my heart has been changed to receive His answer as a gift.
My Lenten experience last year was life-changing, and I don't say that lightly. God renovated my insides in a way I didn't expect and He clearly spoke to me about sharing the experience with others. In Holey, Wholly, Holy: A Lenten Journey Of Refinement, I walk alongside you as you experience the refiner's fire. The path to redemption is hard worn. But friends, there is so much grace for you.
Right now, for a limited time, the PDF version of this book is FREE for my newsletter subscribers. There is also a print version available and today, I'm giving a signed copy away to one of you.
a Rafflecopter giveaway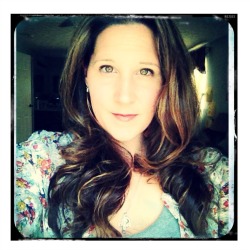 As a sequin-wearing, homeschooling, MOPs-coordinating mother of four, Kris Camealy is passionate about Jesus and her family. Her heart beats to share the hard, but glorious truth about life in Christ with anyone who will listen. When she's not writing, she gobbles up books like they're going out of print and plays in the kitchen. She's been known to take gratuitous pictures of her culinary creations, causing mouths to water all across Instagram. Once upon a time, she ran ten miles for Compassion International, a ministry for which she serves as an advocate. You can read more of her heart-words in her new book, Holey, Wholly, Holy: A Lenten Journey of Refinement, and on her blog Always Alleluia. Find her on Facebook, Twitter and Pinterest.