Dragon-Slaying and Realm-Readying
What if there's some things God wants to do with you—only you—so he's keeping Prince C. off slaying a dragon somewhere for a while longer?
I've been thinking about this line of mine in the months since I wrote it. I've been wondering just what it is God wants to do with me right now. Does He want me to learn just a little more about daring before He brings someone alongside me? Does He want me to go on another amazing mission trip, write a novel, complete my college education, or go to Europe?
Confession: I've wanted to know so I could go ahead and do it. I've looked at it sort of like a to-do list. As if I can check it off, hold it up to my Father, and say, "See here? All done! I'm ready now. Really ready. Promise."
But that is so, so wrong. And selfish, too.
What if it's there's more to this than what I can see? (Isn't there always?) What if He's holding this Cinderella in one hand, my Prince Charming in the other, and He hasn't brought His hands—and us—together yet because both ole Prince C. and I have something to complete? What if it's not just about me? What if instead of praying God would make me the kind of wife my future husband needs…I prayed for him, too?
I know I'm learning lessons during this season of singleness I wouldn't learn otherwise. I am learning more about daring. Every day. And I may go on another mission trip, write another novel, and earn my degree before Prince C. shows up. (How about I save the trip to Europe for our honeymoon?)
But, what if, in addition to all God is doing in my life, He's doing something in the life of my Prince Charming?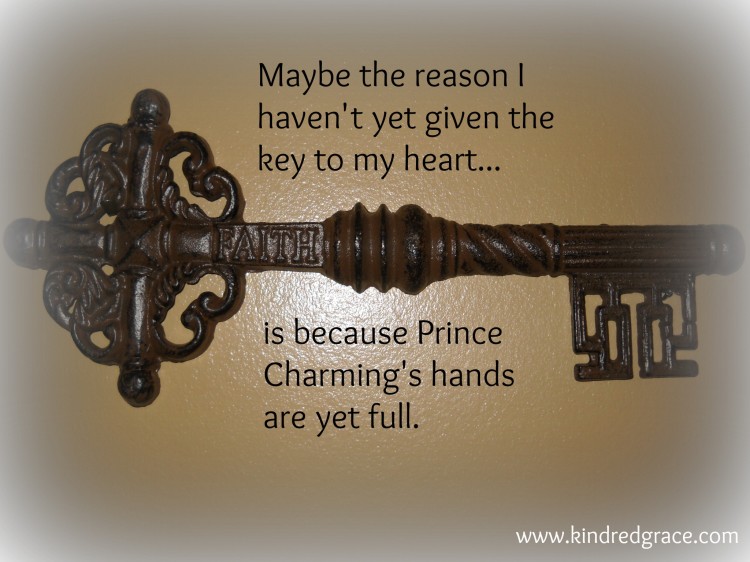 Seeing to Someone Else's Cinderella
What if my Prince Charming has another Princess on his arm at the moment? If he is, I'd want him to treat her well to the glory of God… and, well, I'd really rather not meet him now…
Maybe I better start praying God shows him she's not me!
Kingdom Building
He could be busy readying his realm. He could be in a similar situation to mine, where he's churning out essays, laughing with classmates, finishing homework, and learning how to be a better disciple, friend, and servant.
If so, my prayer should be for strength supplied, prayers answered, and lessons learned. After all, I'd like him to know the basics of princely responsibility by the time I meet him. I know I'm learning plenty about true princess behavior right now (and that's it not all towers and tiaras)!
Dragon Slaying
He could be doing something infinitely more intriguing to me than either of the other two: he could be slaying a dragon for me.
Whether the dragon is in his own heart or elsewhere in his life, it looms with an ominous leer, radiating sweltering heat and threatening to breathe fire into the heart meant for me. I want him to sprint into that lair and slay that dragon.
Oh, I know there will be some dragons we will one day slay together (many, in fact). But it hit me hard the other day that the reason God is keeping this Cinderella safe in her daddy's castle a while longer could be that Prince C. needs to focus his undivided attention on a certain evil foe. After all, we all know that it never turns out well for the fairytale maiden who meet her true love before the villain is vanquished. She often ends up in a tower with no fire escape or deep in a dark dungeon with some minion standing guard.
No, thank you. I'd rather wait it out here in the Land of Singleness a while longer. With me safely sequestered here seeing to the needs of my heart, my true love can spend all his energy ridding his realm of what could otherwise threaten me. Protecting the princess…isn't that exactly what good Prince Charmings always do?
God, please give my Prince the strength to slay that dragon, not just so we can meet soon, but because I don't want to be dangled as dragonmeat.