I didn't know I was supposed to hate Valentine's Day. At least, not until I was almost passed over at a seventh grade homeschool group Valentine's Party at the roller skating rink. I was the last girl given a daffodil by the most popular boy in the group; he started with probably twenty hand-picked flowers. Up until that moment, Valentine's Day was an excuse to make cookies and eat candy and string pink and red paper chains across the kitchen. However, near rejection massively tainted that year's party, along with the next several years.
Since that nearly traumatic day, I've seen my share of lonely Valentines. I faced one just two months after a relationship ended. I spent another one on another continent while my then-boyfriend took another girl out on a date (and sent me an unsigned Hallmark card). There was the Valentine's Day I spent flat on my back in an empty dorm room a few weeks after I spent a week in an African hospital. And then, of course, came Valentine's Day a few months after my disengagement and all the gloomy days involved in that trauma.
Let's face it: even if Valentine's Day started in celebration of history's Saint Valentine, the holiday is now just another scheme by retail executives to create a sales opportunity and marketing scheme. It works, too: Mint.com reported in 2010 that over $14 billion would be spent on Valentine's Day gifts. ("That works out to approximately $103.00 on average per person…")
God is love.
By the time I hit my freshman year of college, I had forgotten all about the seventh grade fiasco. Instead, I wanted a date. Bad. The dining hall was empty, my suite mates had been giggling all week about their planned dates, and I was stuck eating mystery meat all by myself.
Meandering back to my dormitory, though, I saw God's fingerprints paint the most magnificent sunset I have ever witnessed. Ever. All I could see was an empty field, a flaming orange sky, and twinges of purple, pink, and gold flickering across the entire sky. The stresses of college, the loneliness of the dining hall, and the dramas of a freshman year faded as the colors grew more vibrant than I thought possible, reminding me of God's steadfast love despite all my frustrations.
Beloved, let us love one another, for love is from God, and whoever loves has been born of God and knows God. Anyone who does not love does not know God, because God is love. In this the love of God was made manifest among us, that God sent his only Son into the world, so that we might live through him. In this is love, not that we have loved God but that he loved us and sent his Son to be the propitiation for our sins. Beloved, if God so loved us, we also ought to love one another. No one has ever seen God; if we love one another, God abides in us and his love is perfected in us. (1 John 4:7-12 ESV)
I revel in the reality that, categorically, the marketing executives have created a holiday about God.
A: Valentine's Day is a day to celebrate Love.
B: God is Love.
C: Valentine's Day is a day to celebrate God.
I am called to love.
Valentine's Day isn't about me or my loneliness or my relationship or my lack of relationship. If I believe that God is love, then Valentine's Day is about celebrating His love for me and — more than that — it's about showing that love to those around me. The advertisements and note cards and parties would want me to believe that this is another holiday to revolved around me, but that's just my selfish heart talking; there's nothing biblical about a selfish love!
A new commandment I give to you, that you love one another: just as I have loved you, you also are to love one another. (John 13:34)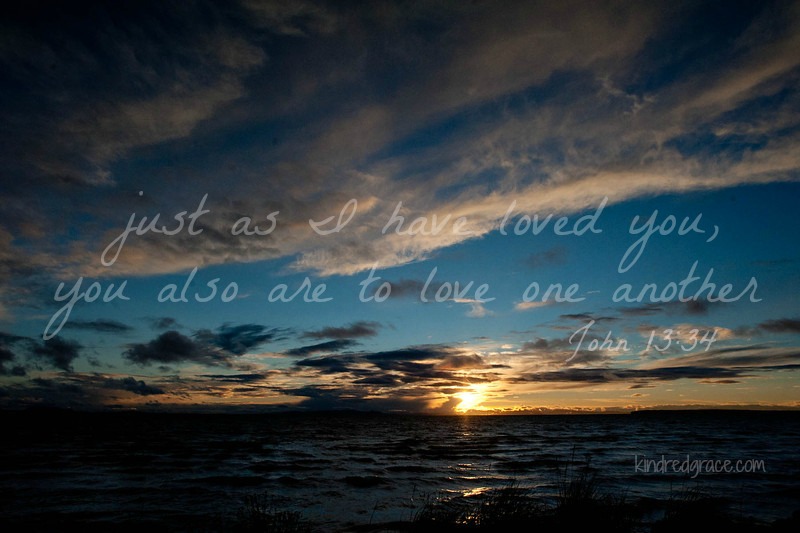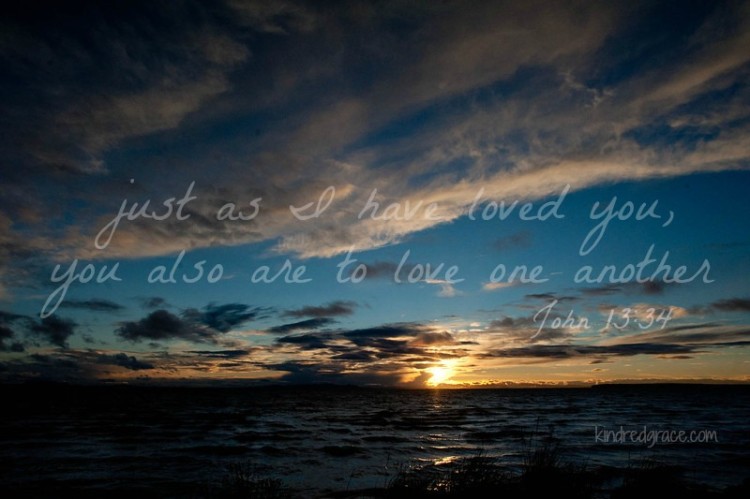 Have a girls' night. My all-time favorite Valentine's Day was when seven girls squeezed around my little kitchen table in my first apartment decorating cookie lollipops with icing, sprinkles, and candies. I wasn't supposed to have fun on the first holiday-of-hearts after my disengagement, but I was so cheered and encouraged to laugh with friends, new and old.
Write cards to the elderly/lonely/hurting/sick. I just moved 3,000 miles from my community of family and friends: I have seen firsthand the immense value of a notecard in my mailbox. Even when its from a distant acquaintance, a piece of mail cheers me beyond belief. My goal is to use the Valentine's Day holiday as inspiration to spread snail mail cheer, hoping it helps my recipients else the way my notecard-writing-friends have helped me.
Take coffee and a craft to a mother of preschoolers. As more of my friends move into this stage of life and child-rearing, I'm able to see the value of giving the mom a few minutes to drink a cup of coffee while her kids do crafts with me. Plus, it's fun for the kiddos to have a surprise card/gift/project for Mom and Dad.
I can (and should) live in love all year long.
Having a day once a year specifically set aside to remind me of love and God's love for me is a prime opportunity to show a little extra love to my piece of the world, but I'm glad I don't have to pack a whole year of loving into one (commercialized) day. Loving my neighbors is not a one-day-a-year opportunity. It's every minute of every day of every year.
And walk in love, as Christ loved us and gave himself up for us, a fragrant offering and sacrifice to God. (Ephesians 5:2)