Disclosure:
This post may contain affiliate links which won't change your price but will share a commission.
Elisabeth: A very warm welcome to Kindred Grace! We have reviewed your book From Head to Foot in the past, and are excited for you now that it has been picked up by a traditional publisher and found a new life as Perfectly Unique. But before you ever wrote a book, you were a blogger and a mentor to young women, right?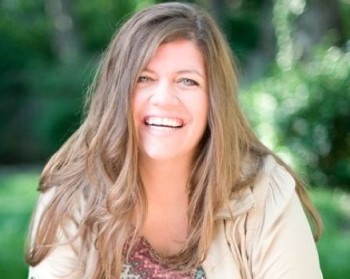 Annie: Yep! In fact, I wrote this book for the high school small group that was meeting at my house. I was really blessed to have great mentors as I was growing up, so it felt totally normal to turn around and do that as well.
Could you tell us about a mentor who had an impact on you when you were a teen?
Sure. I had three small group leaders: Kathleen, Shana, and Laurel, who invested in me and our group all through middle and high school. They listened to our prayer needs and taught us deep things of the Bible and even now, as an adult, they are still some of the women I turn to regularly for wisdom. And Kathleen makes my favorite treat in the world — banana quesadillas with peanut butter, marshmallows, and white chocolate. TO DIE FOR.
What made you decide, "I'll reach out to teens myself?"
I just knew firsthand, from my own life, how much it matters to teens when adults care about them. I am me because of the adults — my parents included — that invested in my life as a teenager.
I love what your blog heading says: "For you. For her. For them. For Him." Could you tell us briefly what that means to you?
For you — the reader. For her — the girl who stumbles across my blog and is looking for hope. For them — the larger group, the friends who come back day after day and have found friendship and community through the blog. For Him — for God. He is the reason I write.
Here at Kindred Grace, we celebrate fellowship between women of all ages. Often this begins at home with our own sisters. Do you have sisters? And if so, does it have an impact on your ministry?
I have two younger sisters; they are both awesome. I wasn't great at being the oldest sibling — it took me a while to figure out what being a sister really means. It impacts my ministry because I know that in the end, they are always the ones who will be there, no matter what happens with my career. So it is a sweet safety net. They will always think I am funny even if everyone else doesn't.
Having lived overseas, I know what it's like to leave part of your heart in another country. You've taken several trips to Scotland, and I'm curious how that all began.
When I was at the University of Georgia, I was really involved with the Wesley Foundation, a campus ministry. The summer after my sophomore year, I took a mission trip with Wesley to Scotland. As soon as we hit the ground, I felt at home. I knew that place meant more to me than anywhere else I had visited — for vacation or on a mission trip. And yes, there is a large part of my heart that resides on the streets of Edinburgh, Scotland.
Some writers just know from childhood that they want to write. Others seem to find themselves there, almost accidentally. Which is closer to your experience? And can you think of an experience that made you say to yourself, "Huh, I'm a writer"?
I always wrote as a young woman. I loved to write stories and make up tales. But it wasn't until my fifth year as an elementary school teacher that I even considered this as a career. God just began to open doors, as I began to write, that I knew I was supposed to walk through.
The first time I had a stranger email me and say that she was reading my books, that's when I knew that this was a real thing, not just a dream anymore. Though honestly, most days, I still feel like I am dreaming. This is the greatest job in the world.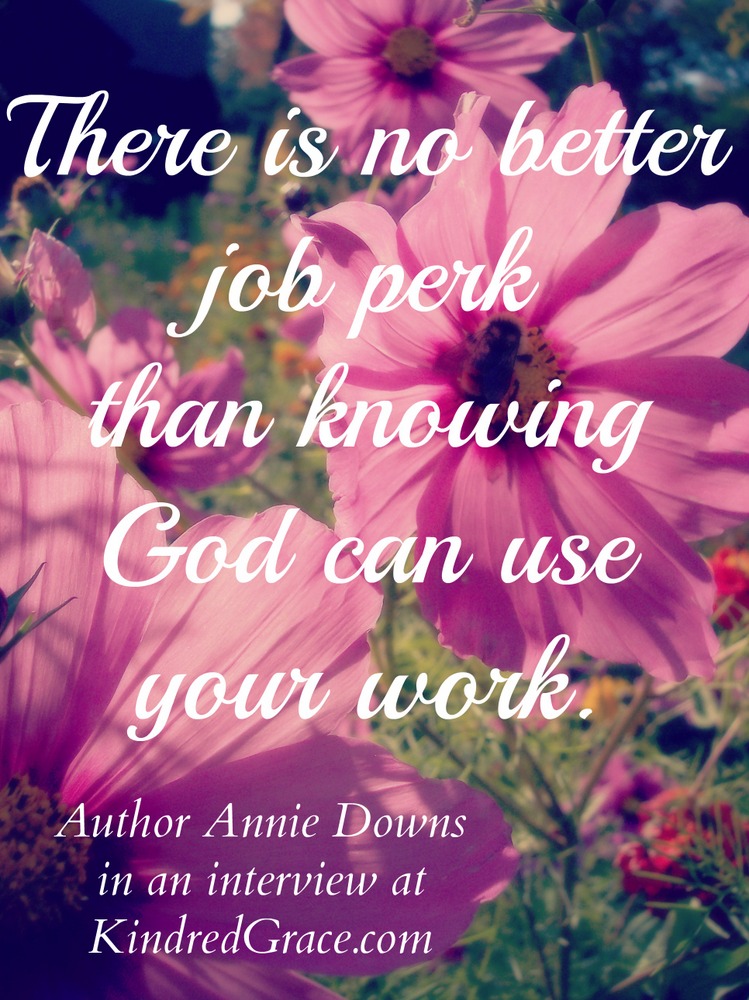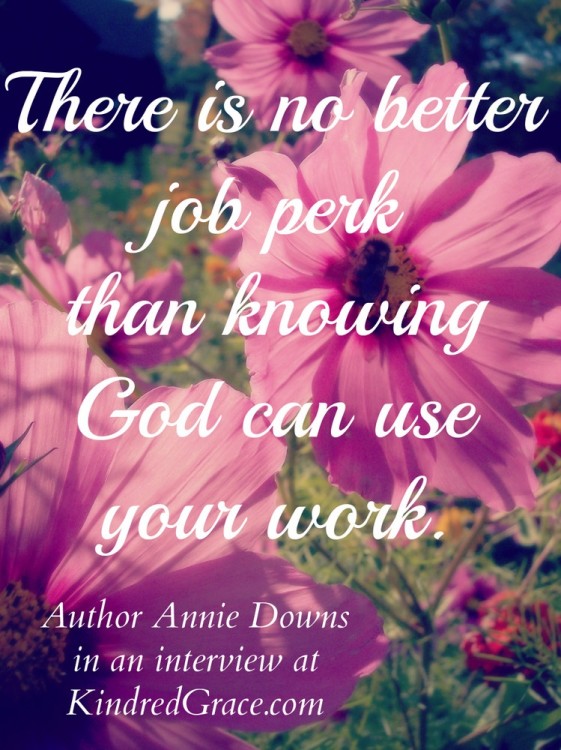 What's a favorite article of yours: something you've written that really ministers to you right now?
Over at (in)courage I've been writing monthly for the last year or so about being single. Those articles, and the responses in the comments, are so impactful to me.
Can you name an author you look up to?
Beth Moore. I absolutely love her teaching and what she can squeeze out of the Word of God. But as far as just "I wanna be like you someday," well, I feel that about Beth, but I also feel that about Shauna Niequist.
Do you have a couple favorite tips for dealing with writer's block?
My friend and mentor, Seth Godin, once asked me, "Do you ever get talker's block?" I was like, "Uh, nope. I always have something to say." And he then said that we should never get writer's block — if you feel like you are out of things to write, start writing the things you would say.
Also, prayer. Prayer changes things and so if I get stumped, I just call out to God and ask Him to fill my mind with the words He wants me to share.
Would you mind sharing a word or two of advice about self-publishing?
If you want to self-publish, make sure you do a lot of research first to find the right company to fit your needs. I would also say that the most important person in the process besides you is your editor. Hire a professional, not your buddy. You need someone to read your work with a trained, unbiased eye.
When From Head to Foot came off the press, who was the first person you wanted to hand a copy to?
My parents. Also, my grandmothers, but sadly, they had both passed away before the book came out, but they were true book lovers and I wish so badly that they could put my books on their shelves. I'm hoping they have copies in heaven.
What's one of the hardest parts of writing for you? Best?
The hardest is being alone all day and working. I'm such an extrovert that it is a challenge to buckle down and write without having anyone to talk with. The best part is feeling like I have written something that God is going to use in the hearts of teen girls. There is no better job perk than knowing God can use your work.
How do you keep grounded as you become more and more well-known?
Oh, it is easy because I know I'm a total screw-up and a totally normal person. Luckily, I have a lot of friends who like to remind me that I am normal and a dork and tell cheesy jokes, so I am grateful. The other truth? Nashville is full of legitimately famous people. I am not one of them. 🙂 So it is easy to remember that I am not famous when I shop at the same grocery store as Nicole Kidman. It is one of the kindest gifts from God in this season — being surrounded by dear friends who keep me in line and being surrounded by real famous people. Helps me remember that I'm just me. I love being me, but I'm just me. 🙂
Thanks so much, Annie, for taking time out of your busy writing and speaking schedule to join us. I only wish our conversation could have happened face to face!
Annie's next book for teens will be available in September 2013. It is called Speak Love and it is about the power of words and how we as women can use our words to change the world.
Watch for a giveaway of Perfectly Unique coming to Kindred Grace's March of Books tomorrow, as well!