When a Book is Not "Just" a Book
My first book was just a cookbook.
Friends chide me when I seem to diminish my work with that little word 'just'. They tell me it is more than a cookbook, that it is lovely, that it is not 'just' anything. But it remains in my mind just a cookbook — just a collection of recipes. Yes, my words throughout, but still, the process of creating that book was much like following a recipe: I selected my ingredients (recipes), combined them in the order that seemed right to me, kneaded in ideas for meal planning and a few of my personal experiences in the kitchen, and viola! The book was finished. It was very easy to figure out which step was next in the process, and I knew, without even having to poke a toothpick in it, exactly when it was done.
Then, last fall, God whispered to me it was time to write another book, and it was not to be a cookbook. That is when I began to get an idea of the real work that goes into a book. (My esteem for my fellow authors has skyrocketed, let me tell you!)
My cookbook began with clear vision, and recipes as building blocks. My second book began with a simple call that I found myself doubting daily. I knew from the beginning that this book would require God's help with every page — nay, every line. I loved the idea for the book, but it was His idea, and I really had no idea how to flesh it out.
For a while I resented the call. I worked on the book, I prayed a lot about the book, I talked with God about the book, but deep down I resented that He would call me to something that would require so much going to Him, so little of my actual abilities. Because it's kinda easier to push ahead in my own strength than it is to sit quiet before Him and wait.
Finally one day I realized what I had been doing — carrying this well-disguised anger at the Almighty. So, I humbly apologized, and, not without resignation, said, "I'll embrace this call." And that's when He spoke to me…
"Daughter, I didn't ask you to write this book because I needed your help. I don't need your help or anyone else's to accomplish My work. I asked you because I wanted you to experience the joy of working closely with Me on a project, to spend more time with Me, and to share in the satisfaction when the job is complete. I called you because I wanted to give you more of the joy that you always find in my presence."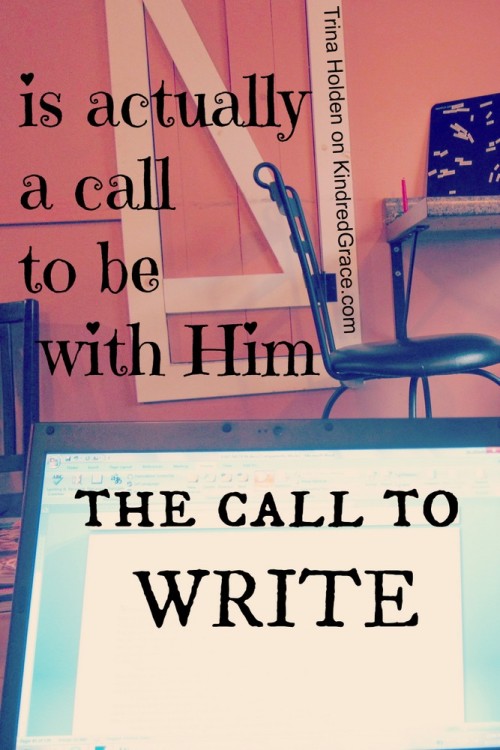 As you can imagine, I've felt differently about the book ever since. The call to write is actually a call to be with Him. And though it's still a lot of work, I've decided I prefer to write when it's God's idea and not my own. By the time the book is finished, it will be an altar which will serve to remind me of
a time God called me
a time I wrestled with God
and a time God spoke to me and I came away changed
Has God whispered to you, calling you to a task you feel unequal to? Do you realize He doesn't actually need your help, but just wants to spend time with you? Can you let go of the fear of being inadequate so you can enjoy working alongside our Father?