Disclosure: This post contains affiliate links which won't change your price.
But seek first the kingdom of God and his righteousness, and all these things will be added to you. (Matt 6:33, ESV)
What if we based our search for a spouse on seeking first the kingdom of God? What if our criteria for entering into a dating or courting relationship was not based on how we felt, but on our compatibility for serving the Lord and seeking Him together? In Sacred Search, Gary Thomas asks these questions and more.
Thomas takes an approach in Sacred Search that is both balanced and thought-provoking. The book is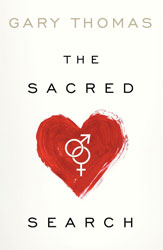 very practical and hands-on without being legalistic. Sacred Search isn't as much of a 'how -to' relationship book, as it is a foundational relationship book. It is about the importance of answering the question "why" you should get married, not just the "who" you should marry.
If you look at the question of why you want to marry before you choose who to marry, you're more likely to make a wiser choice about the who. It's not a choice between either why or who. It's that asking the why question first helps you choose the best who. (Thomas, p. 250).
A good section of the book is filled with timeless wisdom and practical advice on basic compatibility in relationships. Thomas addresses a lot of factors that most couples don't think about until engagement or after marriage. Why wait to think about things until you are in premarital counseling? Sacred Search will help singles and couples develop a firm foundation from the beginning.
Personally, I really enjoyed this book. It was an easy read while still being deep, and it offered tangible advice without doing all the thinking for me. It was a book that challenged me to think and evaluate relationships in my own life, and a book that makes you think is the very best kind of book!
The only thing I didn't completely agree with in Sacred Search was the extent that Thomas talked about the concept of "there is only one right person for you". He maintains that more than one person can be a right and compatible match for you to seek first the Lord's Kingdom with. I personally fall somewhere between the two view points, believing that the Lord will be involved and will guide us in the processes to the extent that we allow Him too. However – this is not a book on theology, nor is this post. Whatever point of view you hold in regards to relationships and how the come about, this book is still extremely helpful and valuable. If I could, I would give this book to just about every single person or young couple I know!
What if we treated our search for a spouse as sacred? What if we looked at the importance of finding a sole mate (someone to walk with), not just a soul mate?
Giveaway
If you would like to win a copy of Sacred Search to read for yourself, please enter by leaving a comment below and answering the question, "What do you think is the most important characteristic for both people in a relationship to have? And why?"
One winner will be drawn on March 15th.