Sacred Marriage & Sacred Influence
Disclosure: This post contains affiliate links which won't change your price.
In the book Sacred Marriage Gary Thomas asks,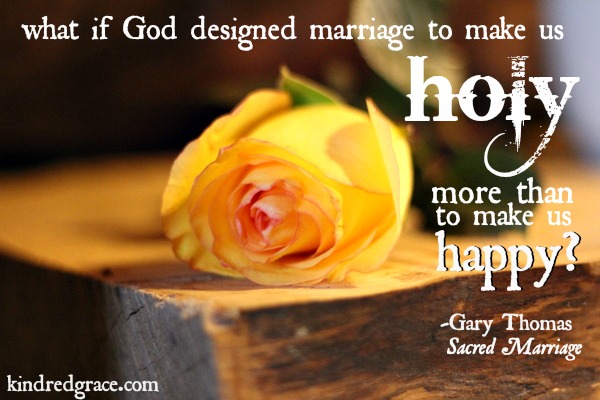 Thomas challenges readers to look at marriage in a different light. To view it not as a romantic or self-fulfilling industry, but rather, as a practical way to live out the Christian faith.
Romantic love is often what draws couples together, and that is fine, but there needs to be a deeper understanding and purpose or the marriage simply will not last.
In our society, the calling to selflessness is quickly drowned out in the constant bombard of selfish pleasures. But the deeper truth is that God calls His followers to give of themselves as He did.
I rarely endorse marriage books, simply because it is easy to spout theories and much harder to live them, but I do recommend this book. No matter what type of marriage you are in, the truths in Sacred Marriage are applicable. It is also one of the very few books on marriage that I encourage singles to read.
Sacred Influence
In the first few chapters of Sacred Influence, Thomas makes a slam dunk on the unfounded Biblical claims that suppress womanhood. Sacred Influence was written after the overwhelming response to Sacred Marriage. Women were full of questions about their positions in marriage and Thomas chose to devote an entire book just to them.
In Christian societies today there are many twisted views of womanhood and Thomas begins the book by making two beautiful (and freeing!) statements. To sum them up:
Women

do

have influence

and they have the right to influence.
Our culture says there are two choices: slavery or rebellion. You are either a slave to your husband (what many picture when the term "submission" is applied) or you must rebel and rule over him. But truth says that there is another choice.

You have influence over your husband and you have the right to influence him. "Submission" does not equal "passive". Your husband is a fellow journeyman, and your journey should not be marked by fear. In fact, Thomas points out that if you are ever not speaking because of fear, there is a problem.
From Hagar to Mary, God's word to women is: "Behold, fear not!"
Our place of influence in our husband's lives should be marked by fearlessness. We should be selfless (as all believers, male or female, should) and we should be bold. If your husband is beginning to respond incorrectly to a situation, it is your job to offer godly influence. Not with harsh words or disrespectful behavior, but with encouragement and fearlessness.
Thomas shares a story about a woman whose husband was frustrated with his son's behavior. In anger, he turned to go and correct the child and she stood between the two. With calmness and love, she told her husband, "I know that you have no desire to react to your son in the same way your father reacted to you as child. You are a good man. You are a good man." And then she moved out of the way.
I'm sure you can guess the outcome. He lost his anger and was able to correct the young boy without malice.
Sacred Influence is full of gentle but firm responses to many of the issues that women face in marriage. We are reminded that our husband is not our church or our community. We are told, straight forward and with firmness, that our husband is imperfect. He comes into marriage with wounds (as we all do) and the time to decide if we can live with those scars and issues is before the wedding, not after.
I highly recommend Sacred Marriage and Sacred Influence. They are Biblically sound and full of encouragement and grace.