Do you feel confused when you look into your wardrobe? Are you overwhelmed when you go shopping? What is your style? For clothes? For shoes? For accessories?
Finding your style is never going to be quite as easy as 1-2-3, but it is possible and rewarding.
The most elegant women are those who have discovered their personal style and who, through years of dressing themselves with care, know exactly what suits them and stick to it.

–A Guide to Elegance, by Genevieve Antoine Dariaux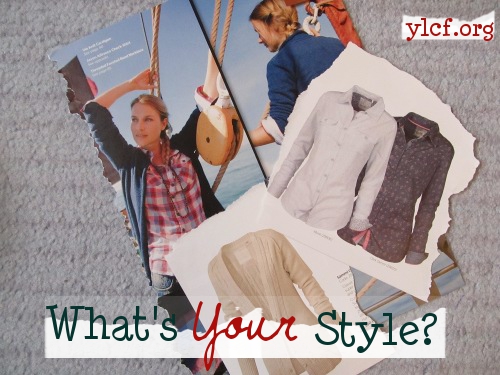 One: Realise that one of the more important (and more ignored) secrets to dressing with style isn't having a lot of clothes. It isn't wearing designer clothes or expensive clothes. It's first and foremost about how you wear the clothes you have. Clothes that are clean and tidy will always look neat.
Two: Accessories are important. Remember that it's how you wear your clothes that is stylish. Everyone recognises that a pair of jeans and a blouse is smarter than a pair of jeans and a hoodie. (Although a hoodie has its place in a stylish wardrobe!) A pair of jeans and a plain t-shirt isn't usually smart, but add a scarf and it is — and then add a nice pair of shoes and a pretty bracelet and it's dressy.
Accessories like scarves and bracelets tend to cost less than the main part of outfits or bits of outfits such as skirts and blouses. Buy accessories with caution. Many cheap accessories are cheap because they are made by people working in slavery conditions. Many nicer accessories are free from the sweatshop labour issues, but they are more expensive. How much are you prepared to pay for a scarf or a bracelet? Check charity shops and thrift stores for bargains. Check your favourite stores during sales. When buying accessories, ask:
However great it looks on the model, does it reflect my personality?
However good it looks in the shop, will I wear it in my real life?
However cheap it is, does it complement or enhance any of my clothes?
Three: Do you know a woman who dresses with style? This might be a woman you already know personally or a woman you know of. For example, my pastor's wife always dresses with style. I don't want to dress exactly like her (she's older than me and in a different season of life), but I've noticed that she's always dressed neatly and that she adds feminine touches to her outfits. Likewise, I've noticed that the Duchess of Cambridge dresses with style. I personally wouldn't wear many of her outfits (they aren't exactly my taste), but I've noticed that — in newspaper and television pictures — she's always dressed with dignity and elegance. Think about who inspires you to dress with style. What is their style? What makes their style distinctive and lovely? How can you learn from them, not to copy their style, but to discover and enhance your own style?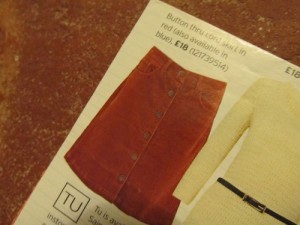 Four: Create your own book of "style". You can use a notebook or an old envelope to collect pictures of outfits you like, snapshots of colours that attract you, or swatches of fabric you think may work for you. Keep your eyes open and your mind alert and it won't take long before you have a sampling of designs and colours and fabrics that you form your own personal style. These shouldn't be things you think you should like, but things you do like — outfits that you think you'd wear, colours that make your heart happy, fabrics that feel good under your fingertips. Some of the outfits may need "tweaking" — perhaps you love the combination of that skirt and that jacket, but the skirt is way too tight. Or perhaps the jacket is far too expensive. That's okay. Hopefully you're seeing your style emerge from the clippings.
Five: And, finally, the bit that is most fun and most challenging simultaneously is asking:
What style suits my body?
What style fits my lifestyle?
What style expresses my personality?
The goal at this stage is to identify what sort of clothes suit your body, fit your lifestyle and express your personality. This is the time to whisper a prayer for wisdom as the media and the clothing industry tells you how you "should" look and what you "must" wear. This is the time to ask mothers or sisters or husbands what they think. It's the time to be honest with yourself in the fitting room and look at your refection from all angles.
We all have different body shapes and lifestyle needs — we can't ignore them, wearing only what we like, and hope to dress with style. For example, if the style of skirts you like accentuates your wide hips then don't wear that style of skirt. If the style of shoes you like stops you from chasing your toddler around the house then don't wear that style of shoes at home. Save the heels for dates with your husband, or a later season in life.
When you discover a style that you like, that you feel comfortable and confident in, and that you can wear physically and practically — then you've discovered your style.
And remember that your clothes, stylish or not, don't affect your worth as a child of God. It doesn't matter if you don't care what your style is or if you never discover your style. It doesn't matter if the style you like, initially, doesn't suit your body or fit your lifestyle. What matters is that, whatever you wear, you wear it for the glory of God.