It had been a rather hard evening. After two busy days with only too-short car naps, we had some very tired kids. A very fussy baby and a toddler who would start throwing a tantrum at the slightest provocation. And Mommy's attitude wasn't the best either. I was very ready for bedtime, but dreading it at the same time, since our youngest is not known for her stellar sleeping ability.
After supper, we got ready for our nightly "Bible time". And frankly, I wanted to skip that night…let's get these kids in bed! But we continued our reading in Matthew, tonight chapter eighteen, one that I had read many times. Obviously I needed to hear it again.
[Jesus said] "Whoever receives one such child in my name receives me, but whoever causes one of these little ones who believe in me to sin, it would be better for him to have a great millstone fastened around his neck and to be drowned in the depth of the sea…See that you do not despise one of these little ones. For I tell you that in heaven their angels always see the face of my Father who is in heaven."
–Matthew 18:5-6, 10 (emphasis mine)
I was brought up short, and quite convicted. Was I "receiving" my children with the same attitude that I would receive Jesus? In short, not at all. Instead I was frustrated with their constant neediness and their apparent inability to just pull themselves together and get a better attitude (perhaps they were just taking their cues from their mommy?).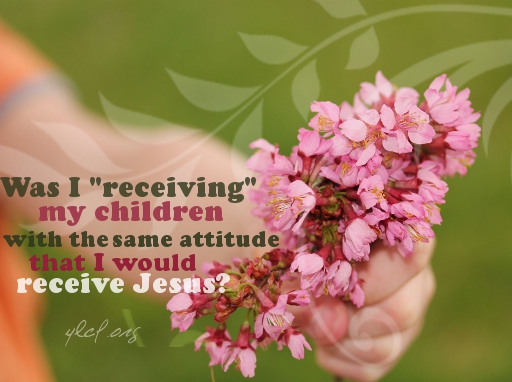 I wasn't exactly "despising" them, but I certainly wasn't being very loving. At that moment, I certainly wasn't treasuring them in the way that God treasures little ones if their angels are the ones that always see His face. It was a reminder that I so needed. I repented and asked my kids' forgiveness and we all went and bounced on the trampoline for a few minutes. Peace and joy were restored.
Later that night, I was continuing to meditate on and mull over those verses and what they should look like in my life. Aaron and I were discussing it and he brought up another view that I hadn't considered: When you "receive" a child through becoming a parent, it's hard. You have to sacrifice a lot and your weaknesses are brought to the surface. But in weakness, that's where you find Jesus and His grace. "Blessed are the poor in spirit, for theirs is the kingdom of heaven." (Matthew 5:3)
There's so much grace needed in parenting. May I continue to show it to my children and cling to it for myself.