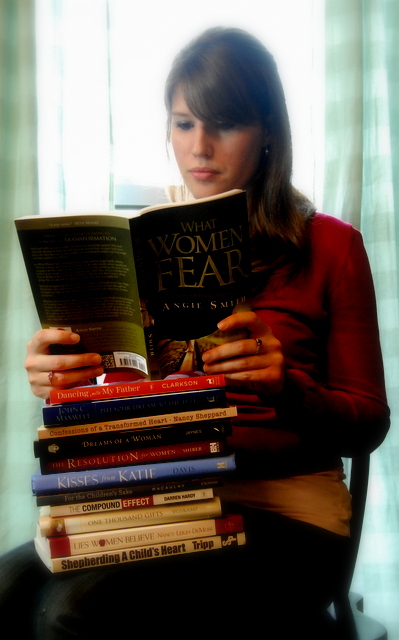 I've always struggled with fear. When I was a little girl, it was the thought that E.T. might come bursting through our roof and take me away. As a young teen, I was terrified that the Bubonic Plague would come again and we would all die a horrible death from it. (Can you tell I also have a very overactive imagination?!) And now, as a wife and mother, I battle thoughts of the possibility of my husband or one of my children dying.
My fears have changed over the years, but how I need to deal with them has not. I still need to bring my fears to Jesus and trust Him and His goodness.
With my history of fear and current struggles, What Women Fear by Angie Smith seemed like something I should definitely read. And it was. Throughout the book, I gathered pieces of Angie's story and found that she has struggled with fear to an even greater degree than I have. Some of her greatest fears even came true. And yet, this book is a testimony of all that the Lord taught her through those times and how He is ultimately faithful.
Don't let your fear convince you that Love isn't bigger. Treasure the moments you see His favor and His mercy, and when you fear (and you will), remember that we need only have the fear that comes inexplicably wound to the love we have for Him. It isn't an easy trade, and it isn't a one-time deal, but when you have learned the joy in trusting, you will love the Lord in a way you never have before, I promise.

-Angie Smith, What Women Fear, page 178
Each chapter of What Women Fear deals with a particular fear that women struggle with. For every one, Angie shares certain truths the Lord has taught her regarding those fears, relating the fear to specific characters in Scripture. From Peter, to Gideon, to the woman caught in adultery, to Jesus Himself, the biblical stories are brought to life and the different fears exposed. Not only do readers see the Lord's promises regarding each fear but we also hear how those promises have shown true in Angie's life. This is a book brimming with truth and stories of the Lord's goodness, showing that indeed only Jesus' perfect love will cast out fear (1 John 4:18).
YLCF is excited to be giving away a (gently-used) copy of What Women Fear. To enter the giveaway, share a promise you cling to in times of fear. (Giveaway ends April 2. Congratulations to April, commenter #17 — selected by random.org as the winner!)