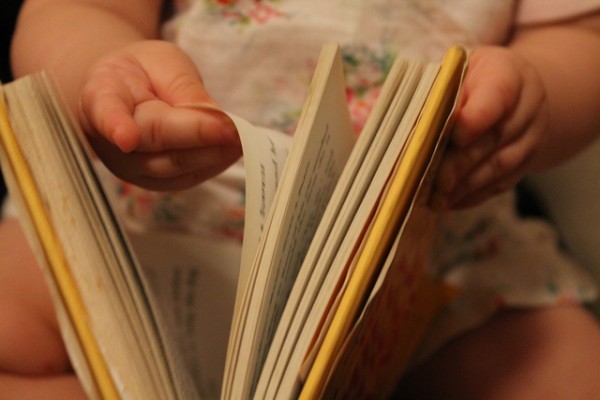 My nieces are too small to read yet, but already they love books. Abby is ten months old and will sit on my knee, pointing to the pictures of tiny baby faces then wrestling the book from my hands so she can chew it. Amelia, almost five, is big enough now for read-aloud chapter books but she still loves picture books, too. Because she lives in another state, I don't get to pull her onto my lap and read her stories as often as I'd like, but we share reading time via Skype. Amelia remembers the picture books in Aunty Dee's collection and sometimes has a special request. And usually, as soon as I finish a story she asks for a re-read.
It makes my heart go all happy-squidgy, not just because my nieces are beautiful, but also because they love books and I get to share that love with them. I hope I get to be known as "the book aunty", and I hope that Amelia and Abby will always love to read. Most of all, though, I hope that they learn to love good books, and that I can help them find some of the best ones.
Here's just a handful of favourite books and authors that I look forward to sharing with my nieces as they grow. The list could be much, much longer and of course, the age categories are just a guide; some books can be read earlier but I thought they fell best into a particular category; other books might need to be saved for later. Always use discernment.

Wee Ones
Janet Ahlberg / Allan Ahlberg – Peepo! :: A beautiful babies' picture book with a rhyme story and cut-out windows through from one scene to the next, following a baby through the adventures of an average day.
Pamela Allen – Who Sank the Boat? :: This is an Australian picture book classic. It's fun, with gently-building suspense that little ones seem to love even more after they know what's coming.
Mem Fox / Helen Oxenbury – Ten Little Fingers and Ten Little Toes :: A warm little poem accompanied by beautiful illustrations of gorgeous babies of all colours and sizes.
Sam McBratney / Anita Jeram – Guess How Much I Love You :: A children's classic which inevitably ends in hugs.
Jan Ormerod – Sunshine and Moonlight :: These books-without-words follow an unnamed little girl through the routines of an everyday morning and evening. The drawings are gentle and peaceful, and I've been "reading" these books since I was a tiny child.

Almost-Fives
Hannah Heyer – Binksie and Bep :: I'm honoured to know the talented author and illustrator of this gorgeous story. It's about two friends who enter the kitchen armed with all they need to create some true culinary masterpieces, but in their enthusiasm, they entirely neglect to follow a recipe. This one's even a favourite with my three-year-old nephew, who calls it "Binksie and Beth".
Joyce Lankester Brisley – Milly-Molly-Mandy :: The adventures of a busy little girl and her family, illustrated with the cutest black and white drawings.
Sally Lloyd-Jones – The Jesus Storybook Bible: Every Story Whispers His Name :: This story Bible is filled with lavish illustrations and a rich retelling of the biblical narrative. Its uniqueness, however, is that it traces the redemptive thread of the gospel right from Genesis, pointing to God's overarching purpose and plan for the Cross. A really wonderful tool for Bible reading with little ones.
AA Milne / EH Shepard – Winnie-the-Pooh and The House at Pooh Corner :: Is a childhood bookshelf complete without the adventures of one silly old bear and his eccentric friends? I think not.
Patricia St. John – The Safe Place :: This lovely picture book points to deeper truths about God's love.
Jenny Wagner / Ron Brooks – John Brown, Rose, and the Midnight Cat :: This picture book has been worn and torn and reread to within an inch of its life in my household. It's a warm and gentle story with glorious illustrations, and it touches on death and grief in a gentle, non-invasive way.

Big Sister (8 – 12)
Judith Kerr – When Hitler Stole Pink Rabbit :: War is brutal and ugly, but Judith Kerr's recollections make the subject age-appropriate and incredibly powerful.
Mary Norton – The Borrowers :: Happy adventures of teeny tiny people who live under floorboards and behind the walls. It's less scary than it sounds!
Ian Serraillier – The Silver Sword :: This work of fiction also achieves what Judith Kerr's stories do: making war age-appropriate without downplaying its tragedy or impact.
Patricia St. John – Star of Light, Treasures of the Snow, The Tanglewoods' Secret, Twice Freed and others :: Patricia St. John frequently explores the themes of sin and salvation in relatable stories which young readers will really enjoy.
Ethel Turner – Seven Little Australians and others :: Ethel Turner is a late nineteenth century classic Australian author. With characters that will stay with you long after reading, her books are a vivid and endearing time capsule of New South Wales life more than a century ago.
EB White – Charlotte's Web :: Lovely prose and a beautiful story which touches on complex themes (like death and grief) in a non-scary setting.
Laura Ingalls Wilder – the Little House books :: Laura Ingalls Wilder's classic autobiographical series about growing up in untouched parts of America is riveting reading. The novels are perfect read-alones for 8 to 12 year olds (and beyond!) but also make great read-alouds for a younger audience.
Growing Up (13 – 16)
Louisa May Alcott – Little Women :: I think we all know and love this classic of faith and family.
Mary Grant Bruce – The Billabong Books :: I read and re-read the fifteen Billabong books all throughout my teen years. Set in Australia and spanning the years from 1915 to about 1940, they tell the story of a girl growing up in the Victorian bush, capturing a priceless picture of Australian life during the wars and beyond.
Elizabeth George Speare – The Bronze Bow :: One of my favourite works of historical fiction ever, The Bronze Bow is set during the end of Jesus' ministry here on earth. It's amazing.
Isobel Kuhn – By Searching, Green Leaf in Drought, and others :: Isobel Kuhn's life stories are among my favourite missionary writings. She writes with a genuineness and honesty that keeps pointing back to the power of God.
Harper Lee – To Kill A Mockingbird :: This classic needs neither introduction nor explanation.
Michelle Magorian – Goodnight, Mr. Tom :: A gentle and powerful story set in World War II.
LM Montgomery – the Anne of Green Gables books :: Anne Shirley is the undisputed queen of imagination, and her stories about growing up, writing, and finding love and family still resonate today.
Edith Schaeffer – The Hidden Art of Homemaking :: This book showed me that homemaking can be an art form as fulfilling as any other. It's inspiring!
Rosemary Sutcliff – The Eagle of the Ninth, The Silver Branch, The Lantern Bearers, Outcast, and others :: Rosemary Sutcliff's historical fiction is what most made me want to write. Her stories bring history to life in a very rich way, and her characters are always amazing.
Gene Stratton Porter – Laddie, Freckles, The Keeper of the Bees, and others :: Beautiful prose, exquisite nature writing, and loving characters from another era.
Corrie ten Boom – The Hiding Place, In My Father's House, and others :: No other non-fiction work has so impacted me as The Hiding Place, a tale of faith, obedience, and true reliance on God.
Into Adulthood (16+)
Jane Austen – Emma, Pride & Prejudice, Mansfield Park, and others :: Jane Austen's classics are not just great literature; they also pave the way for good discussions about life, love, society, and being a woman.
Frederick Buechner – Telling the Truth: the Gospel as Tragedy, Comedy, and Fairytale :: The gospel is beautiful in every way. This book reminds us how.
Amy Carmichael – Mimosa, If, Rose From Brier and others :: Amy Carmichael's life story, her recollections, and her poetry opened my eyes to the amazing power of sacrificial love and dying to self for the sake of the gospel. I hope her work can do the same for my nieces when they are older.
Darlene Diebler Rose – Evidence Not Seen :: This is a gripping tale of God's faithfulness and love in the midst of a prisoner-of-war camp.
Elisabeth Elliot – Passion and Purity, Quest for Love, Through Gates of Splendour, and others :: Apart from my mother, Elisabeth Elliot has probably been my greatest spiritual mentor. Her no-nonsense, grace-soaked wisdom and amazing life experiences are a rich treasure trove that I can't wait to introduce my nieces to.
Elizabeth George – A Woman After God's Own Heart and others :: Beautiful, gentle encouragement for growing in grace and Christ-centred femininity.
Madeleine L'Engle – Walking on Water :: A beautiful treatise on imagination and creativity for the Jesus-follower.
Flannery O'Connor – A Good Man is Hard to Find (and Other Stories), and others :: If Amelia and Abby care about words – and I am pretty sure they will – I can't wait to introduce them to writers like Flannery O'Connor, who don't tell it sugary but instead use the raw and the unfinished and the real to point to grace. O'Connor's short stories can be unsettling, but they are powerful.
These are just a few of the books I hope to share with my beautiful nieces as they grow. What additions would you make to this list?