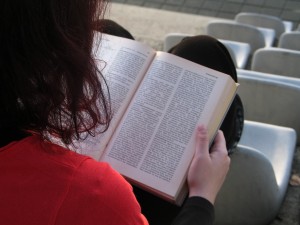 Does this help me walk in purity?
It's a question I try to remember to ask before I read that book or watch that film … or, even, have that conversation. But sometimes I forget. Or I choose not to ask the question because I don't want to answer the question … not honestly! The answer might be "no" and then what will I do … ?!? What about you … ?
Sometimes, I think, we get confused. We think we mustn't read this book because this friend doesn't read romance novels; or we think we must watch that film because that friend says it's a good, clean film. There are, of course, standards of purity between the pages of the Bible. And we grow in wisdom when we learn from parents and mentors and friends what they think about purity … and walking in purity.
But sometimes this friend who doesn't read romance novels misses a beautiful, wonderful story that's pure in heart. And sometimes that friend who enjoys a good, clean film has a different standard and isn't offended by something we find distressing. So, at the end of the day, we have to look at what God is saying to us about purity …
We ask you – urge is more like it – that you keep on doing what we told you to do to please God, not in a dogged religious plod, but in a living, spirited dance. You know the guidelines we laid out for you from the Master Jesus. God wants you to live a pure life.

(1 Thessalonians 4:1-3 in The Message – read the NASB translation too!)
… and listen to the still, small voice of God in our hearts as He calls each of us to walk, with Him, in purity …
Whatever weakens your reasoning, impairs the tenderness of your conscience, obscures your sense of God, or takes away your relish for spiritual things, in short, if anything increases the authority of the flesh over the spirit, that to you becomes sin, however good it is in itself.

(Susannah Wesley)
And then … then, my friends, we have to walk in purity. Even when it means not reading this book or watching that film … or, even, having that conversation. The sacrifices are temporary – and temporal. The rewards are eternal.
A pure heart is one to which all that is not of God is strange and jarring.

(John Tauler)