3 Truths for the Mom Who Has Had a Miscarriage
Disclosure: This post contains affiliate links which won't change your price.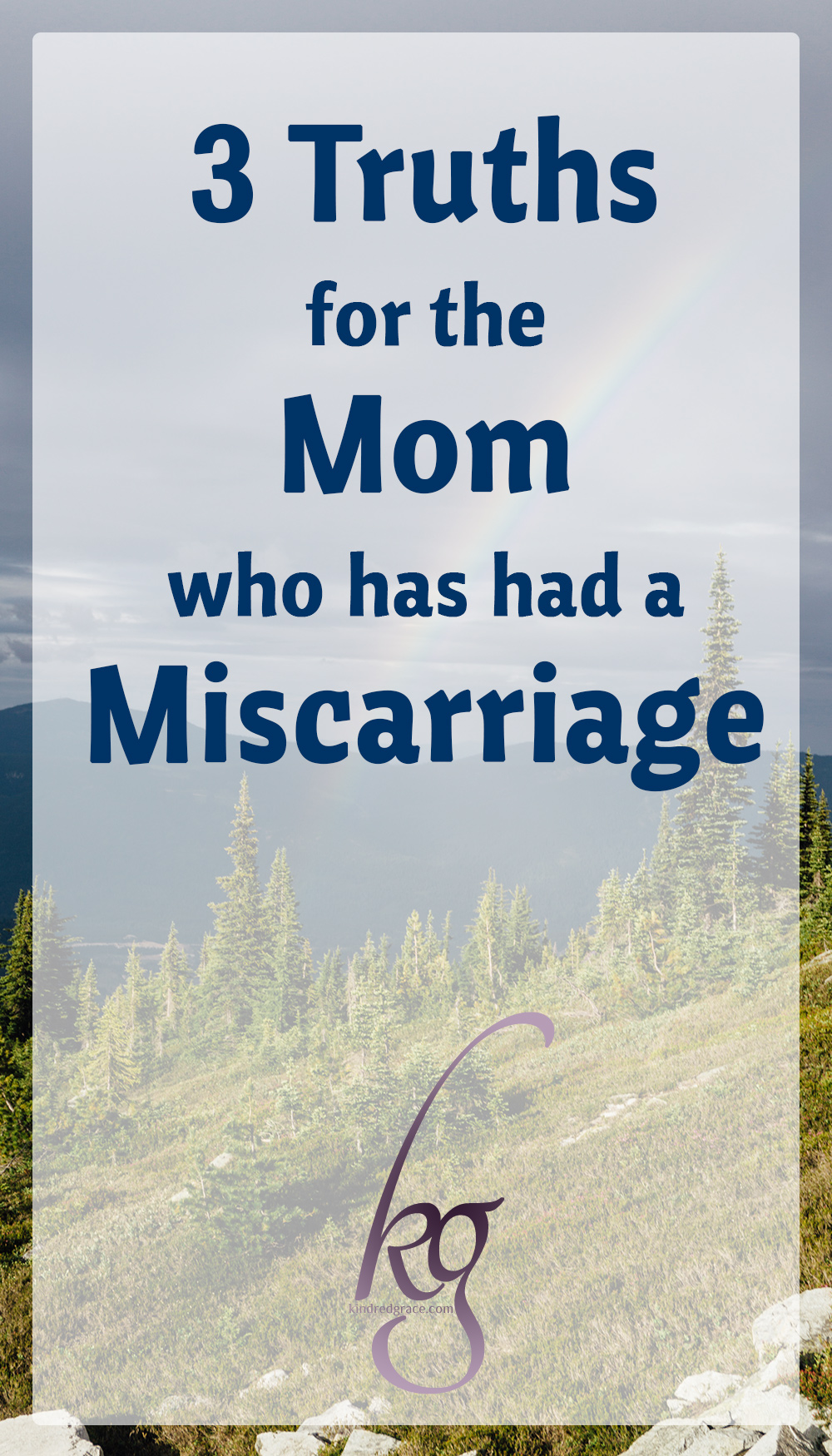 Our fourth baby was due in late October.
By the time this fall due date arrived, though, my husband Ted and I had already said goodbye to our preborn child, without ever saying hello first.
It happened in my tenth week of pregnancy. After a Doppler failed to detect a heartbeat, an ultrasound was ordered. There, we were met with the black-and-white image of a tiny, yet fearfully and wonderfully made form, which measured five weeks too small.
Two days later, my body begin to miscarry on its own.
I didn't have the emotional strength to brave the loss at home, so Ted took me to the ER. Seven hours, a second ultrasound, countless nurses, and a doctor later, I entered the operating room for a D&C.
That was over seven years ago.
What I didn't realize pre-miscarriage, but knew intimately afterward, is how much false guilt – or unwarranted shame – sometimes comes with losing a baby in utero.
For me, there was an overwhelming sense of failure because my body didn't protect, nurture, and grow this little life as it had with my previous three pregnancies. I felt like I'd let my baby down.
And, because we mourned publicly, we were met with those who sought to hurry our grief process along. At moments, I felt shame when my mourning wouldn't – and couldn't – be sped up.
Maybe you can relate. Perhaps you too have lost a preborn baby. If that's the case, here are three truths I want you to know.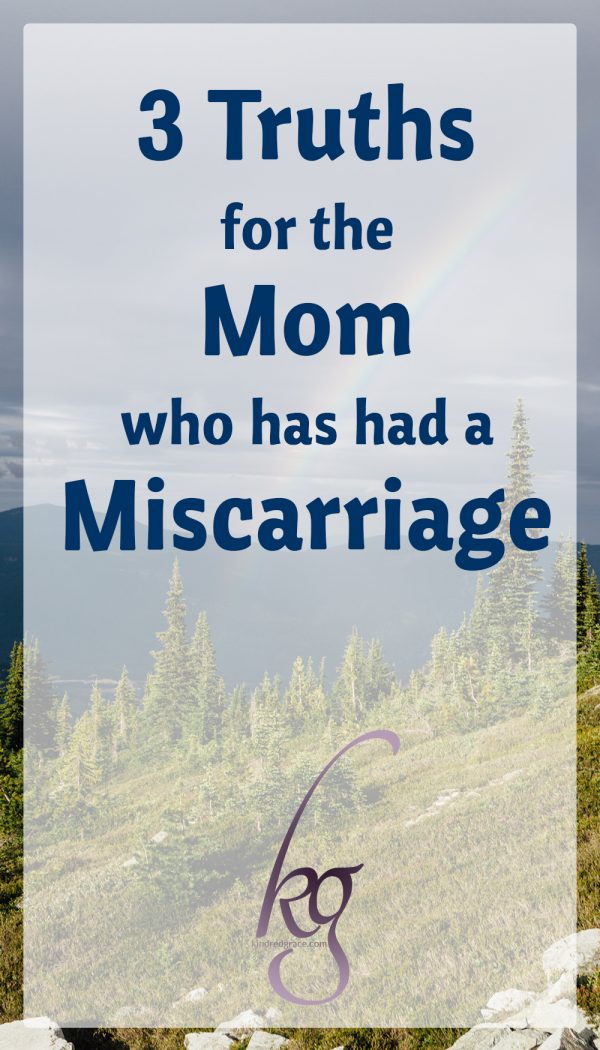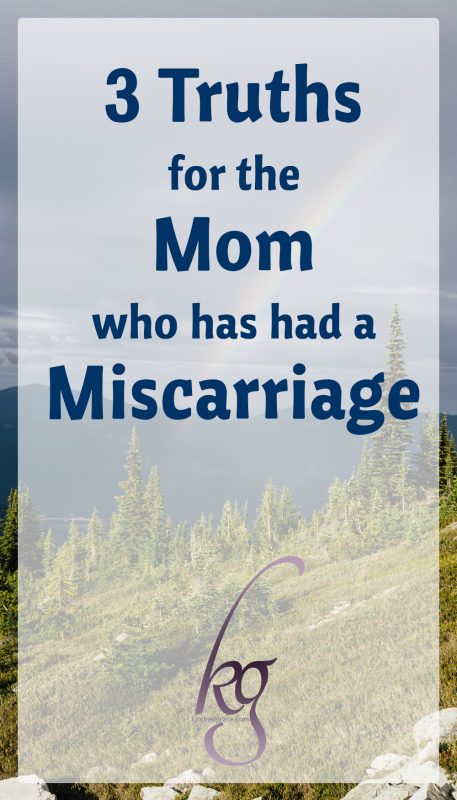 1. It is not your fault.
"Your eyes saw my unformed substance;
in your book were written, every one of them,
the days that were formed for me,
when as yet there was none of them."
(Psalm 139:16, ESV)
"This is not your fault," was one of the initial statements my obstetrician made to me following that first ultrasound. "You didn't do anything to cause this."
In that moment, I didn't realize the freedom that came with these words. It wasn't until later, when the shock wore off and the sense of failure loomed, that I understood how much I needed to be told, "It's not your fault that your preborn baby died."
After a miscarriage, it's tempting to question our every decision during the pregnancy and wonder if we could have somehow prevented it. But this is a no-win game of unfounded guilt that adds erroneous shame to our devastation and sorrow.
So as one mom who's lost a preborn baby to another, I'm here to tell you, as my doctor did for me: It is not your fault. You are not to blame.
2. You made the right decision.
"If any of you lacks wisdom, let him ask God, who gives generously to all without reproach, and it will be given him." (James 1:5, ESV)
After the ultrasound revealed that our preborn baby had died weeks earlier, I was faced with the difficult decision of what to do next. Should I wait and miscarry at home? Or should I choose to schedule a D&C?
I spent the next two days praying for wisdom and talking to those close to me who had miscarried in both ways.
When I finally decided on a D&C, I initially avoided telling certain individuals. I worried that they'd try change my mind out of fear that our doctor had made a mistake. And, when I did tell them, I reiterated how we'd had multiple ultrasounds to confirm our preborn baby had indeed died.
I don't know what decision you made. It could be that you braved your miscarriage at home or, like me, you opted to courageously have a D&C. Whatever your individual situation was, you can trust that God, in His wisdom, helped you make the right decision for you and your family.
3. Your baby is unique and irreplaceable.
"For you formed my inward parts;
you knitted me together in my mother's womb.
I praise you, for I am fearfully and wonderfully made.
Wonderful are your works;
my soul knows it very well."
(Psalm 139:13-14, ESV)
Perhaps someone has tried to comfort you with something along the lines of, "You'll have more babies." These type of statements, often well-intended, take away from the uniqueness of the preborn baby we've lost.
The truth is that your preborn baby – this baby – is irreplaceable. And, because of that, it's healthy and right to grieve your child's passing and to remember them long after.
You do not need to hide your love and remembrance of your preborn baby. Not everyone will understand, but God does. Like you, He calls your child unique and irreplaceable.
The Hope We Hold Onto After Miscarriage
Every October, our family goes pumpkin picking. We celebrate my husband's birthday and enjoy the cool of autumn as it slowly makes it's way into our neck of northwest Georgia.
We also remember and miss the small life – one fearfully and wonderfully made – who made it to heaven before us. Although we had to say goodbye, without ever saying hello first, we know that someday we'll finally greet each other face-to-face.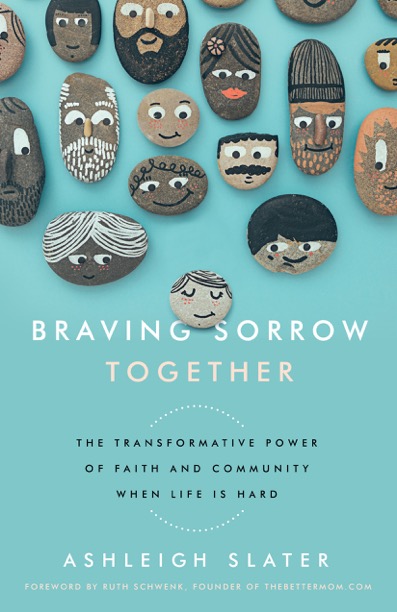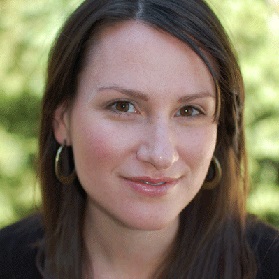 Ashleigh Slater is the author of the books, Braving Sorrow Together: The Transformative Power of Faith and Community When Life is Hard and Team Us: The Unifying Power of Grace, Commitment, and Cooperation in Marriage. She's also a regular contributor to a number of popular blogs and websites. With over twenty years of writing experience and a master's degree in communication, she loves to combine the power of a good story with practical application to encourage and inspire readers. She and her husband Ted live in Atlanta with their four daughters. Learn more at AshleighSlater.com or follow Ashleigh on Facebook.
Photography: JenniMarie Photography