25 Classic Stories that Have Delighted Generations
Disclosure: This post contains affiliate links which won't change your price.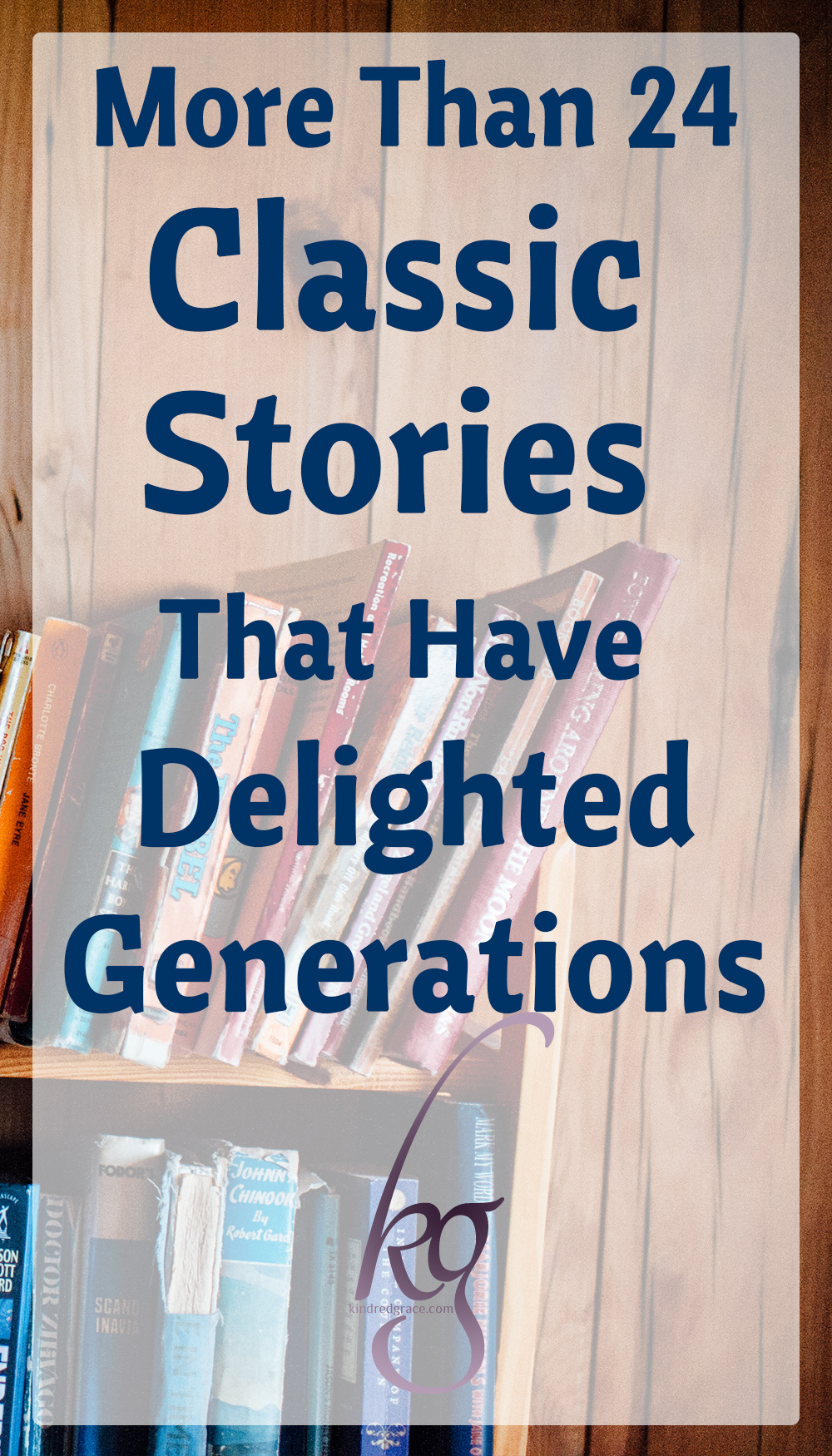 I looked around the table when we were last at my parents' and realized four generations were talking about books. My sister-in-law and my daughter were discussing the Redwall series (they're both ardent fans, the younger thanks to the older's introduction). My parents were telling us about a new series they found called The Queen's Thief (not to be confused with The Book Thief). My husband and I were sharing with my grandparents about our family's recent discovery of Swallows and Amazons. My sister-in-law was telling us how thoroughly she'd enjoyed reading our previous recommendation, Parnassus on Wheels. And my daughter was raving about the new book, Love, Mary Elisabeth.
Conversation at our family gatherings always turns to books.
We are a family of readers. My Grama Jessica was a librarian for a Christian school years ago, and her home now looks like a library, filled with shelves upon shelves of vintage tomes, classic works, and a vast selection of biographies. My Grandma Mary's basement had bookshelves encased in glass doors (I'm not sure how those glass doors survived right next to the pool table!), containing everything from the World Book Encyclopedia and My Book House to Danny Orlis and Cherry Ames and Bobbsey Twins (Grandma received her first Bobbsey Twins book Christmas 1942).
My own bookshelves testify that I've inherited my mother's and grandmothers' penchant for collecting books. And my daughter's tendency to get lost in a book (whether folding laundry or on the way to clean her room!) is one she comes by all too naturally.
A good story transcends generations.
And a truly well-written children's book will be enjoyed by all ages.
With that in mind, I'd like to pay tribute to the tales, old and new, that have entertained and delighted the generations of our family.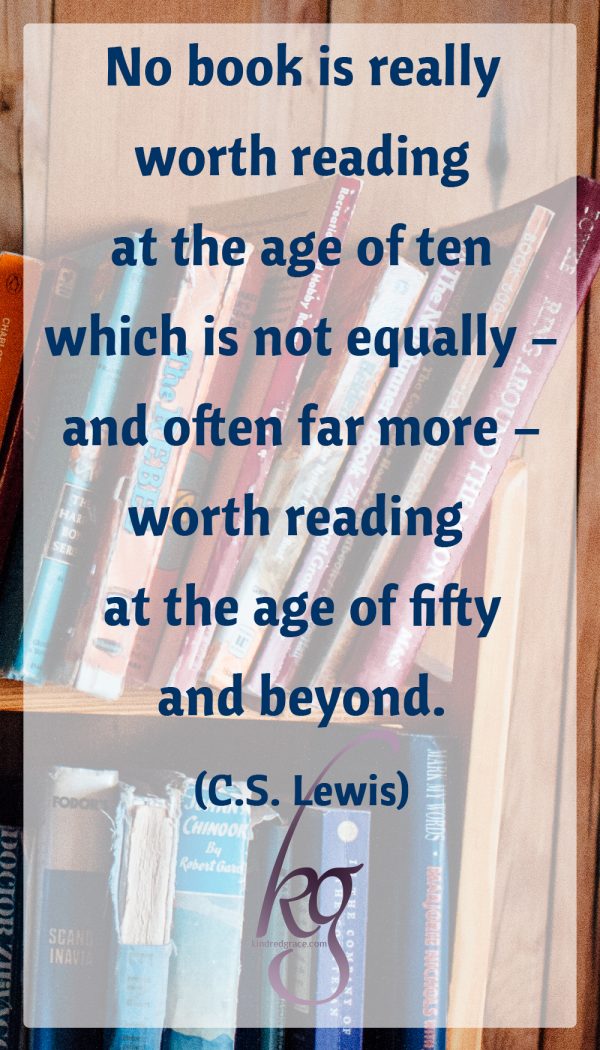 This classic set in the Swiss Alps is more than just a sweet story: the orphan Heidi learns memorable lessons about love and friendship and forgiveness.
A bestseller when it was published in 1865, this book has continued to delight readers for generations. I grew up reading my mother's beautifully illustrated hardback copy. The legend of the boy and the dike brought to life, this is a precious tale of sibling and family relationships.
The timeless words of Marmee frequently provide both gentle chastisement and real wisdom for me as I mother my own children. And I love how these stories have given my children a greater appreciation for Pilgrim's Progress.
The author modeled Katy after herself and Katy's siblings after her own. What results is more than just a delightful children's series: the lessons Katy learns are ones that will prick your own heart and give ample opportunity for discussion with your children.
I always loved the stories of this adventurous redhead–and even more so now that I have my own little freckle-faced daughter. They are based on the life of the author's grandmother. (Don't miss the fact that there's a sequel!)
I grew up with Laura, just like my grandmas did, just like my mom did, just like my daughters are. But the best thing about this series is all you learn while reading it–about how people lived then and about the lessons that they, too, needed to learn.
Mabel's stories are ones our family remembers and retell fondly, just like the author herself did: the stories are those her grandmother told her. So many important and memorable lessons in these pages!
I grew up watching the movies and reading the first book, but it is only as an adult I have discovered there are five books in this series. Our whole family loves these tales of Sarah, Anna, Caleb, Papa, and the colors of the sea.
A childhood favorite of my Grandma Mary's, I, too, learned to love Polly Pepper and her family thanks to the beloved editions on Grandma's bookshelves.
There's so much more to this book than the movie adaptations! When Rebecca goes to stay with her aunts Jane and Miranda, it wasn't the situation any of them wanted. But in the end, they learn to love and appreciate each other and the brick house. (Much has been written on Rebecca's similarities to Anne Shirley. Obviously, there was room in the literary world for both, even if one was influenced by the other!)
When self-centered Mary Lennox meets her self-pitying cousin Colin, they each seem to have met their match. But when they make friends with Dickon and meet Ben Weatherstaff, the two cousins find more than themselves to live for–and in fact, something to love. A melancholy but beautiful tale.
Cedric endears himself to readers' hearts by his adoration of his mother whom he calls "Dearest." His outlook on life, even when his situation changes, makes this a delightful albeit classic read.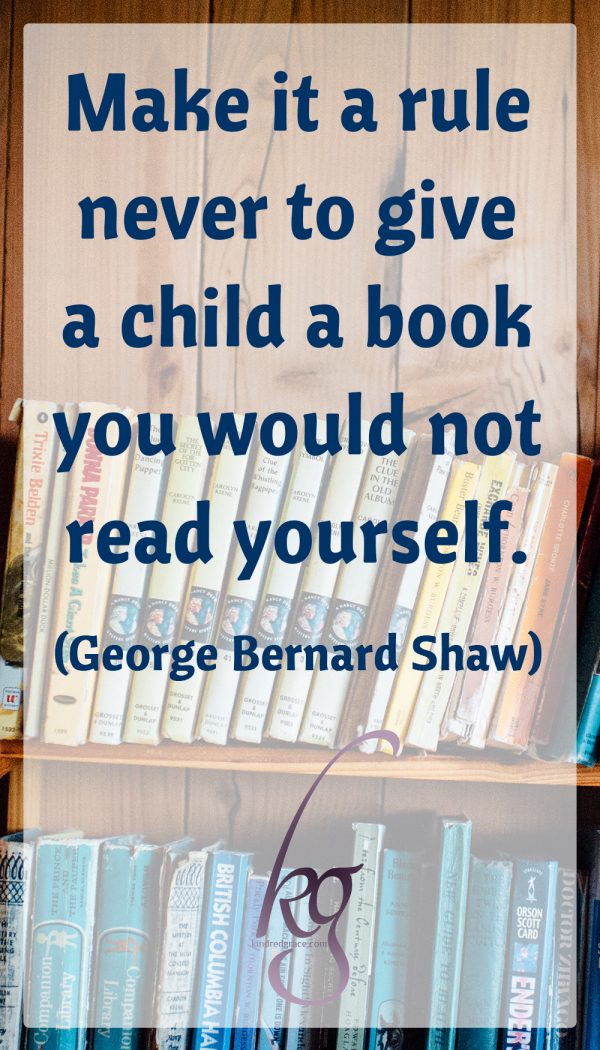 My cousin Jennifer took the time to record herself reading Betsy-Tacy aloud for my daughters. This was their introduction to a series that's been much loved and re-read by my oldest, bringing back fond memories of the years I spent enjoying the series.
When their father is falsely accused, the children and their mother must move to the country. The stories of their struggles in their new home and the friends they make there are heartwarming and amusing. The perfect introduction to one of our family's favorite authors!
Sara Crewe has everything any little princess could want…until she doesn't. When a change in situation shows Sara a different side of those around her, Sara's graciousness does not change. A poignant story with important lessons.
She may have gotten a bad rap for her impossibly cheery disposition, but Pollyanna's "glad game" is one many of us would do well to play more often. A good book to read and discuss as a family. (There's a sequel, as well as other "glad books"!)
Betsy was orphaned at six months old and raised in a sheltered environment by her aunts Frances and Harriet. But when Aunt Harriet falls ill, Betsy goes to stay at Uncle Henry's farm, and learns to become not only more self-reliant, but less timid. Great read-aloud and family discussion starter!
Of all Gene Stratton Porter's books, I think Laddie is one of our all-time favorites. Perhaps it is because it is based loosely on the author's early life. Perhaps it is because it gives such insight into sibling and family relationships. (While I have sincere affection for The Harvester and The Keeper of the Bees, Laddie would be the title I'd recommend if you'd never read anything by Gene Stratton-Porter before.)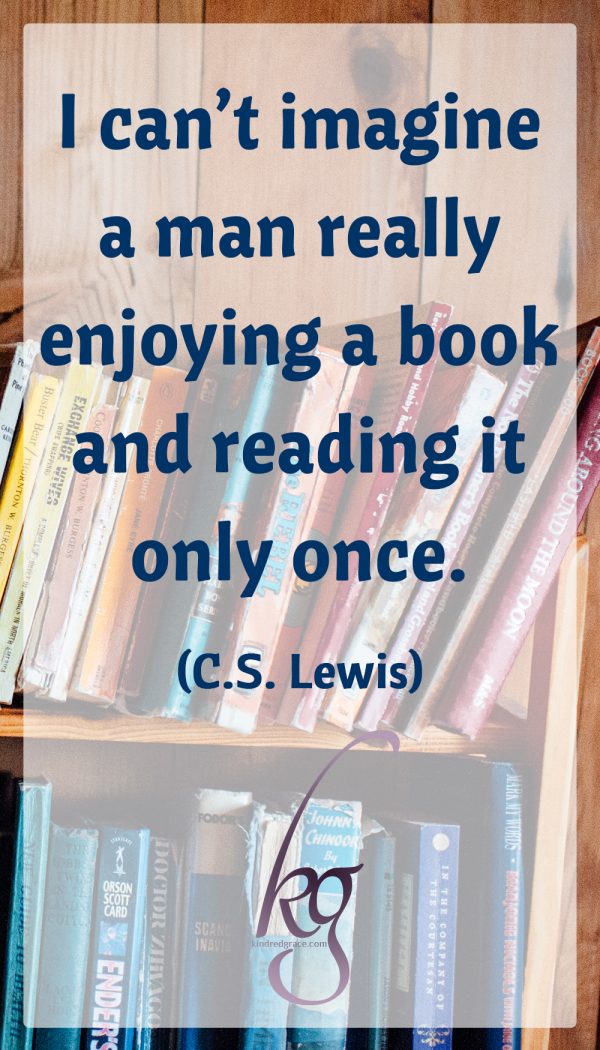 My brother and I read this series of 36 books over and over again growing up. With Bill, Poetry, Dragonfly, Circus, Big Jim, and Little Jim, I learned many lessons about life and prayer from Old Man Paddler. Not surprisingly, the stories are based on the growing up years of Paul Hutchens and his six brothers.
My husband grew up on Little Britches, as did my daddy. I enjoyed the first two books as a child, but didn't get to appreciate the entire series of eight books until I was an adult. Now, they are one of the first series I recommend as a family read-aloud. Our whole family is spellbound as my husband reads aloud the author's own real-life adventures of growing up and making his way in the world. (The series does contain some mild "cowboy language".)
I know I'm partial to Anne with an E because I have red hair. (And a daughter named Ruth Ann who spells her middle name with an E.) But there is just so much to love about this story of an eleven-year-old orphan who is sent to a farm in Avonlea by mistake instead of the boy they wanted.
A charming new piece of historical fiction that my daughters and I adore. Love, Mary Elisabeth has the same heartwarming feel as Grandma's Attic and The Five Little Peppers. The lonely longing of Daddy-Long-Legs and A Gathering of Days. And the historical details of the Dear America and Little House on the Prairie series.
If I told you that this story of camping, fishing, battles, and piracy was was inspired by a summer the author spent teaching friend's children to sail, you'd have just a glimpse into the fun the adventures it holds. Our family has found this series refreshingly wholesome while winsomely entertaining.
This short chapter book is a retelling of a true story, and one that contains important life lessons on generosity, contentment, and true wealth. A delightful story–it's a favorite with my children–it contains truths for all ages.
The tale of Annette and Lucien of the Swiss Alps and how Anette's little brother Dani tied them in enmity and finally helped push them toward forgiveness is one that brings me to tears each time I read or watch it. A must-read.
What stories have been enjoyed by multiple generations in your family?
Photography: JenniMarie Photography