Disclosure: This post contains affiliate links which won't change your price.
E-readers will never take the place of real books in my heart. A new book (preferably a very old "new" book) sends little tingles of excitement through me in a way that a Kindle cover just can't. But in this season of life, I'm grateful for another, generally more accessible way to read. And once in a while, a title I didn't read as a physical book grips me in an unexpected way.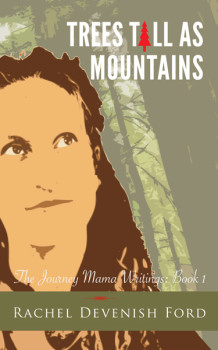 I'd never heard of Rachel Devenish Ford or her blog, Journey Mama, when I saw her book on Amazon. But it was free, and looked interesting. Turns out "interesting" was a ridiculous understatement. From the first page, Trees Tall As Mountains gripped me. While I certainly don't lead Rachel's adventurous life, we still have many things in common: motherhood, trying to minister to others, a love of writing, faith that sometimes struggles to make sense out of life.
She's so transparent and real. I truly felt I knew her only a few chapters into the book, and I would just love to go out with her for coffee. Rachel writes candidly about her struggles with anxiety and depression, not sugar-coating anything, but with a steadfast hope in the Lord's mercy and ability to heal and refine us despite our weaknesses. And I could identify with her tendency toward people-pleasing!
One of the best parts, for me, was reading about everyday life with her young children. I'm in that season, too, and she expresses so well the paradox of love and frustration that I feel on a daily basis. A few of her stories had me laughing out loud – they were so real! It was good timing for me, too, as I was dealing with a sick toddler, sleepless nights, third-trimester pregnancy discomforts, and potty training. I felt like I had a friend who would "get" how I feel and would laugh and cry with me, as I laughed and cried with her through the pages of her book.
Cried? Yes, there are tears in Trees Tall As Mountains. Rachel writes about fears, failures, and loss. She writes about loved ones that live too far away, about dear friends who move, about failing to live up to what she believes she should be. All familiar to most of us, but not all of us can put our thoughts into words. I found myself saying, "Yes, yes! I know what that's like," over and over.
I was sad to reach the end of the book, but so glad to find out there is a sequel: Oceans Bright With Stars. And Rachel is still blogging, so you can continue to follow her family's adventures. (Because, oh, are they adventurous!)
Here's the best part. Due to Rachel's generosity, Trees Tall As Mountains is free on Kindle for the forseeable future. How fun! It's like I can give you all a copy of the book that has touched me so deeply. And I'd heartily recommend buying her other books, as well. It's like making a new friend.