Around the Table with Shauna Niequist (a trio of reviews)
Disclosure: This post contains affiliate links which won't change your price.
by Gretchen Louise and Emily C. Gardner
Gretchen: I'm funny about getting new books by an author I haven't read yet. It doesn't matter if half the internet is talking about them–I usually wait until a dozen friends have told me, "You will love this book" before I actually pick up a copy. Such was the case with Shauna Niequist's books. Bittersweet actually sat in a stack of books on my bedroom floor for almost a year before I dug out the decadent looking blue cover. But once I opened its pages, I couldn't put it down. And yes, I read the trio completely out of order. But even though they're memoir-style and slightly chronological, the order you read them doesn't really matter.
In case you're like me, and you need to hear a friend's opinion before you read a new series, I've invited my friend Emily to join me today as we talk about Shauna Niequist's books.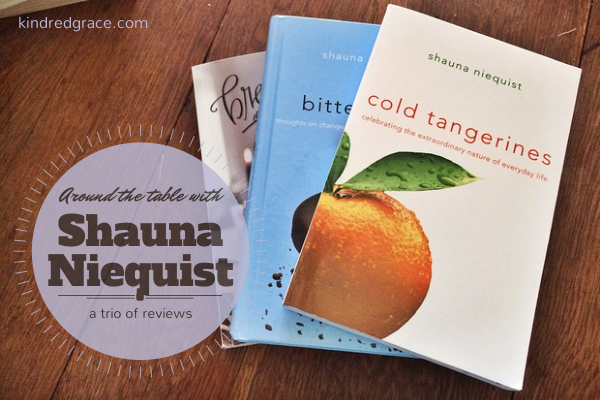 Emily: My cousin introduced me to Shauna Niequist (pronounced KNEE-quist. I've been saying it wrong for the past six years…) while we were in college. Shauna's debut memoir, Cold Tangerines, had hit her campus by storm. I, having migrated to the Midwest for school, which has a two-year delay on anything popular, was still in the dark about this engaging author/speaker. I devoured Cold Tangerines and then was one of the multitude who waited impatiently for all of her subsequent work. Her style is easy to digest (though the message is chewy) and addicting like chocolate — you'll always want just one more bite.
Reading Cold Tangerines was my first real challenge to actually look for joy, to seek it actively instead of acknowledging it passively. Shauna looks at the everyday with fresh, youthful insight. Vignettes of the ordinary become rich with beauty, hope, and meaning. It was a joy in itself to see God and the good in the little things that Shauna describes. By the end of the book, I had practiced a new way to look at the everyday 4o times and felt better equipped to tackle the ordinary in my own life with the same celebratory perspective.
Emily: Where Cold Tangerines taught me to open my eyes to the little things worth celebrating, Bittersweet taught me to look for those little things amidst the darker places of life. The story Shauna weaves in her second memoir is full of heartache and trying to see beyond the immediate pain of difficult circumstances. Celebration becomes a poignant discipline as she works through miscarriages, broken relationships, and change. I was left challenged to approach brokenness in myself and others with acceptance.
One of the things I love about Shauna's writing is her ability to share about life with honesty and vulnerability. She writes how I want to live — real and transparent. Bittersweet is a wonderful example of baring your heart and allowing God and the community around you to restore the places that are shattered, saggy, or scarred.
Gretchen: My mouth waters every time I look at Bittersweet. The piece of chocolate on the cover is so dark and looks so real that everyone has to pick up the book when it's sitting on my coffee table. The story Shauna shares in Bittersweet is true to the title, both bitter and sweet. Her tales no sooner had me in tears than I'd be laughing at something she said. Bittersweet's chapters stand alone, making them the perfect read when you don't have enough time to engross yourself in a whole story.
Bittersweet was the first book I loaned to a new friend. She couldn't stop talking about how much she loved it. And she instantly bought three copies for her sisters and her best friend. It is one of those books that sparks conversations and bridges differences in personality and situation.
Gretchen: I've never read a book so solidly nourishing as Bread and Wine. If the descriptions of cheese and butter and bread could make you gain weight just by reading them, we'd all be pounds heavier after reading Bread and Wine. But instead, I felt lighter: Shauna's personal stories about weight and food brought so much perspective to the table that I felt relief.
I loved Shauna's philosophy of feasting and fasting. She follows all those rich desserts and delicacies of the holiday season with a season of greens and garden vegetables. Rather than glorifying gluttony, Shauna celebrates the beauty of food in its rightful place as necessary for nourishment but also the menu of celebration.
While Bread and Wine is filled with recipes made up of gourmet ingredients, Shauna is intimately familiar with planning meals that do not include many common ingredients. Her husband is unable to eat wheat products, which drastically changed her pasta-loving lifestyle. I loved Shauna's thoughts on arranging the entire meal so that everyone could enjoy it, rather than making one gourmet meal for the majority and something that will suffice for the ones who have dietary needs.
"She entices the reader into the kitchen with recipes that involve creamy goat cheese, bacon, and splashes of wine but her heart goes much deeper than the stomach. She writes to remind us all what the table is for: a place of community, a place of connection."
-Natasha Metzler reviews Bread and Wine: More Heat, More Butter, More Salt
Emily: I could go on and on about how much I love this book, but I will keep it short — it's hard to go wrong with Shauna and food. She writes with as much passion about bread as she does about the people who gather to partake around her table. I co-led a group this fall discussing Bread and Wine. We gathered every week to talk about the book and eat delicious food. Some nights our discussion was more fruitful than others and some nights the snacks were thrown together hurriedly, but despite the imperfections of our time together, we lived out just what Shauna was writing about — the community built around food and stories. I was challenged to expand my idea of what it means to do life with others. I was challenged to purposefully pursue community, something I have felt lacking in my life since our cross-state move 18 months ago. I was challenged to make hospitality less about perfection and more about being present. And, in case you were wondering, the recipes are fantastic. I've made six of the recipes (including Annette's Enchiladas, Blueberry Crisp, and Chocolate Mousse) so far and they have all been simple and tasty.
Have you read any of Shauna Niequist's books? What are your favorite books about food and friendship?